The Big Picture
Universal Orlando's Halloween Horror Nights includes a haunted house based on 'The Last of Us' video game, focusing on a crucial part of the first game that takes place in Pittsburgh.
The collaboration between Naughty Dog and Universal involved brainstorming, ideation, and providing references from the game to create an immersive experience.
It was essential to recreate Joel and Ellie's story and make visitors feel like a part of their journey, blurring the line between spectator and participant in the haunted house.
For the first time in a decade, Universal Orlando's Halloween Horror Nights will include a haunted house based on a video game. While The Last of Us has been a huge hit on HBO this year, Universal's house focuses on an integral section of the first video game, which was released in 2013. In the game, our lead characters Joel and Ellie find themselves trapped in Pittsburgh, after being attacked by a group of bandits, and as they try to escape, they're taken through the streets of the city, into the sewers, and out the other side into the suburbs. It's a massive section of the game, one full of new characters, environmental storytelling, and terrifying characters—which makes it an ambitious and impressive part of the story to bring to life in a haunted house.
After a walkthrough of Universal's remarkable The Last of Us haunted house, Collider sat down with Neil Druckmann—the co-studio head & head of creative at Naughty Dog, who also wrote and directed the first The Last of Us—and Mike Aiello—the senior director of Entertainment Creative Development at Universal Orlando Resort.
COLLIDER: When you guys collaborated on this, how deeply did you guys work on the outlay together?
MIKE AIELLO: Well, it started in just the conversations. First, we had a brainstorm and, again, the first step was knowing how vast the game is and knowing that we have between nine to 10 to 11 rooms, not including transitions, to work with. What's the best story to tell? What would the fans love most to be able to experience? So again, it did go from being more of a montage, because we've done that in the past with the event; any brand will just kind of do a best-of, kind of a jukebox style house where it's just this room, this room, this room. They don't necessarily narratively link, but it's rooms and environments people love that began there.
Neil landed on the idea of really centering it on Joel and Ellie's journey specifically. Then from there, Pittsburgh being a great environment because environmentally there's a lot of variety and types of things that happened in Pittsburgh.
NEIL DRUCKMANN: Yeah, Pittsburgh felt appropriate to me because, again, there's no right choice here, but it was interesting for me to think about, "What if you tell a mini story?" There's a beginning, middle, and end with Joel and Ellie because Joel and Ellie are the heart of this franchise, and this is the part where they really are relying on each other and working together. Other parts of the game have different aspects, but not that aspect specifically. Then, early on, there was just a lot of back and forth of ideation, brainstorming, to make sure we have that outline set – a lot of education for me of, like, what are the constraints? What can and can't you do? That would help our team to brainstorm which ideas are actually doable. We can't build a real elevator shaft, for example.
AIELLO: Then once that was all set, and we had some concepts, they asked for a lot of references, anything they needed, all the files, we gave to them. Then it was really, for us, just stepping back and letting the experts do what they do best. Then every few weeks or every few months, they would send the stuff and we would just give some feedback and just see it slowly come to life.
DRUCKMANN: The pitch deck was literally screen captures from the game as the reference. We didn't even go into, at least in the first phase, a line art, a top-down view of the house. It was really pulling environments and literally POVs of like, "We want to recreate that hallway. It'll look just like that." And that was the initial pitch deck.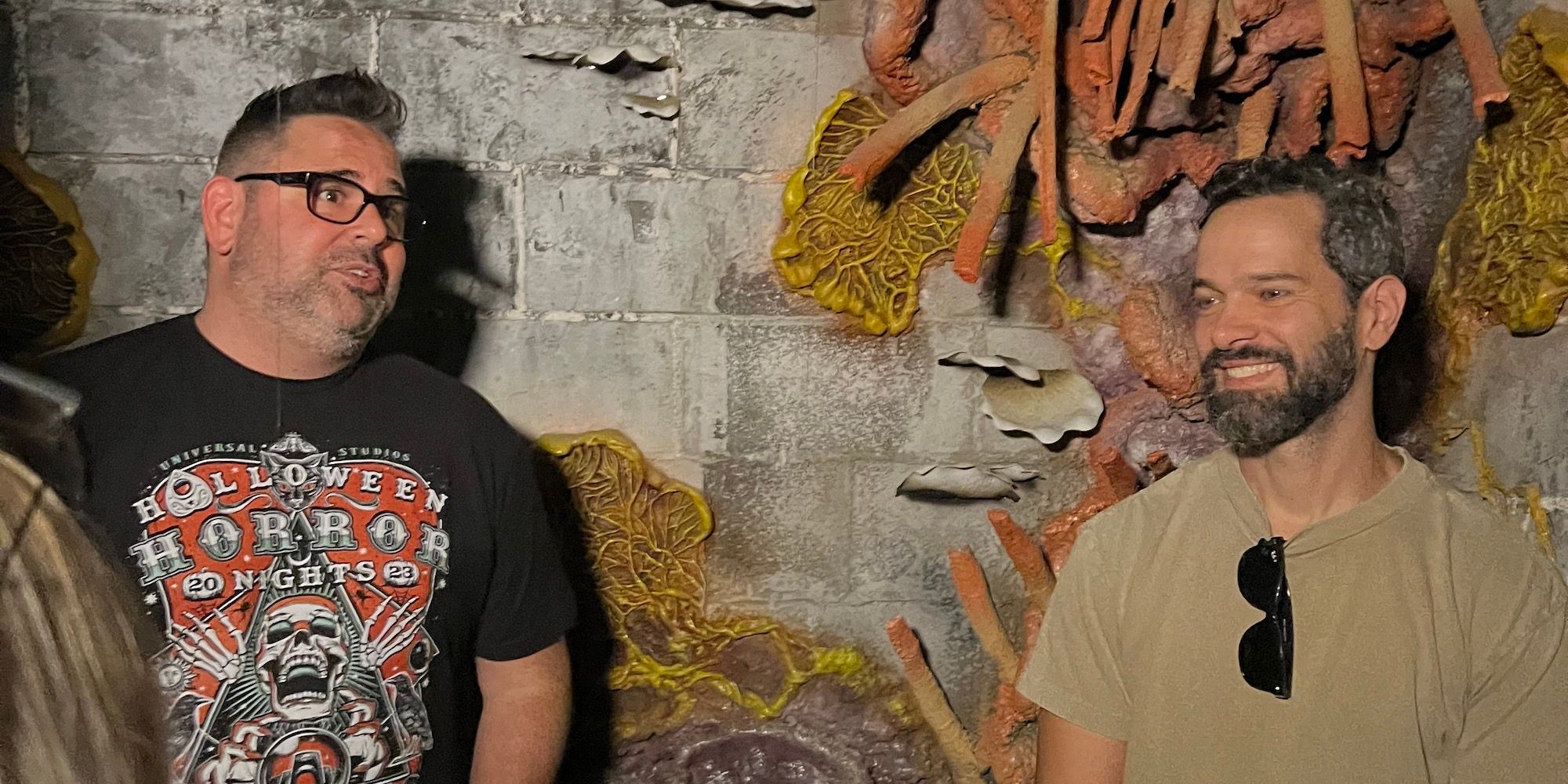 What always works about the game, for me, is Joel and Ellie's story, and that you're the third person in that dynamic. It looks like you guys have really recreated that here where you're the extra person in their journey. How important was it to recreate that in this house?
DRUCKMANN: For me, it was imperative. That would have been a deal-breaker if, for some reason, we couldn't put Joel and Ellie in. That was never on the table to not have Joel and Ellie. But again, one of my favorite moments, it's very simple, but it's the little shadow play of Joel and Ellie, and you hear Troy's voice, and there are spores, and you see him put the mask on, and then you see the spores in the air. It's like you really feel like you're there moving along with them.
AIELLO: In any attraction, it's all about what is the guest's role in it? Sometimes in our haunted houses, you're absolutely a voyeur. You're witnessing things kind of play out, and they're not aware of you. In here, we blur that line. Again, in the first space, you know, Joel is right there with you. He's helping you along. Again, Ellie saving you in that moment, Joel saving you here in our finale. So, we wanted the guests to feel like not only are they able to take in the story but they're a part of it.
RELATED: Universal Orlando's 2023 Halloween Horror Nights Houses, Ranked
What are your favorite small details in the house that fans of the game might like to know? I like the Ish note, that's my favorite.
DRUCKMANN: I think that's great. The thing I never even saw until Nate pointed it out to me is the key card from the basement in the hotel. So it's not only the key card, which is very hidden, then there's the card reader that's flashing green as if you had just scanned it. It's these crazy details. I'm curious if anybody even sees it! But it's kind of the same mentality we have a Naughty Dog, which is like, let's put more details that anybody will notice because that's when we know we can catch everyone. As soon as you leave some details out, or you cut too many corners, then you give players, or in this case, the guests, an excuse to leave their experience and not be as immersed. And there are so many details here that I think it'll just be immersed from the beginning all the way to the end.
AIELLO: I love that you said that because one of the things that challenges us in this realm is we build these massive sets and we're lighting just portions of them. Sometimes, people come through and go, "Did you really need to detail that corner that much? Is anyone ever gonna see that?" And he's absolutely right. Subliminally, if you don't do those things, the guest feels like there's something off.
DRUCKMANN: Even if they can't point to it.
AIELLO: 100%.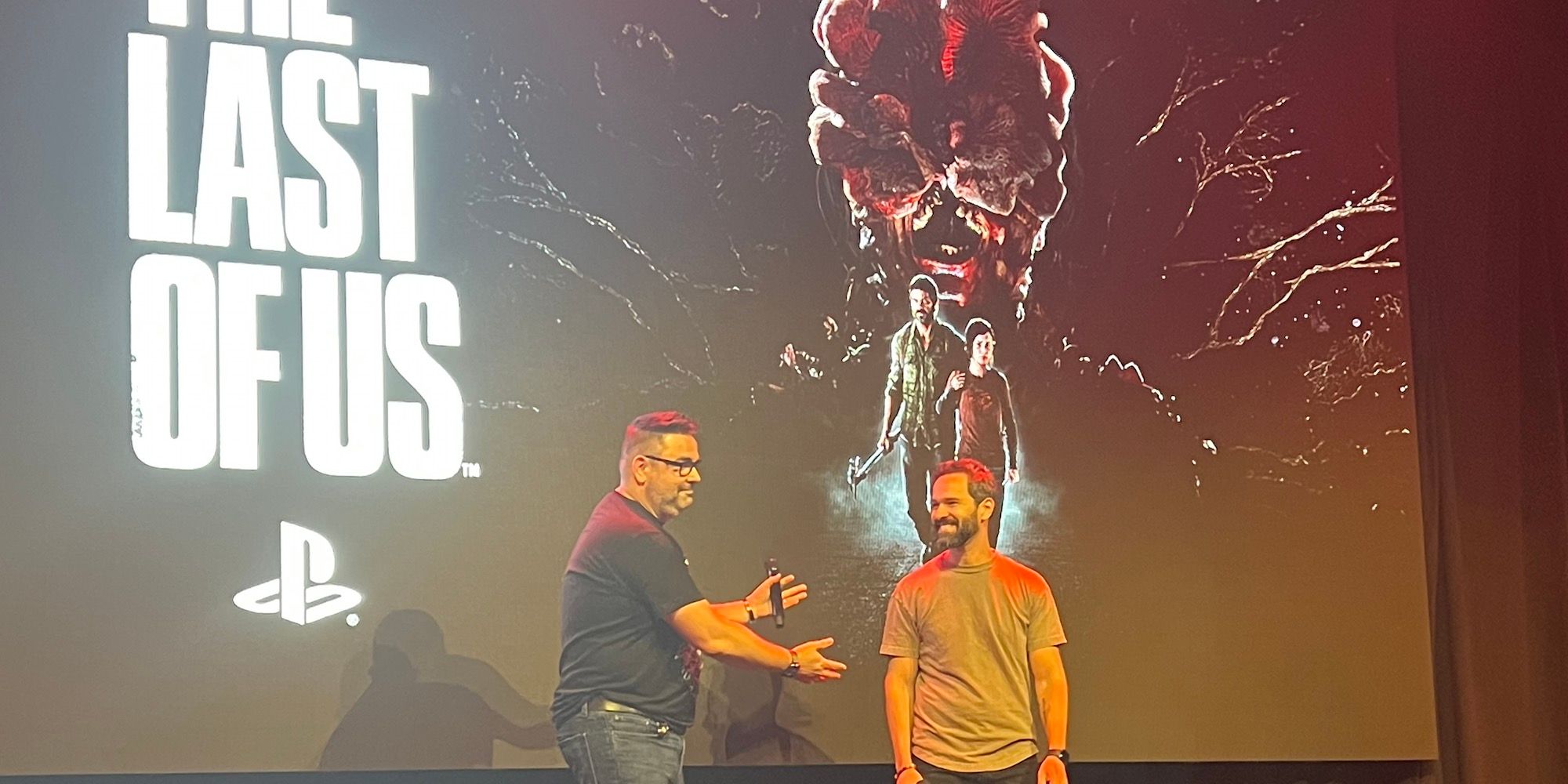 So are there any considerations of turning The Last of Us Part 2 into a maze in the future?
MAZIN: You know, those conversations have maybe started. We'll see.
I mean, the hospital is pretty unnerving.
DRUCKMANN: There's only a positive conversation.
AIELLO: I will say, whether it's that game or something else, I had such a pleasure working with Mike and John on the other coast and, and these two teams. In a heartbeat, I would do this.
DRUCKMANN: That means so much. Likewise.