The Big Picture
The Great is a wholly original historical comedy that blends the 18th century with modern themes, featuring feminist ideas, complex characters, and fast-paced, vulgar dialogue.
Season 3 of The Great ends with Catherine in grief and on the cusp of ruling Russia on her own, leaving many unresolved plot lines and unanswered questions.
The show's impact is felt through its feminist portrayal of women, with characters like Marial and Elizabeth finding agency and the potential for change in a world moving closer to equality.
Once in a while, a show comes around that is so wholly original that it can't compare to much else. Such is the case for Hulu's The Great, a historical comedy written by Tony McNamara about Russia's empress Catherine the Great, who ruled the empire from 1762-1796. The Great, starring Elle Fanning and Nicholas Hoult, takes its inspiration very loosely, with a note in every title sequence that categorizes it specifically as "an occasionally true story." The result is a show that is set in the 18th century but feels incredibly modern, both in its ideas (invariably feminist), its characters (incredibly complex), and its dialogue (fast-paced, hilarious, and extraordinarily vulgar).
We follow Catherine (Fanning) as she arrives in Russia a fresh-faced German princess, eager to wed her true love Emperor Peter (Hoult), whom she discovers to be a barbaric, idiotic oaf. We watch, also, as she discovers her true love of Russia, as she overthrows Peter's rule and takes the throne, as she somehow actually falls in love with Peter, as she makes sacrifices and hard decisions and grows into her own all while pushing Russia to become a more peaceful, more progressive place (even though her citizens absolutely refuse to abolish murder). It's a show unlike anything we've seen before, tonally similar only to Yorgos Lanthimos's Oscar winner The Favourite, which was also written by McNamara.
Unfortunately, all good things must come to an end, and The Great was just canceled after its third season. While we leave Catherine in a good place – relatively speaking, as she has certainly been through the wringer – there are plenty of plot lines left unresolved, and plenty of questions left to answer. With the real Catherine the Great's reign lasting 34 years, we would have loved to see how our Catherine would rule Russia in the years to come. The lack of a fourth season is a travesty – the show deserved better.
RELATED: Elle Fanning & Nicholas Hoult on 'The Great' Season 3, That Shocking Death Scene, and Hopes for Season 4
Catherine's Journey On 'The Great' Was Only Beginning
The Great's Season 3, which wrapped up in May of this year, was the most dramatic one yet – and that's saying something. Peter and Catherine begin Season 3 somewhat at peace with their dynamic, where they are both madly in love and also always at odds with one another. Peter is impulsive, violent, and determined to keep Russia's monarchy intact, and Catherine is idealistic, logical, and desperate to bring Russia into a new, modern era. The two fight and make up constantly, over issues like ordaining their young son, abolishing murder, and invading Sweden. The last of these, which begins with Peter's desire to leave a legacy beyond his short and disastrous rule, brings upon the emotional core of the season. When Catherine goes to stop Peter, who stole her army and her general in the middle of the night to start a war she forbade, he meets his demise by drowning, on horseback, in a frozen lake.
Catherine's resulting grief is fascinating – from denial to mania, where she refuses to tell a soul and then proceeds to completely fall apart at the seams. It's a complete breakdown expertly played by Fanning: Catherine orders an orchestra to follow her around playing her and Peter's favorite song, she begins every morning by firing a probably-unloaded gun on herself (to test whether ruling Russia is truly her fate, obviously), and she hosts party after party, finally adopting her late husband's philosophy of joy before all. By the very end of the season, she has pulled herself back together, though not yet whole, and forever changed by the vastness of the loss. That we don't get to see her next stage – one where she has lost the great love of her life and come back, one where she has come into her own, finally, as a ruler, out of his bumbling shadow, is a loss and a shame.
'The Great's Season 3 Finale Leaves Many Questions Unanswered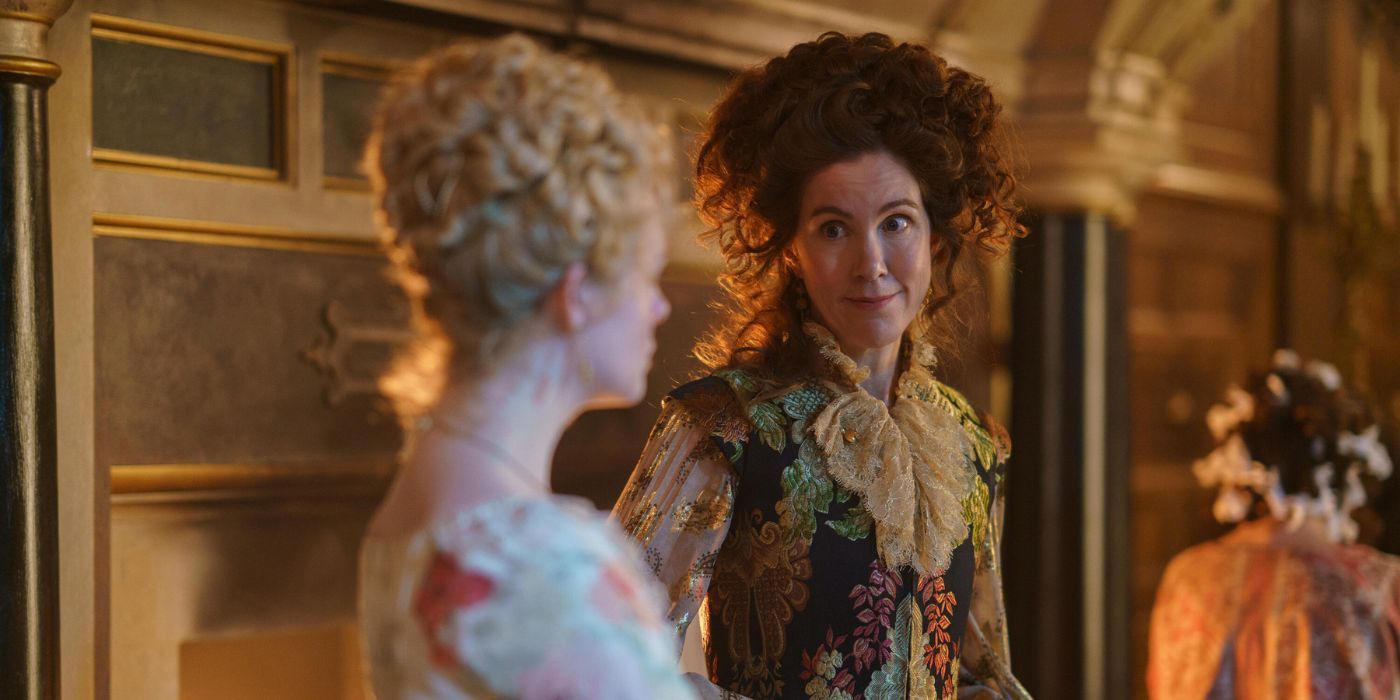 Beyond Catherine's arc, which leaves us begging for more, there are plenty of other fascinating storylines left open at the end of Season 3. The Great has a hugely successful collection of characters, each of which grew more complex and interesting over the span of the show's run. The last season, specifically, proved a transformational one for many. Georgina (Charity Wakefield), a scheming, Catherine-hating opportunist and one of Peter's childhood best friends (and lovers), comes back from France a seemingly changed woman suddenly in favor of the Enlightenment and Catherine's rule in general. Nobody believes her, at first, but she manages to convince both Catherine and the audience of her pure intentions. It's only in the final episodes that her deception is confirmed, at least to us, and she ends the season beginning a ploy to secretly wed Peter and Catherine's infant son Paul, in hopes of becoming queen herself. To her credit, Georgina does acknowledge the effect that Catherine's insistence on equality and strength has had on her – she would have never considered she could be queen, were it not for her.
The Great writes fantastically for women, and the show's feminist impact is felt through the rest of the court as well. Marial (Phoebe Fox) ends the season as one of Catherine's key advisors, after insisting she be given an official role in the court – she is no longer happy simply being a lady and, occasionally, Catherine's best friend. Elizabeth (Belinda Bromilow) finally says her goodbyes to the late Emperor Peter the Great (Jason Isaacs), the lover to whom she remained desperately loyal years after his death. In a conversation between the two (Peter the Great appearing as a ghost, or a vision), she says it is time for her to finally live her life for herself, rather than for the men around her. On a larger scale, one of Catherine's final decrees is to legalize divorce (and, after an initial fumble, to award divorced women with half of their former husbands' estates). This means all of Russia is one step closer to equality, to true agency for the women within it. We would have loved to see what this Russia could have looked like – what unexpected hurdles would surely come up, how the women of the court would change once they had their first taste of power and choice. In The Great's absurd and always comical world, we're sure it would have been a delight.
It's not just the women who end the series on the brink of a new journey. General Velementov (Douglas Hodge) was convinced he was dying and destroyed his career, only to be given a simple cure (and a second chance) by the court's doctor (Julian Barratt) in the final episodes. Grigor (Gwilym Lee) seems to be on the brink of insanity following his best friend Peter's death and wants to marry Marial, take Paul, and flee to the countryside. The Archbishop (Adam Godley), finally falls from the queen's favor after his involvement in a traitorous scheme (involving Peter's look-a-like and a nearly successful overthrowing of the thrown) is revealed, and is sentenced to being buried alive while guards urinate on the soil above him – an appropriately absurd way to die. Marial, his cousin, digs him back up before the suffocation hits – will he come back to plot his revenge, or to try and worm his way back into court?
Beyond the plot points and personal journeys left unanswered, it's important to note that The Great was simply a delightful show to watch. With wickedly fast dialogue and a mix of enormously smart and terribly low-brow humor, The Great created a world that was easy to get sucked into. Its characters were both caricaturist and deeply relatable, its problems were always absurd and occasionally heartbreaking, and more than anything, the show was pure fun (except for, of course, when it wasn't). The acting was superb, and the costumes were vibrant and beautiful – in truth, every aspect of the show was a true success. With such a unique premise and tone, we're curious whether McNamara will continue this thread into his next small-screen work, or create something entirely new. Whatever it will be, we'll be waiting excitedly – and you can bet The Great will stay on repeat in the background in the meantime.