Editor's note: The below contains spoilers for Episode 4 of Ahsoka.
At the official midway point of Ahsoka Season 1, Episode 4 delivers a much stronger episode than last week's, which can be credited to the extended runtime. Those additional minutes helped Dave Filoni bridge the gap between the two episodes and set the stage for where the back half of the season is headed—to find the MacGuffin, or, rather, Grand Admiral Thrawn (Lars Mikkelsen).
The episode, entitled "Fallen Jedi," opens aboard Ahsoka's (Rosario Dawson) ship, where she, Sabine Wren (Natasha Liu Bordizzo), and Huyang (David Tennant) are making repairs to the vessel after their run-in with Morgan Elsbeth's (Diana Lee Inosanto) lackeys. Ahsoka is understandably quite concerned about what might happen if Morgan is able to jump to the other galaxy and re-team with Thrawn. The against the Empire has only recently ended and, if the "Heir to the Empire" returns, it would easily upset the balance and plunge the galaxy back into deadly conflict. This threat is what leads Ahsoka to tell Sabine that their prerogative has changed.
Had the star map not fallen into enemy hands, they could have searched for Thrawn—and Ezra Bridger—themselves, but now the goal is to steal the star map and destroy it so no one can find the way to this galaxy far, far away. Rather than deliver this piece of information later in the episode, or use it as a twist to up the emotional stakes, Filoni opts to show his hand within the first few minutes. Ahsoka alludes to Sabine's emotional attachment to Ezra as something that might be a stumbling block for her while cautioning her that sometimes people have to do what's right, regardless of personal feelings, and from there, it's clear where the episode is headed. Their conversation gets interrupted by a small ambush of easily defeated droids and lackeys.
From there, Ahsoka and Sabine set out to locate the star map, but before they leave, Huyang makes them promise that they'll stay together because they're better that way. They teasingly agree to do just that, but their promise is broken the moment they run into Shin Hati (Ivanna Sakhno) and Marrok (Paul Darnell). As with the previous episodes, a decent chunk of "Fallen Jedi" is dedicated to lightsaber duels. While they are beautifully choreographed and expertly performed by the cast and their stunt doubles, Ahsoka's lightsaber fights remain visually unappealing. Where the premiere was met with washed-out skylines that made Ahsoka's white lightsabers impossible to see at times, Episode 4's eerie forest created a murky setting for two impressive fights.
RELATED: 'Ahsoka' Brings Back This Iconic Star Wars Element
Every Marrok Theory Went Up in a Puff of Smoke in 'Ahsoka' Episode 4
After taking a lightsaber to the gut in Episode 1, Sabine is raring to face off against Shin Hati once more, and they set off deeper into the forest to duke it out. Despite Huyang's best efforts to get Sabine prepared for this rematch, she still struggles to maintain any sort of upper hand against the well-trained apprentice. Baylan (Ray Stevenson) has clearly put in the hours to ensure that his apprentice is capable of facing any opponent. With their first duel still fairly fresh in the minds of the audience, there aren't any real stakes involved in their fight, but that doesn't stop it from being fun to watch Sabine try to figure out a fighting style that is her own.
Ahsoka also gets a rematch of her Episode 1 duel with Marrok, though this time the alleged Inquisitor seems far more keen to engage in battle. The duel ends quite abruptly when Ahsoka sweeps her blade through Marrok, and he pops like a balloon. Everyone's theories about who Marrok is went up in a puff of smoke, quite literally, which may be the funniest thing Filoni has done thus far. With Marrok defeated and Sabine handling Shin, Ahsoka takes off to find the star map before it's too late.
Before this week's episode of Ahsoka can wrap things up, it doles out one more duel — this time, between Baylan and Ahsoka. In the preamble to the duel, Baylan taunts Ahsoka about her old Master who spoke so highly of her. She quickly tosses back the fact that Anakin never spoke about Baylan, but he simply twists the knife in deeper by accusing Ahsoka of abandoning Anakin when he needed her. The short scene provides a very small glimpse into why Baylan is so on board with Morgan Elsbeth's plans to bring Thrawn back. In order to create, one must destroy. He's not quite power hungry, but he does seem to crave the order that came from the Empire's chaos, and perhaps that's rooted in what it means to be a "Fallen Jedi."
Sabine shows up towards the tail end of the duel after pulling a fast one on Shin, who was all too ready to mock Sabine for not having the Force. Sabine grabs the star map and threatens to destroy it as she and Ahsoka planned, but things go terribly awry. The episode's title isn't just about "Fallen Jedi," it's quite literally about a former Jedi falling over the side of the cliff. In a surprise twist, Baylan yeets Ahsoka's titular character over a cliff to her apparent death, leaving Sabine to pick up the pieces left behind. Ahsoka was right to worry that Sabine's judgment might be affected by her desire to be reunited with Ezra, because as soon as Ahsoka is gone Baylan tempts her with that promise. She succumbs to that desire quite quickly, giving the star map back to Baylan and allowing herself to be taken hostage by the master and apprentice.
In the midst of all of this chaos, Hera Syndulla (Mary Elizabeth Winstead) attempted to play the rebel hero once more by breaking protocol and calling upon Carson Teva's (Paul Sun-Hyung Lee) fleet of X-wing pilots to help stop Morgan Elsbeth before they can jump to another galaxy far, far away. Unfortunately, her heroics lead to tragedy as one of the X-wing pilots dies in the fray, sealing Hera's fate. As the episode shifts away from Hera and The Ghost, Jacen (Evan Whitten) becomes the next in a long line of Star Wars characters to express that they have "bad feelings" about their current predicament.
The World Between Worlds Is Introduced in 'Ahsoka' Episode 4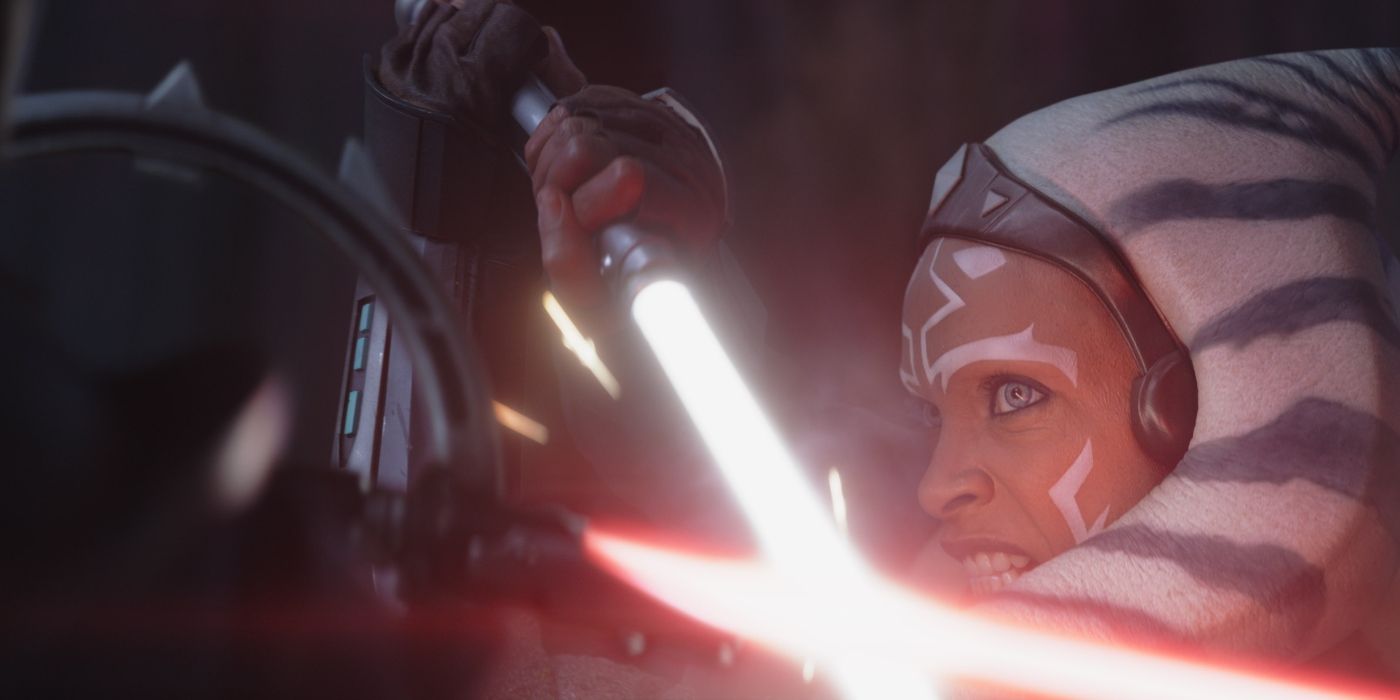 If you didn't watch Star Wars Rebels, your frame of reference for the World Between Worlds may be limited to stumbling across the It's Always Sunny In Philadelphia-style conspiracy theory tweets from Reylos who see it as a way to bring Ben Solo back to Star Wars. Right now, someone is comparing Ahsoka getting yeeted off a cliff with the iconic "ow" as we speak (It's me! Hi!). In reality, what the World Between Worlds is capable of doing is rather nebulous and under-explored in Star Wars canon, simply because it is a relatively new concept, which Filoni crafted in the animated series.
Here, Filoni uses it to bring back Anakin Skywalker (Hayden Christensen) in Ahsoka's moment of need, though the scene doesn't feel earned. Instead, it's a cliffhanger, rather than a tool to better the episode's emotional stakes. Unlike Obi-Wan Kenobi, which brought back Christensen for a gut-punching flashback and epic duel with Ewan McGregor, this feels more like a quick reaction grab, though that could change with next week's episode. It doesn't help that there's something uniquely unsettling about Anakin's physical appearance that has him looking more like uncanny-valley Luke Skywalker's father than ever before.
"Fallen Jedi" continues the trend of telling its audience exactly what is about to happen, rather than giving them the opportunity to savor the emotional beats being experienced by the characters they love. Foreshadowing is a beautiful tool and, when handled correctly, it can strengthen the bonds of a story. For Ahsoka, this is represented in an off-handed piece of dialogue about Anakin Skywalker to prepare audiences for his arrival five minutes later. It's almost as if Filoni is so eager to get to the next scene that he starts bringing it up in the moments preceding it. Perhaps this remains a byproduct of writing for shorter-form animation and a younger audience, which requires more frequent reminders both of what is and what will happen next.
New episodes of Ahsoka premiere Tuesdays on Disney+.