The Big Picture
Anime relies heavily on music to set the tone and convey emotion, making the role of a music supervisor crucial in crafting a unique sound for a franchise like One Piece.
The music in the live-action adaptation of One Piece was specifically designed to establish a world that is contained within the show, avoiding the use of recognizable elements from our world.
The music team worked to define the sound for each location and story arc in the show, drawing inspiration from the showrunners' clear vision and ideas rather than relying on sea shanties or classic orchestral scores. They aimed to create a unique and adventurous sound.
Music plays a significant part in both film and television. It sets the tone and aids in the immersion felt during any given moment, and to be able to make sure that not only does the music selected fit the scene but also conveys the necessary emotion is no easy task. Yet, anime relies on music even more than the Western media.
One Piece, arguably one of the biggest anime in the world, is known for its iconic score. From the show's intro to the character themes of Luffy and Nami, music is integral to the identity of One Piece. So, how does one attempt to bring a unique spin to a franchise that has been around for nearly 30 years?
This was a challenge Toko Nagata (Joy Ride) was willing to face head-on as the music supervisor for Netflix's live-action adaptation of One Piece. In this interview, we talk about crafting a new sound for the East Blue as well as what styles of music inspired her.
Release Date

2023-00-00

Cast

Iñaki Godoy, Mackenyu, Emily Rudd, McKinley Belcher III, Jacob Gibson, Taz Skylar

Main Genre

Adventure

Genres

Action, Adventure, Comedy

Rating

TV-14

Seasons

1
MICHAEL THOMAS: For our readers and our listeners, what exactly was your role on One Piece?
TOKO NAGATA: I was the music supervisor on One Piece.
And for those who may not know the difference between music supervisor and composer and musician, can you just give us a little bit of detail for that?
NAGATA: The composer is the one that actually writes the original music, and they play a lot of roles. A music supervisor wears a lot of hats normally, but music supervisors generally just oversee the process of music in a show, whether it's helping to find the perfect composer or helping if there's singing on screen or if [there are] recordings needed, or if we need an original song, helping to find songwriters, producers, this and that. We actually didn't have outside music in this. Normally, I would suggest a bunch of songs to license, but we negotiate song deals.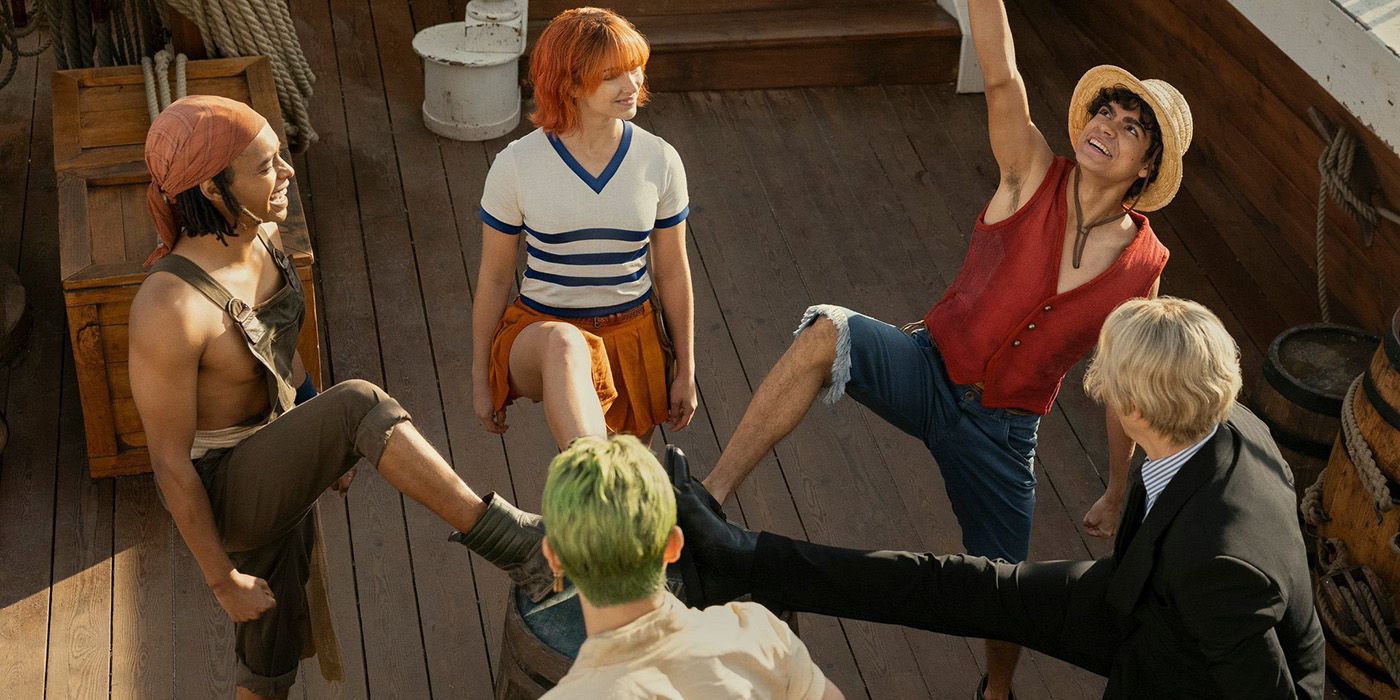 One Piece has one of the most iconic soundtracks in all of anime. What was the thought process when it came to crafting the sound of this reinterpretation of One Piece?
NAGATA: This show is largely based on the manga, so we were working with [Eiichiro] Oda-san, as well, for this. So I think the creator and the team's take on this was that we wanted to establish this world that is wholly contained in this live-action version that we are creating. They specifically didn't want to use things from our world that might pull you out of the world that they worked so hard to create.
So, no pop songs in One Piece?
NAGATA: We have some originals. Sonya [Belousova] and Giona [Ostinelli] were also songwriters on this, so they produced some original numbers, but no recognizable elements. So that was the process behind it. [In] the show, as fans know, they travel to different locations, and even though this was only eight episodes, there's a lot of movement within the show, so we had to define, with each section, with each location, there's a different story arc, different villains, different adversaries that they come across. We just worked to define, within each little world or location that we went to, what the sound was gonna be for that section.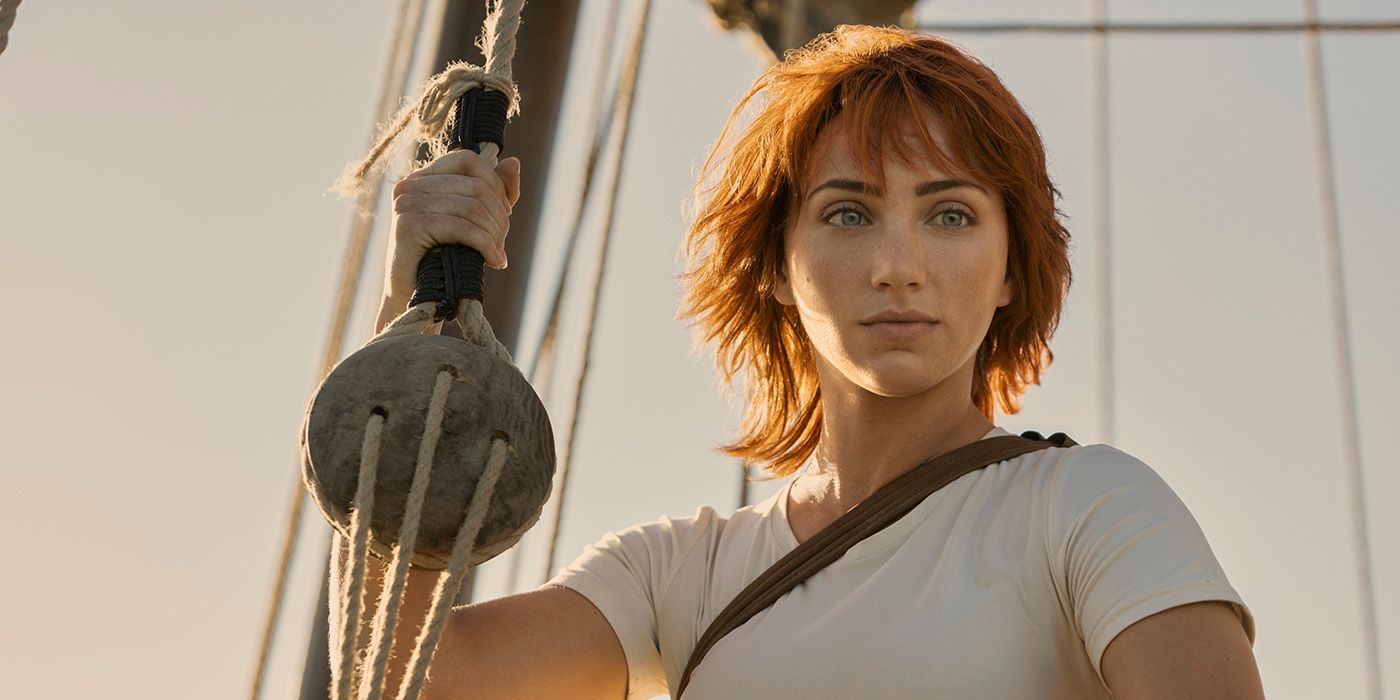 You mentioned not a lot of needle drops or anything from real-world songs or already-developed songs here, so devising that sound for each location, was there anything that inspired you? Was it old pirate movies or adventure stories that inspired what you thought the sound of this series would be, or was it working with Oda and the rest of the team to find something entirely unique for One Piece?
NAGATA: Because the show is so different from any other existing movie or things like that, I think we really wanted to find a unique sound. So, Matt [Owens] and Steve [Maeda], the showrunners, had a very clear vision of what they wanted each section to be like. And I think they both, as One Piece fans, as music fans, had a lot of fun ideas. So I don't think it was a particular thing, it was just them describing what this was gonna be like.
For instance, there is a storyline that's more set in a mobster, seedy, maybe faux fancy world, I guess. So for that, Sonya and Giona did a bunch of jazz, big band stuff, but they really took that and took it to another level and made it unique to the show. So that one started, we were envisioning like big Old Vegas, Old Hollywood sound, and I think they really took it a step further and made it true to the world.
I appreciate that you didn't solely rely on sea shanties or just reference classic orchestral scores from other films. I think you guys taking that time to develop something somewhat familiar but still entirely unique definitely helps with this show in making it feel like it is a fantasy.
NAGATA: Yeah, it was really fun and something that I haven't really gotten to do on other shows that I worked on. Also, there are just so many locations, so many characters, so many villains, so it's like, "What does everyone sound like?"
What was your favorite pieces of music that you all developed for One Piece?
NAGATA: There are different sections that I really like, but I don't know if I can describe them without going into too much detail. I will say that Nami's theme came out today. Sonya and Giona wrote that, and they had a featured artist, Aurora, on it, so that's something that you can check out, which is super fun. A lot of them are score moments that I think they just did such a good job, so it's hard to get into it without describing the scenes and whatnot.
There's another section that Matt described as like a high-class thriller, horror-type story arc; I think the music for that one turned out so well because it's just whimsical and creepy and unsettling. Finding the sound for that was really cool. It featured lots of strings, classical music, some operatic vocals, and that was just overall very fun to work with a team to figure out what that would be.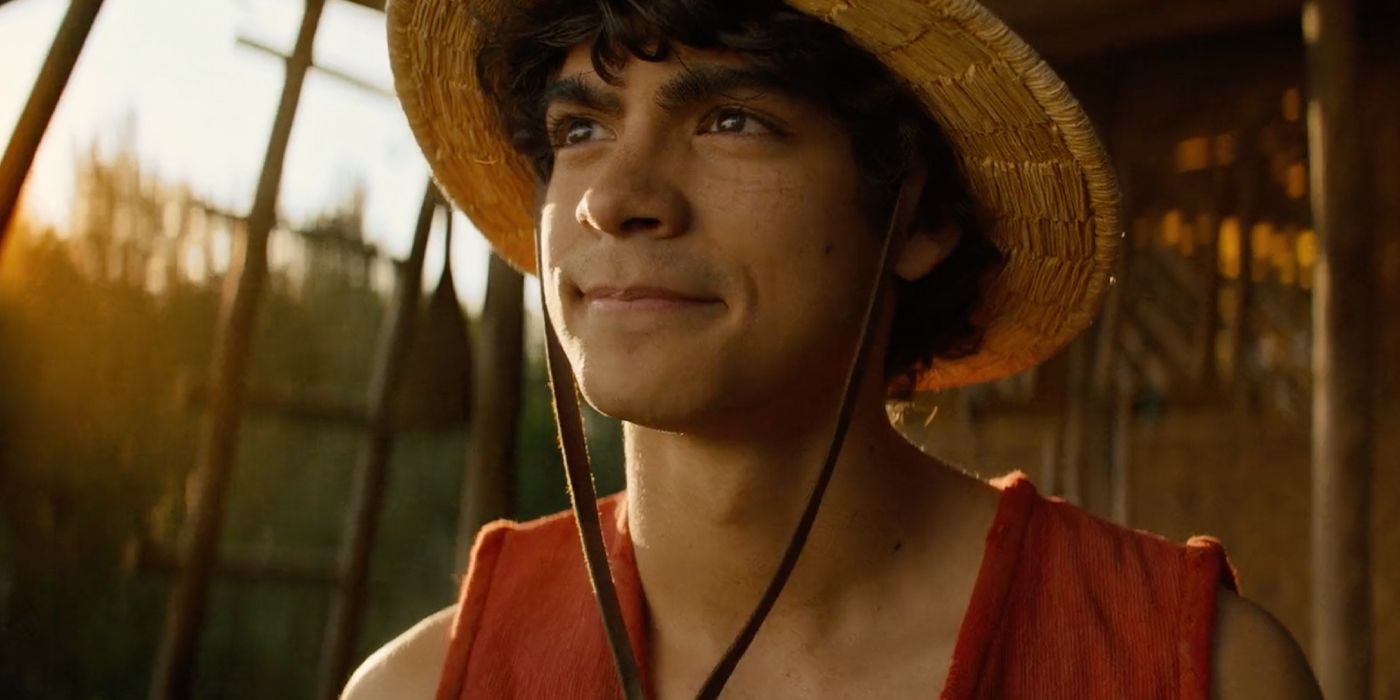 In Episode 4—it's when the crew gets the Going Merry—at the end of that episode, we start hearing a rendition of "We Are," which is the first intro from the anime for One Piece. At that moment, we get "We Are," it made me cry inside because, "Hey, we finally hear that moment after three or four episodes!" Was there a reason you held on to it like you wanted to ensure it was for the most perfect moment when the band's all together? What goes into it when you pick and choose anime motifs?
NAGATA: Well, I don't actually know what the backstory was behind that specific moment being there. The showrunners were really excited to put some Easter eggs in for the fans, and I think that's just a really good moment because they're sailing away on the ship, and they've been working so hard towards this thing, and they're doing it.
The start of the journey.
NAGATA: Yes. But yeah, that is a great song, and instantly recognizable, I think, for fans.
Oh, yeah, for sure.
NAGATA: I love to hear that you noticed it and cried!
[Laughs] It was the cherry on top for that episode because it was already a great arc, and then it hits, and it's like, "They got it. Everybody understood the assignment."
NAGATA: That song is so anthemic, and it's just so adventurous, and, honestly, I don't even know how they wrote that song.
It is! As a child, were you into anime, watching One Piece? Did that play a role in your taking on this project?
NAGATA: To give you some backstory, I grew up mostly in Japan for my younger years, so we watched a lot of anime that I don't know is super popular here. So I was super into this show, Chibi Maruko-chan, which is just like a show about a family and this girl and the trials and tribulations that she goes through, but it's very dramatic and relatable. Also, another big one that I watched was Sazae-san, which is also another family-centered one, a big one. So these are all pretty little kid shows, I was, like, under 10. Then, of course, like there's like another super legendary one that I was into called Anpanman, which is a show about this superhero that's like bread, he's like a red bean bread man, basically. It's really popular in Japan, and all the other characters are also bread, like all the other superheroes, and they're like, "Okay, this show would only be made in Japan!" [Laughs] I love bread, I love food, so it's like a very whimsical show to watch. Then I moved here when I was 10, so I think that was a very interesting transition, being kind of uprooted and settling here.
Especially at that age, too.
NAGATA: Yeah, so I didn't really have access to Japanese television, and there's so much pressure to assimilate and learn, and blah, blah, blah. So, I had a big gap in my Japanese TV shows. I think One Piece came out right around the time when we moved here, so I actually didn't watch it until the pandemic. Honestly, I'm sure it was the perfect time for anyone to start watching it whenever they did, but I feel like, for me, the pandemic was just such a good time to watch the show because it's so refreshing. It's so positive. It's so inspiring, and it really takes you out of this world, and especially the locked-down pandemic world.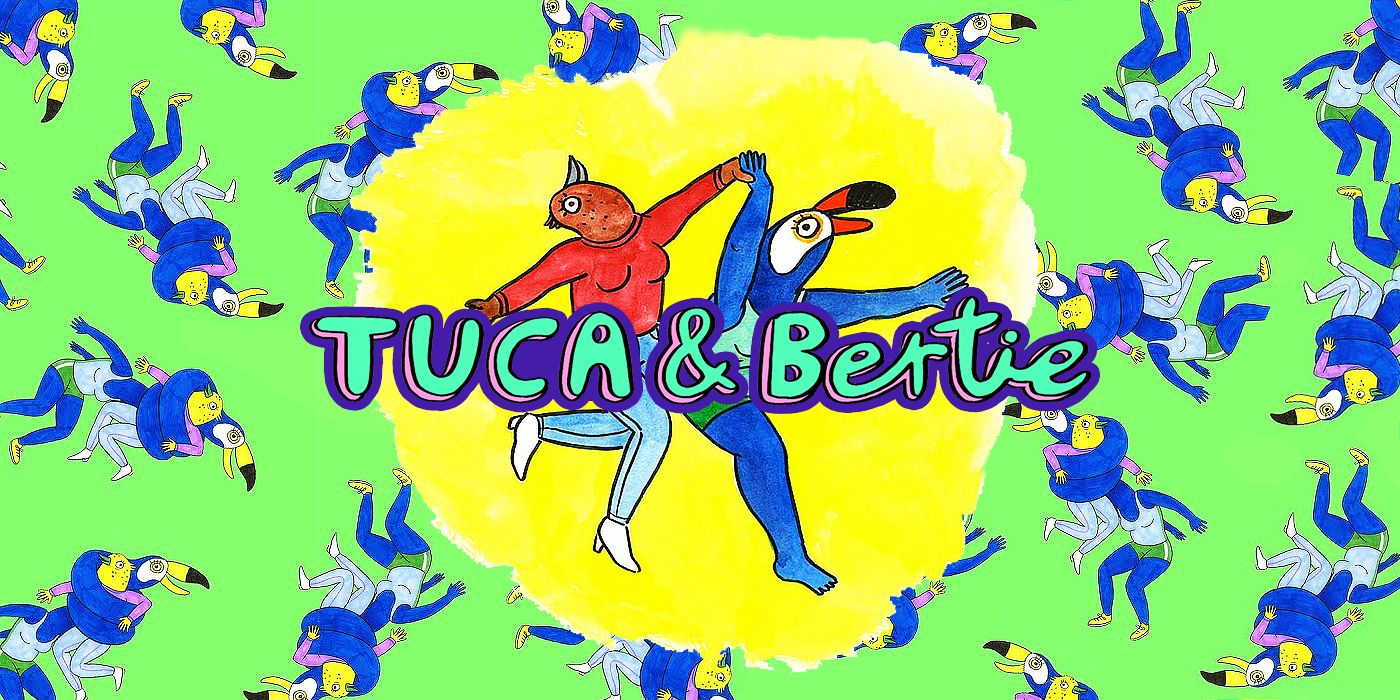 I can totally see Luffy's energy being the perfect thing somebody would need during that time. Is there any other franchise or anime production that you would like to be a part of? In an ideal world, what would be your dream scenario? That is the theme of the show, after all, is following your dreams.
NAGATA: Honestly, I'm not sure exactly what my dream anime show would be. Okay, this isn't an anime show, but I worked on Tuca & Bertie on the last season, and that was just such a dream for me.
It's such a great series!
NAGATA: It's so good. It's a bird world, but it's just so relatable and it deals with issues of mental health and everything that happens, it just resonates so deeply. So, if I could work on another show like that, I think that would be a dream. It's also so zany and it just makes a lot of really difficult issues okay, or accessible, or right. So I think something like that.
The live-action One Piece series is now streaming on Netflix.