The Big Picture
Breaking Bad's creative marketing team released an interactive game called Walt's Wisdom in 2008, providing an immersive and exciting teaser for the show without revealing too much plot.
A sequel called Walt's Warning was released the following year, showcasing a shift in Walt's character and receiving recognition and awards for its innovative use of video and moving images.
An official mobile game, Breaking Bad: Criminal Elements, has also been released, where players can build their own drug empire under the guidance of Walter White and Jesse Pinkman, including other beloved characters from the show.
Much like its main character, Breaking Bad began as an underestimated powerhouse, turned down by the companies of which it was worthy. The story follows Walter White (Bryan Cranston) as he ditches his dead-end career as a high school chemistry teacher to become the meth-cook kingpin Heisenberg. Finding its home at the newly ambitious AMC network, the series blossomed, changing television forever. It's no surprise that this crime drama also starring Anna Gunn and Aaron Paul has since gone on to inspire fan art around the world, including a fan-made open-world video game using Unreal Engine 5. The creative team at Teaser Play drew inspiration from Grand Theft Auto V for this proof-of-concept, but did you know that there have, indeed, been several official Breaking Bad video games made in the past?
TV shows, with their ability to continue a story almost infinitely, have lent themselves to the video game format for decades to mixed results. Animated comedies often find the most success, given their freedom to play with parody. The Simpsons has parodied Tony Hawk's Pro Skater, Crazy Taxi and Grand Theft Auto respectively, and South Park is still thriving in the video game market after starting in 1998. Dramas like Breaking Bad are difficult to adapt to games, however, and many have tried. The Lost spin-off Lost: Via Domus and the beat-em-up Buffy the Vampire Slayer: Chaos Bleeds both allowed fans of the show to step into their respective worlds without tarnishing the show's story. The same can be said for 24 and Game of Thrones which also had fairly successful adaptations. Interestingly, Desperate Housewives opted for a Sims-style platform, something The Sopranos: Road to Respect perhaps should have tried. As for Breaking Bad, though, what they did was different in every way.
RELATED: The 'Breaking Bad' Universe's Best Underrated Characters
'Walt's Wisdom' Released The Same Year as Season 1
In 2008, Breaking Bad was still in its first season, still proving to the world that it had the potential to become the masterpiece we know it to be today. Its creator Vince Gilligan and his creative marketing team had the foresight to create an interactive game of sorts called Walt's Wisdom to help promote the series online. This minimalist two-and-a-half-minute video is structured as if the player is video calling Walter White during the climax of the series pilot. As Walt scrambles in the RV to gather his bag of cash while the emergency services close in on him, he begrudgingly answers your call and uses the viewer's name, state, and friend as a personalized touch (using data typed in by the player).
Walt urges the viewer, "Look, you're [the viewer's age], you still have time to change! So whatever you can do, or want to do, or dream that you can do, start doing it right away because there is nothing more dangerous in life than not living. And don't be like me, be yourself. Good luck." Walt then turns the camera to face a list titled "time-wasters" and proceeds to cross of the viewer's name from his list. He then leaves the RV and the signal cuts out, implying this leads directly into the show's cold open, with Walt holding up his gun, ready to face off against what he believes to be cops. Although the player is not given the chance to control anything besides the information to be read out by Walt, this interactive video proved to be an immersive and exciting teaser for the show without giving away too much of its plot. It also spawned an even more interactive sequel the following year.
The Next Year, a Sequel Called 'Walt's Warning' Was Released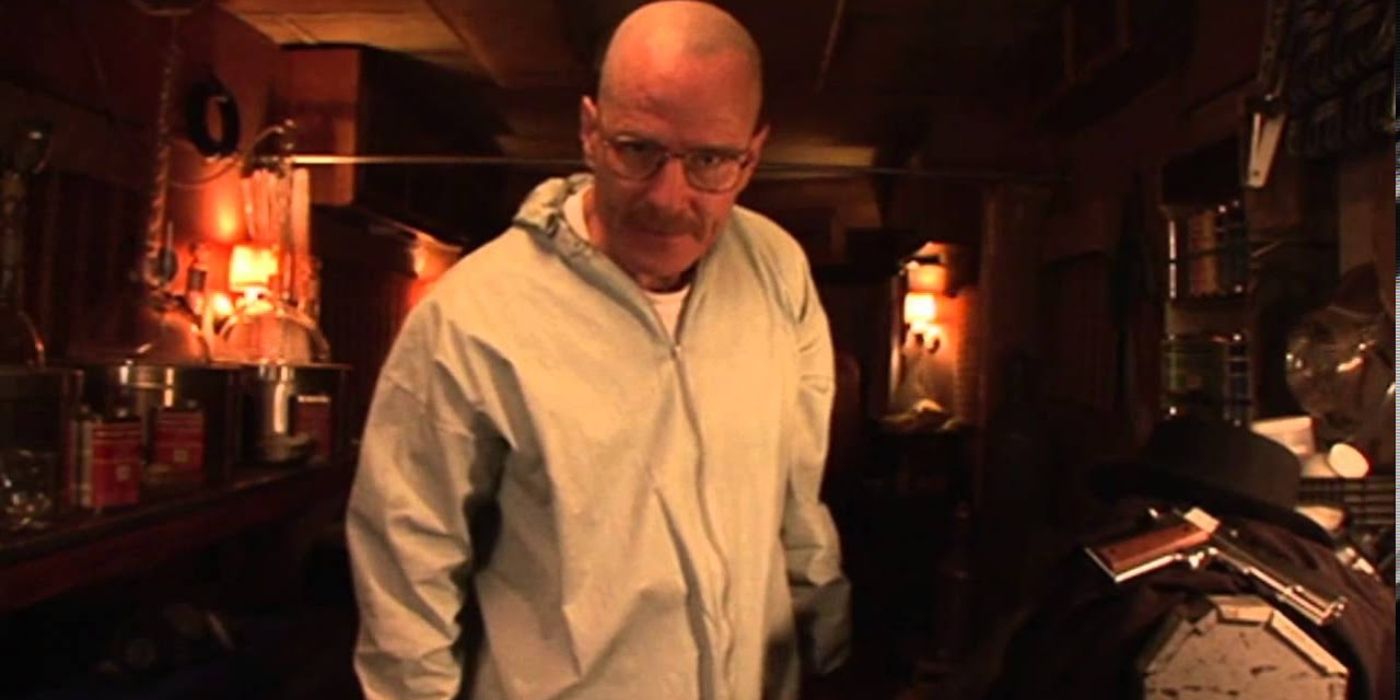 The following year, a team of web designers called 'Ralph', hired by Sony Pictures TV, created a sequel to Walt's Wisdom called Walt's Warning. This interactive video is shot from the viewer's P.O.V. perspective as a bystander who stumbled upon Walt's meth lab. Running through the desert away from Walt's disembodied voice, Walt intimidates them into submission. The player then wakes up in the RV with Walt threatening to kill them should they ruin Walt's scheme. With the added novelty of Walt burning a photograph of the player, this sequel not only builds upon the limited technology of the first but also highlights just how different Walt's character became within just one season. No more words of advice to avoid Walt's own pitfalls, this game marks a shift towards Walt's embracing of his own darkest corners.
"Last year, we did Walt's Wisdom, so it was actually reaching out to the viewer and trying to help them," Cranston explained in a behind-the-scenes video. "There's been somewhat of a change in Walt's character, so this year it's Walt dishing out some warnings." Walt's Warning ends with the player waking up in the desert again, this time accompanied by a note from Walt; "You can't hide in [viewer's city] forever, [viewer's name]." It went on to win a BIMA award and was nominated in the 14th Annual Webby Awards for the "Best Use of Video or Moving Image". According to its Fandom page, Bryan Cranston recorded thousands of lines to say as many names as he could for the sake of the user's experience.
There's Now a 'Breaking Bad' Mobile Game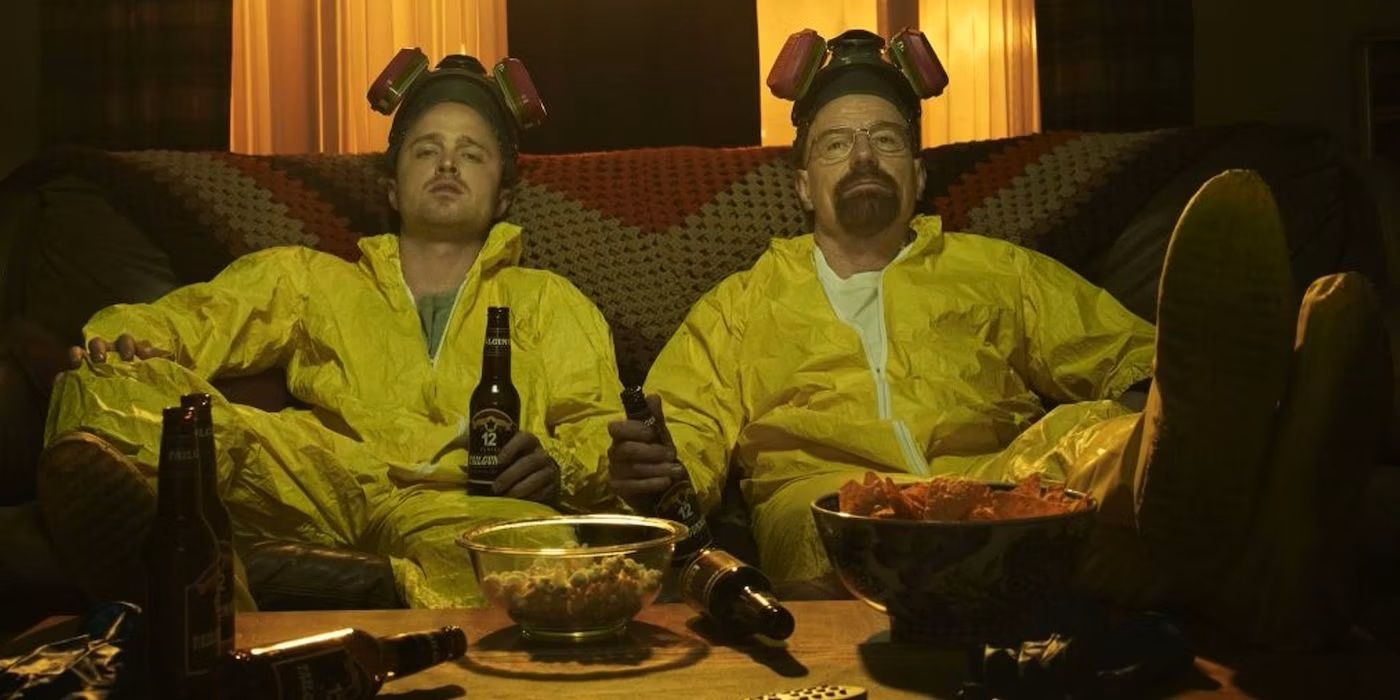 In June 2019, six years after the show's end, Breaking Bad finally released its own official video game. Breaking Bad: Criminal Elements is a strategy mobile game in which the player builds their own drug empire under the guidance of Walter White and Jesse Pinkman. It is thought to be a second attempt at a Breaking Bad mobile game following the originally planned Breaking Bad: Empire Business. The game also includes fan-favorite characters such as Saul (Bob Odenkirk), Tuco (Raymond Cruz), Jane (Kristen Ritter), and Hank (Dean Norris).
The Breaking Bad universe has been supported by a colorful collection of accompanying web content from its very genesis, with Walt's Wisdom being a prime example of this. It also ensured that websites from the world of the show, such as SaveWalterWhite.com, exist in the real world to create a grounded reality. Walt's sleazy lawyer Saul Goodman not only warranted his own critically acclaimed spin-off show, Better Call Saul but also a cheesy website for the ages. The cinematic universe of Vince Gilligan has also produced four seasons of training video web series to coincide with Better Call Saul's last four seasons; Los Pollos Hermanos Employee Training starring Gus Fring (Giancarlo Esposito), Madrigal Electromotive Security Training starring Mike Ehrmantraut (Jonathan Banks), Ethics Training with Kim Wexler (Rhea Seehorn) and Filmmaker Training starring the Saul Goodman Productions gang. Several of these have gone on to win the Emmy Award for Outstanding Short Form Comedy or Drama Series.