The Big Picture
David Suchet's portrayal of Hercule Poirot in Agatha Christie's Poirot series is widely regarded as the best, capturing the character's charm, comedy, and confidence.
Suchet perfectly embodies Poirot, from his accent to his walk, and brings the beloved detective to life onscreen.
Poirot's quirkiness, such as his third-person references and obsession with his appearance, adds humor to the series, making it even more enjoyable for audiences.
Agatha Christie has been writing murder mysteries since it seems almost like the dawn of time. Her two most known characters include Miss Marple and Hercule Poirot. Hercule Poirot has been portrayed in numerous movies, TV shows, and plays. But who has the best portrayal? More recently, we've seen Kenneth Branagh play Detective Poirot in Murder On The Orient Express, and we've seen Peter Ustinov, John Malkovich, Albert Finney, and Alfred Molina portray the detective in one form or another. And they all put their own unique twist on the detective that made the character brilliant. But as you might have guessed, the best would have to be David Suchet. He played Poirot in the series Agatha Christie's Poirot. With a whopping 13 seasons, this British drama has audiences putting together puzzle pieces to solve the mysteries along with Poirot. You can easily watch and re-watch to see all the clues you may have missed the first time around and solve the case as Poirot does.
David Suchet Perfectly Captures Hercule Poirot's Charm, Comedy, and Confidence
In the series, as the title Poirot would suggest, Hercule Poirot (Suchet) is an eccentric former Police Officer turned Private Investigator who has his clients but also helps the police solve cases occasionally. He takes on many different types of cases, but most of the time, it involves murder and mayhem. The 1990 series is set in London, England, a little after the war. Poirot, who gets confused for being French in almost every episode, is actually Belgian, a fact he won't let you forget. When working with the police, Poirot often works with Captain Hastings (Hugh Fraser), who also acts as his sidekick and sometimes has to work with Chief Inspector Japp (Philip Jackson), his archnemesis of the show. His secretary, Miss Lemon (Pauline Moran), is also always on his case about something.
We all know (and he'll tell you himself) that Poirot is brilliant as he tells audiences about the little grey cells and solves crimes. He carries a confidence one can only strive for as a master at solving puzzles and using his wit. The one thing he does lack is a little bit of people skills. But that's all part of his eccentricity. Suchet encompasses the character so well that you won't be able to recognize him out of character. From the accent to the walk, Suchet embodies Poirot down to his core and brings to life this detective we've all come to love, from novel to film.
Poirot's quirkiness also leads to some of the funniest scenes. Something that happens in almost every episode but never fails to make audience members chuckle is when Poirot refers to himself in the third person, usually when he is about to get worked up over something. And like many of us, he is very concerned with his appearance. He's constantly checking his mustache to make sure it's perfect, and spoiler alert, it always is. One of the funniest episodes is '"One, Two, Buckle My Shoe" when Poirot has a toothache, and Miss Lemon forces him to go to the dentist — which is his absolute worst nightmare. What makes this episode so funny is that we all know one person or another who would act in the same manner, avoiding the dentist at all costs and even going so far as to deny that there's any problem — Suchet captures this fear and denial in the most comical manner imaginable.
Some of the best episodes include Season 4's "The ABC Murders," the first episode with Poirot interacting with a serial killer and knowing that if he doesn't find the killer, more people will end up dead. Another fan favorite that is one of the closest to the novels is Season 2, Episode 1, "Peril At End House," where Poirot is staying at a resort and meets an heiress who is in danger. The plot unravels with the perfect concoction of mystery, suspense, and sleuthing as Poirot puts the pieces together and has revelations with the audience. Then finally, you can't miss Season 12, Episode 3, "Murder On The Orient Express," as well as Season 9, Episode 3, "Death On The Nile," which have both been remade over the years as films, but Suchet as Poirot is chefs kiss. He brings a charm and lets viewers join him in his mental process when solving a murder.
RELATED: 'A Haunting in Venice': Release Date, Plot, and Everything We Know So Far About the Murder Mystery
'Peter Pan Goes Wrong' Meets Hercule Poirot in an Unexpected Cameo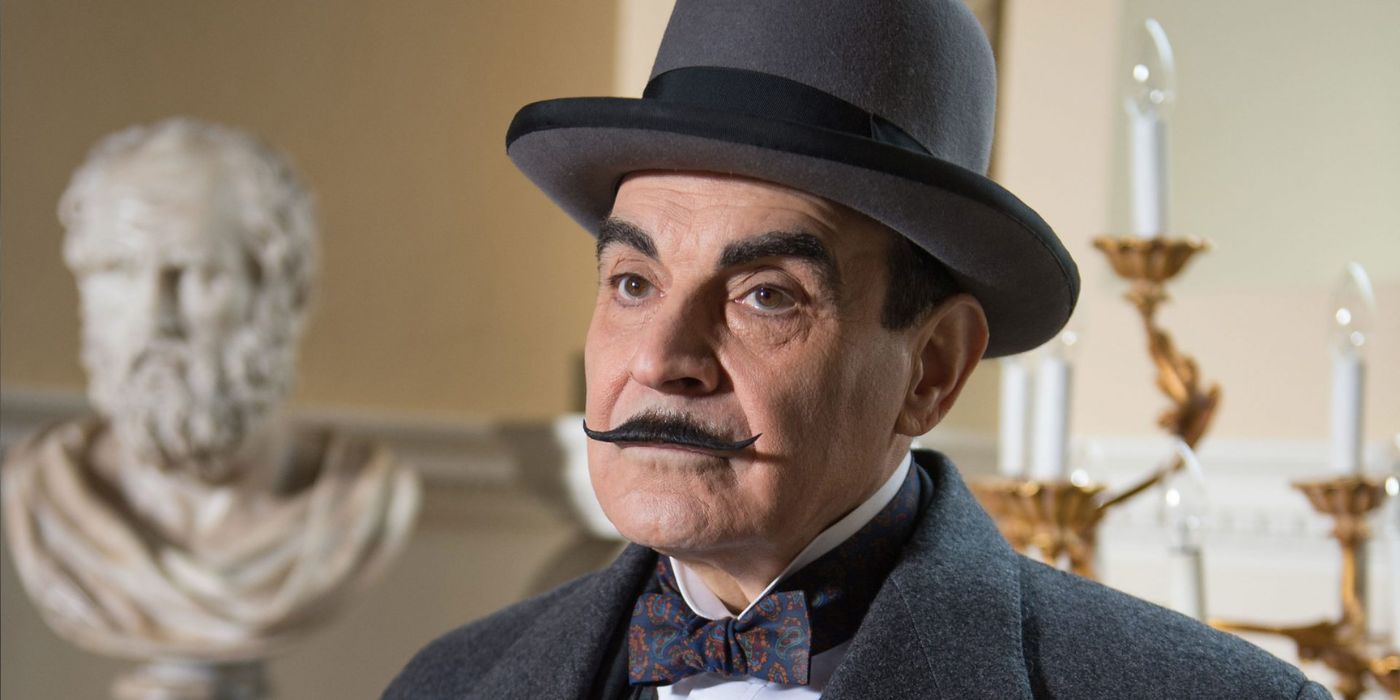 David Suchet also brought Poirot back for a little cameo when he played the Narrator in the smash hit play Peter Pan Goes Wrong. This play follows the story of Peter Pan, as one might expect, and captures everything that could go wrong with the characters, set, and backstage crew. They're all brought in to bring this production to life. And when one of the actors takes a tumble, Suchet is told to distract the audience. He does so by taking the mustache from one of the other actors and assumes the Poirot stance. Audiences gasped and laughed with glee when they saw this. And then he began to speak, and it was like being transported back to the series.
Hercule Poirot is such an unconventional and almost bizarre character that anyone who gets the chance to play him must have a blast. Suchet as Poirot is one of Agatha Christie's most recognizable detectives for many crime fans, and he fits the bill so well when comparing him to how he appears in the novels. David Suchet will always live in our hearts as Hercule Poirot.