The Big Picture
The two-part Season 4 finale of Little House on the Prairie, "I'll Be Waving As You Drive Away," is considered one of the best episodes of the show, marking a transitional period for the Ingalls family.
The performances of Michael Landon and Melissa Sue Anderson in this episode, particularly Anderson's portrayal of Mary going blind, are powerful and exceptional.
The episode highlights the Ingalls family's unwavering commitment to their children, even when faced with difficult decisions, and emphasizes the theme that God's plan is bigger than our own dreams.
With over 200 episodes and four television specials trailing behind its covered wagon, it's hard to name a single episode of Little House on the Prairie as "the best." Based on the semi-autobiographical Little House book series by the real-life Laura Ingalls Wilder, the television adaptation was known best for its traditional family values, picturesque view of pioneer living, and Michael Landon's trademark vision and charm, but that's not all that made the series great. In fact, because we can't pick just one episode to deem the "best" of the series, we've cheated and picked two.
The two-part Season 4 finale, "I'll Be Waving As You Drive Away," ought to be considered the most notable two hours of Little House. These highly celebrated episodes are unsurprisingly considered some of the best of the show. This two-part finale marked a clear transitional period for the NBC series, which changed the course of the Ingalls family's lives forever. So without further ado, let's jump into this fantastic two-parter; there's a lot to unpack.
RELATED: Here's How 'Yellowstone' Connects to 'Little House on the Prairie'
What Happens in "I'll Be Waving As You Drive Away"?
With the backdrop of a dispute brewing between the Grunge and the railroad companies, Mary Ingalls (Melissa Sue Anderson) has fallen in love. In "Part 1," we see Mary on her way to becoming a school teacher, studying hard to pass her exams in the spring. Meanwhile, she's taken to a young boy named Seth Barton (Robert Kenneally) who takes a keen interest in the teenage girl, much to her sister Laura's (Melissa Gilbert) chagrin. But the butterflies don't last long as Charles (Landon) finds out that his eldest daughter is going blind after complications from her previous bout of scarlet fever.
Unable to do anything to stop it, "Part 1" ends with Charles and Caroline (Karen Grassle) deciding to send Mary to a school for the blind where she can learn to take care of herself and function. It's a tough decision, but one the Ingalls family must work through together. While at this school in Iowa, Mary learns how to navigate her newly darkened world with the help of her teacher Adam Kendall (played by Linwood Boomer, who just so happens to be the man who would later create Malcolm in the Middle), who, at first unbeknownst to Mary, is also blind. Upon completing her training, and readying herself to be picked up by her folks, Mary falls in love with Adam, and the feeling is mutual.
By the time Charles and Caroline come to pick up Mary from school, she has decided to move with Adam to Winoka, South Dakota to open a school for the blind, thus fulfilling her life-long dream of becoming a teacher. But with the town of Walnut Grove all but abandoned after the dispute with the railroads, the Ingalls family decides to move with Mary, setting off to make a new home elsewhere. The episode ends with the Ingalls family joining their fellow townsfolk at the church for Rev. Alden's (Dabbs Greer) last farewell.
Michael Landon and Melissa Sue Anderson Steal the Show in This 'Little House on the Prairie' Episode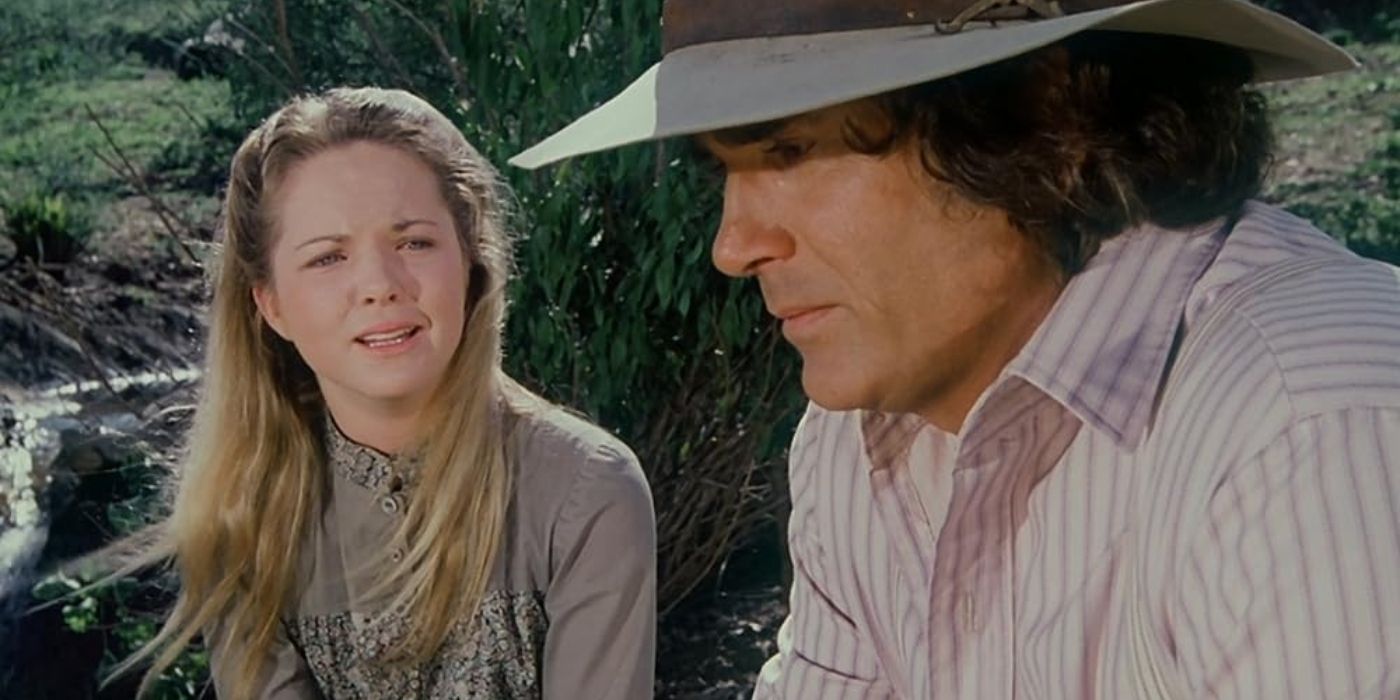 No doubt the entire Little House cast is incredibly talented, and there are various episodes where stars like Melissa Gilbert and Victor French absolutely shine. But the most powerful performances this time around come from Landon and Anderson, who play their parts like nobody's business. Anderson especially as she is forced to play a young girl at the very end of her dreams, juxtaposing Mary's slow-burning blindness with her deteriorating morale. Anderson's work here is exceptional, most notably the moment when Mary officially goes blind. As she howls for her Pa, we can't help but cry with her as her world goes completely black.
Mary's time at the school for the blind also brings out Anderson's best. Not only do we believe that Mary is blind here, but her initial stubborn unwillingness to move forward feels only natural given her plight. As such, Anderson's transition from denial to acceptance is part of what makes Mary's story here work so well. But let's not forget about Michael Landon's role in all this. Generally speaking, Landon is a masterful television actor, something he's passed down to some of his real-life children. His time on Bonanza before Little House and his work on Highway to Heaven afterward only prove his commitment to his craft, and how much he's grown as an actor in that time.
But the most powerful moments of "I'll Be Waving As You Drive Away" are Charles' responses to Mary's deteriorating state. From the moment Charles learns of Mary's condition, we see a father who feels as if he's failed. His moments with Rev. Alden, Caroline, and later Mary, having to explain to her that she's going blind, is gut-wrenching in every way, yet he plays each scene effortlessly as if Anderson were his legitimate child. There's nothing quite like it. No doubt, Landon paved the way for other notable TV dads like John Schneider's Jonathan Kent on Smallville or John Wesley Shipp's Mitch Leery on Dawson's Creek.
The Ingalls Family Always Does Right By Their Children, Even When It's Hard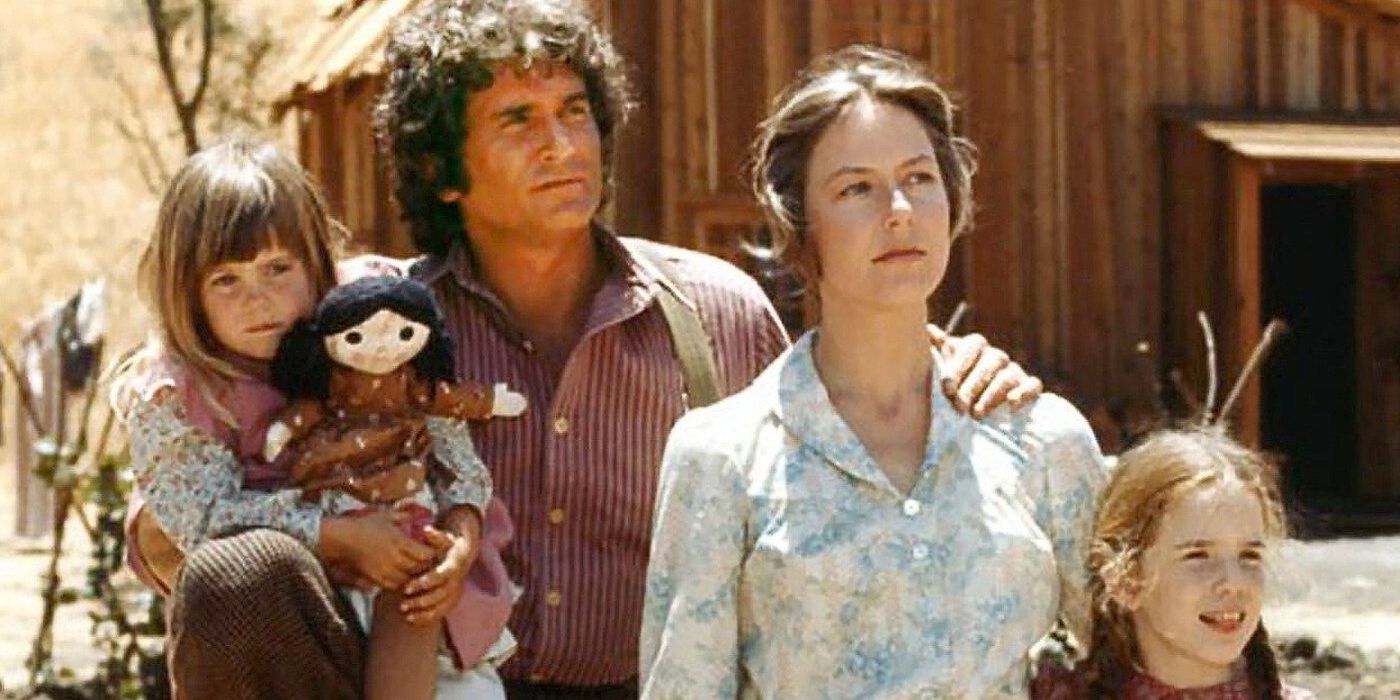 Of course, Charles and Caroline's decision to send Mary away from their home in Minnesota all the way to Iowa (which was a much longer journey back then than it is today) is an impossible one. On one hand, it's natural for a parent to want to care for their child, especially in a situation such as this. On the other, a parent's job is to train their child to succeed and live beyond them. Contrary to what happened with the real-life Mary Ingalls (who lived with her parents and later her sisters until her death), the Ingalls send Mary off, and, in the end, it's the right thing.
Not only does Mary's time in the school of the blind help her to learn to function with her newfound disability, but it gives her a sort of perspective on her life she didn't have before. Likewise, it gives Mary hope for her own future, something she would've lost staying at home in bed. Her time there helps teach Mary a kind of resilience that she might never have learned without her situation, and though everyone involved hoped and prayed for a miracle, the true miracle was the willpower and strength she gained in her weakness. "Reading was my best subject," Mary tells Adam. "Will be again," he relates back. Turns out, he's right.
As one of the most arduous decisions that Charles and Caroline ever have to make in the series (and they've had to make several), this one takes the cake as the toughest, but it all works out for the best in the end. Interestingly, because of Mary's predicament, Charles couldn't care less about the slow decline of Walnut Grove happening around him. He even loses his job, only to tell his friend Jonathan Garvey (Merlin Olsen) that all that matters is what's happening with Mary. Having lost all financial stability and security, all Charles and Caroline can think about is their daughter, and, though they still decide to move at the end so that Charles can find work ("there's always a job for a man willing to work"), putting their children first is the mark of a good parent.
The Episode Notes That God's Plan Is Bigger Than Anything We Could Dream Up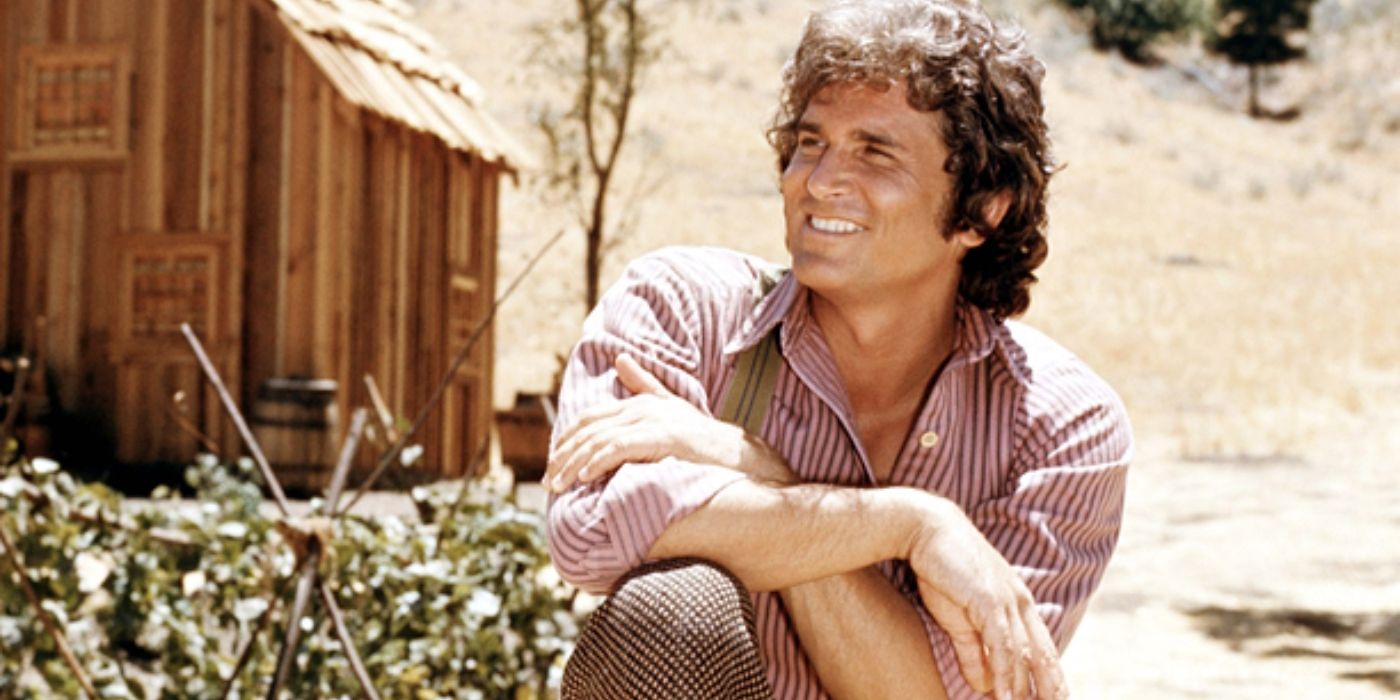 But perhaps the most important theme in this two-parter is encapsulated by the moments between Charles and Rev. Alden in the church the night before he tells Mary that she's going blind. There, the minister admits that though he doesn't understand why God doesn't always answer prayers the way we want them answered, he does know that God's plans produce the most good in the end. Though Charles doesn't understand the preacher's words in "Part 1," by the end of "Part 2" he sees clearly what the minister struggled himself to see — and not Charles only, but the whole Ingalls family sees it too.
Initially distraught that she couldn't be a teacher, Mary retreated into her own darkness following her blindness. It's not until she is taught to "see" by Adam that she rediscovers what a gift it is to learn. Armed by her newfound perspective and resolve, Mary vows to be a teacher to the blind and fights to continue the dream that she and her mother dreamed for her all those years earlier. As a result, her own former teacher, Mrs. Beadle-Simms (Charlotte Stewart) passes the torch to the young woman, giving Mary the same gift she received from her own teacher once upon a time. It's a beautiful moment that only means more now given all Mary has gone through.
As "Part 2," and thus Season 4 of Little House, ends, Mary concludes Rev. Alden's service with a reading of Psalm 15, which reminds the congregation of Walnut Grove that walking uprightly is the only way to live. Mary's own dark night of the soul has shown her the importance of goodness and truth paired with a resilient spirit, which doubles as her newfound motivation for wishing to "save" others as Adam saved her. "It's a dream I made myself forget," Caroline tells her daughter in "Part 2," "and now it's coming true." No doubt, the Reverend was right when he noted that God had a better plan for Mary, and now that she's pursuing such a noble cause, she's found a real purpose to keep going.
"I'll Be Waving As You Drive Away" Was A Departure for the Series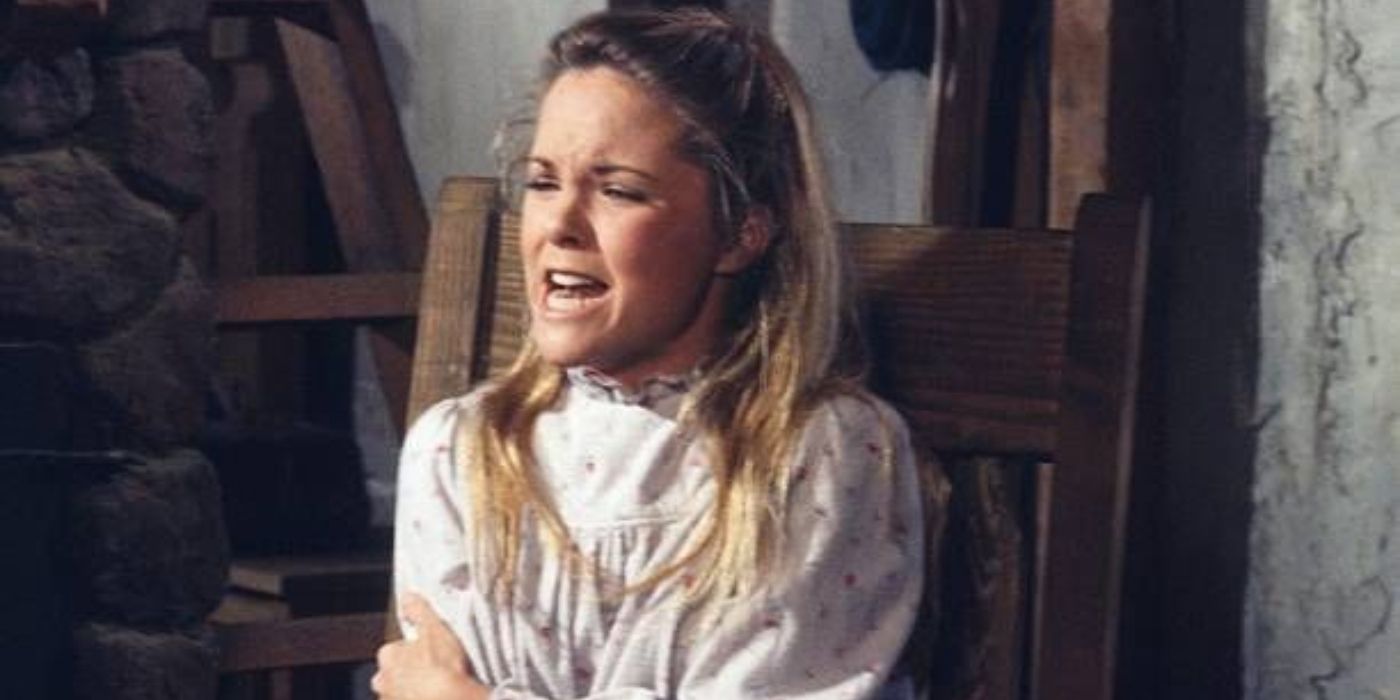 Unlike most Little House episodes, "I'll Be Waving As You Drive Away" isn't centered around Laura, though it sort of makes you think so in the beginning. Instead, its focus on Mary (mirroring the real-life Mary Ingalls' own condition) was a welcomed departure for the series to take at the time. Rarely did episodes ever center on the eldest Ingalls' daughter, making this two-parter a strange departure from the usual model. And yet, it worked! When the show came back the next season, the Ingalls family remained in Winoka for a number of episodes before moving back to Walnut Grove, though they did so without Mary.
Though she was still credited in every episode of Seasons 5 through 7, Mary Sue Anderson slowly departed the series following the Season 4 finale. As Mary continued her life with Adam and taught the blind, the Ingalls family lived on without their eldest daughter around. Laura became the top dog of the Ingalls children (as if she wasn't already?) and the show eventually evolved to center completely around her via Little House: A New Beginning, known as the series' unofficial ninth season. Yet, it all started here. As Mary first left her family to learn to make a life for herself, that idea became a pattern for the character, who continued to do so through the show's initial run.
As one of the highest-rated episodes (two-parters or otherwise) of the show, "I'll Be Waving As You Drive Away" is ultimately a coming-of-age story that reminds us that the good old days of childhood can't go on forever. In many ways, the early years of Little House all blend together as a dream-like tapestry of traditional values and childlike wonder, but as the series progresses and its stars grow up, more mature themes, ideas, and situations arise. No wonder the show eventually followed Laura and her new family, leaving her parents and siblings behind. Nevertheless, if there's one two-parter that stands above the rest of the Little House chronology, it's this one.
Little House on the Prairie can be streamed for free on Amazon's Freevee and on Peacock's Premium platform.