When Seinfeld aired its pilot in 1989, few could have predicted the cultural impact that it would have. Originally dubbed "too Jewish, too New York" by NBC's president at the time, the show was based on Jerry Seinfeld's comedy routine and the idiosyncrasies of everyday life: laundry, waiting for tables at restaurants, dating. By the time the show ended its nine-season run, it had garnered 68 Emmy nominations and won nearly a dozen.
The titular Jerry Seinfeld is the only character to appear in every show episode, so naturally, he has some stand-out episodes. In fact, for the first seven seasons, he is the first character we see, with each episode starting with a segment from his act. From his instance on not wanting to be a pirate, to his hatred of people with ponies, here are some of Jerry's best episodes.
10
"The Library"
Season 3, Episode 5 (1991)
Jerry gets a call from the New York Public Library about an overdue library book he swears returned in 1971. Jerry goes so far as to look up an old flame that he thinks will help corroborate his case. But he quickly learns that maybe his memory isn't as clear as he thought.
RELATED: Jason Alexander Got Cast in Seinfeld for Doing This Celebrity Impression
Jerry has his moments here, but Phillip Baker Hall's role as Library Inspector Bookman remains one of the show's most iconic guest spots. The Inspector's monologue lamenting the treatment of library books by "sickies" like Jerry and some flashbacks of a young Jason Alexander as George (with hair!) and Jerry make this an incredibly fun episode.
9
"The Race"
Season 6, Episode 10 (1994)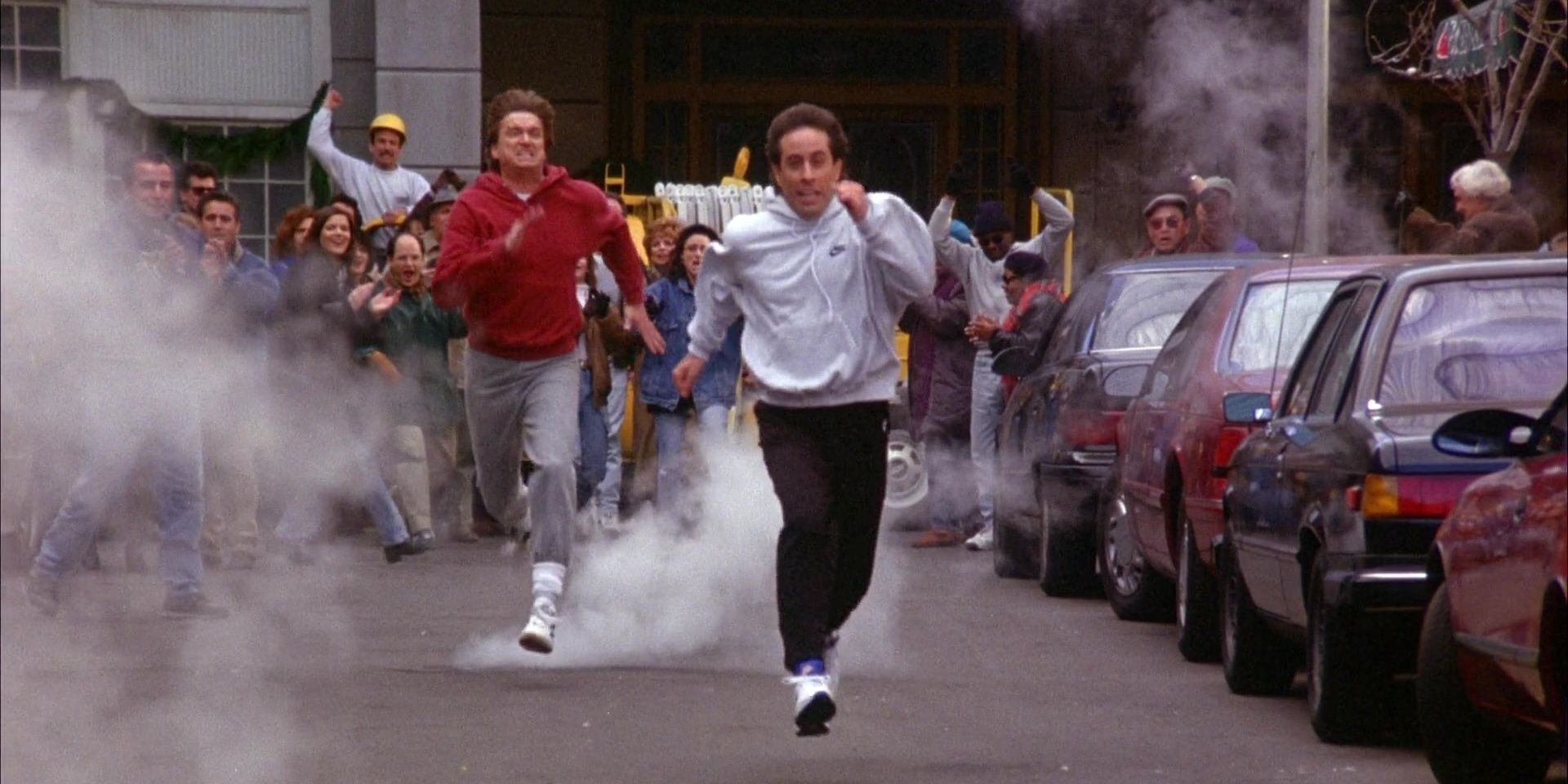 Jerry fulfills a lifelong dream of finally dating a woman named Lois (Renee Props). There is just one problem: Lois works for an old high school nemesis of Jerry's, Duncan Meyer (Don McManus). Intent on exposing Jerry as a fraud from an old high school incident, Duncan and Jerry meet in the streets of New York for one last battle.
Jerry Seinfeld's love of Superman is a well-documented pop culture fact, even spawning commercials well after the series ended. Superman and DC Easter eggs litter the series. But it isn't until the sixth season that Jerry gets to "be" his beloved comic hero, with a slow-motion scene set to John William's iconic score and an "archenemy" in Duncan Myer.
8
"The Engagement"
Season 7, Episode 1 (1995)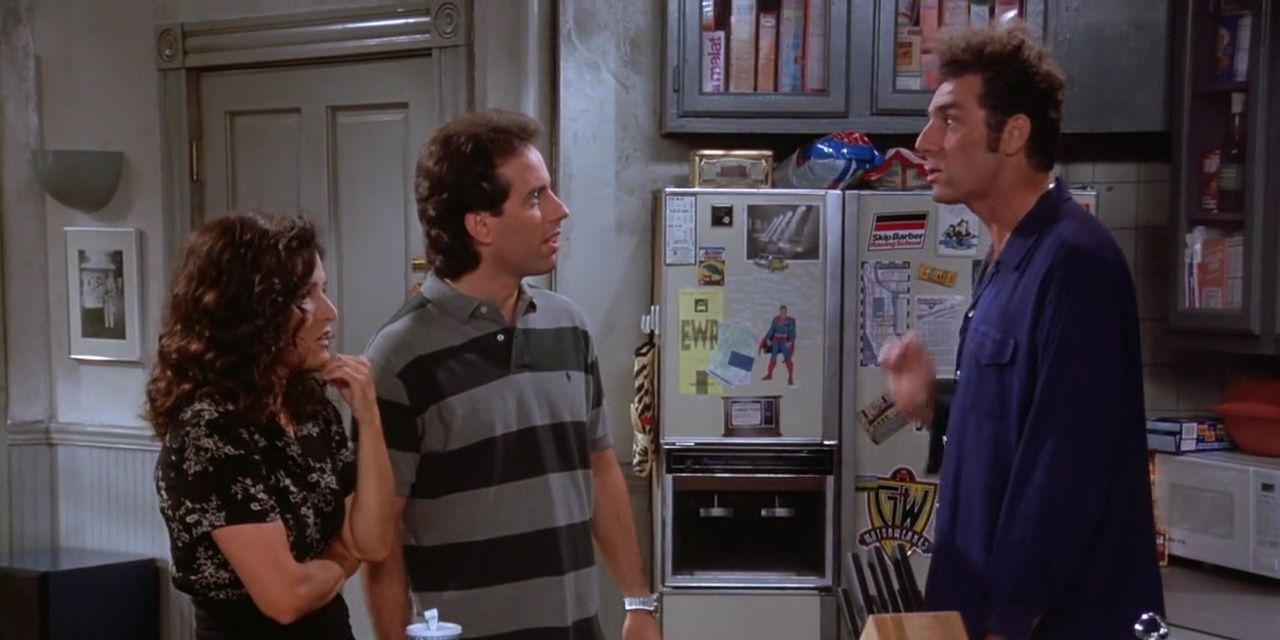 George and Jerry, having just dumped their girlfriends for incredibly petty reasons, find themselves moping around in Monk's Coffee Shop. In a rare instance of introspection, Jerry decides to give Melanie (Athena Massey), a "shusher" another chance, and George, acting on what he believes to be a pact, asks Susan Ross (Heidi Swedberg), a former reappearing girlfriend to marry him.
RELATED: Jennifer Coolidge Lied Her Way Onto Seinfeld
Jerry quickly finds another annoying habit ("She eats her peas one at a time!") and dumps Melanie again. George, believing Jerry to have renegged on their imaginary pact, finds himself in an even worse sport than when he started: engaged to woman that he is totally indifferent towards. All while Jerry displays his trademark lack of empathy. This is a great "Jerry being Jerry" episode.
Season 2, Episode 2 (1991)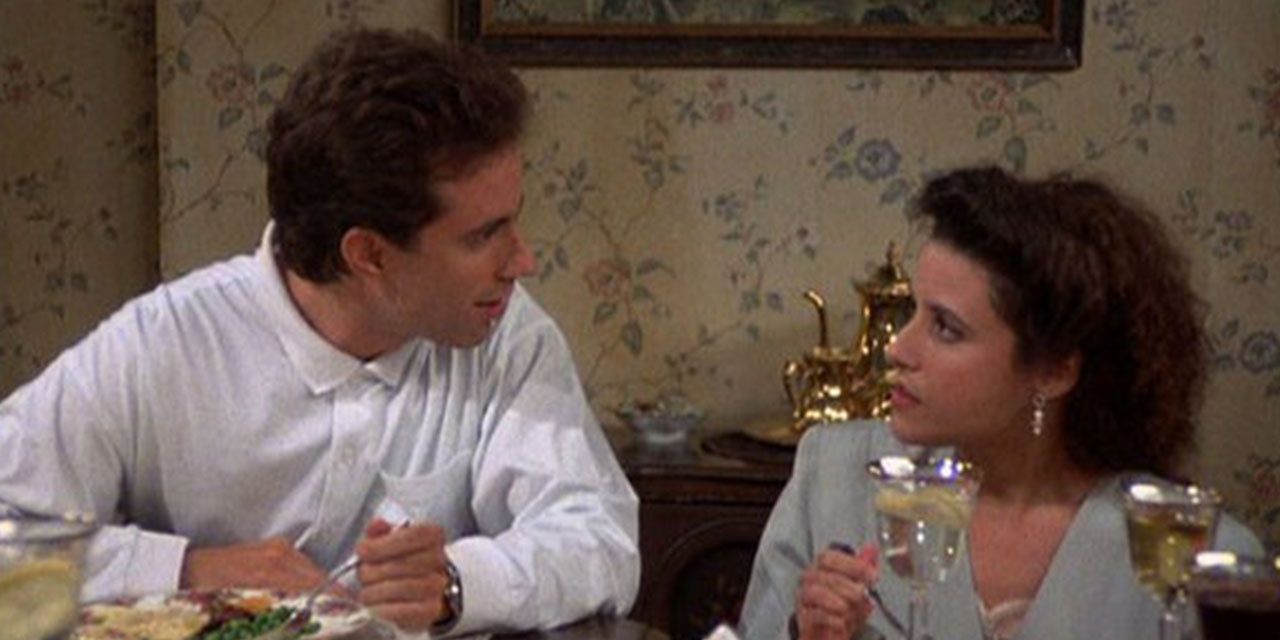 Jerry and Elaine (Julia Louis-Dreyfus) are at an anniversary dinner for a Seinfeld family member, Manya (Rozsika Halmos). Jerry offhandedly jokes about how he hates anyone who had a pony when they were growing up, which ultimately may or may not have led to the death of Manya.
Seinfeld struggled to find its footing during the first two seasons before finally hitting its stride in season three. That doesn't mean there aren't any good moments from the first two seasons. The Pony Remark earned Seinfeld its first Emmy nomination and is loaded with what would later become classic Seinfeld tropes.
6
"The Cafe"
Episode 3, Episode 7 (1991)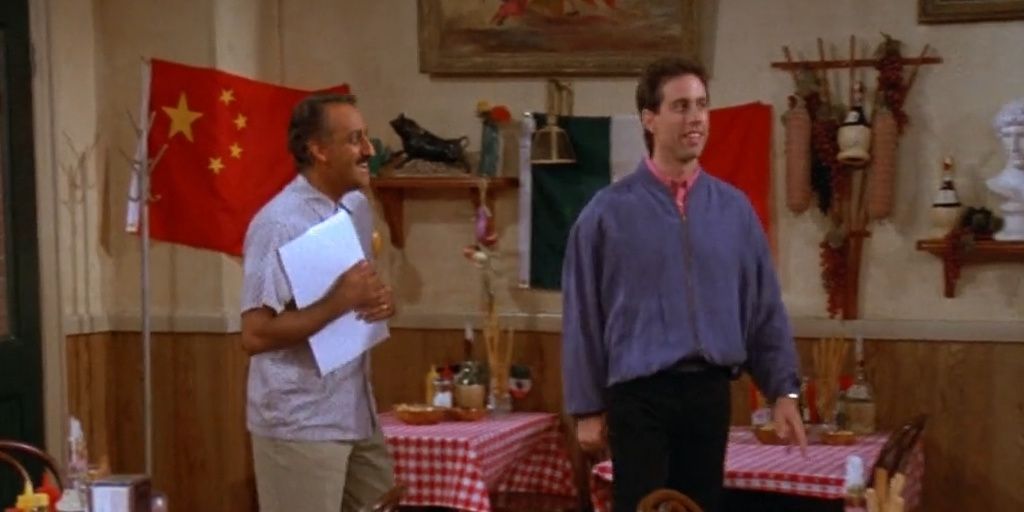 Jerry can't stand to see the café the owner across the street, Babu Bhatt (Brian George) struggle, so he attempts to help. Despite being obviously pleased with himself (shocker), Jerry's advice likely forces Babu to close his restaurant.
RELATED: Why is 'Seinfeld' So Hard To Watch Now?
Jerry rarely ever thinks about anyone other than himself, and while it initially appears that he is trying to help Babu, his smugness at seeing the chef take his advice and his critiquing of Babu's cooking skills shows us that Jerry is ultimately only looking to make himself feel good.
5
"The Voice"
Season 9, Episode 2 (1997)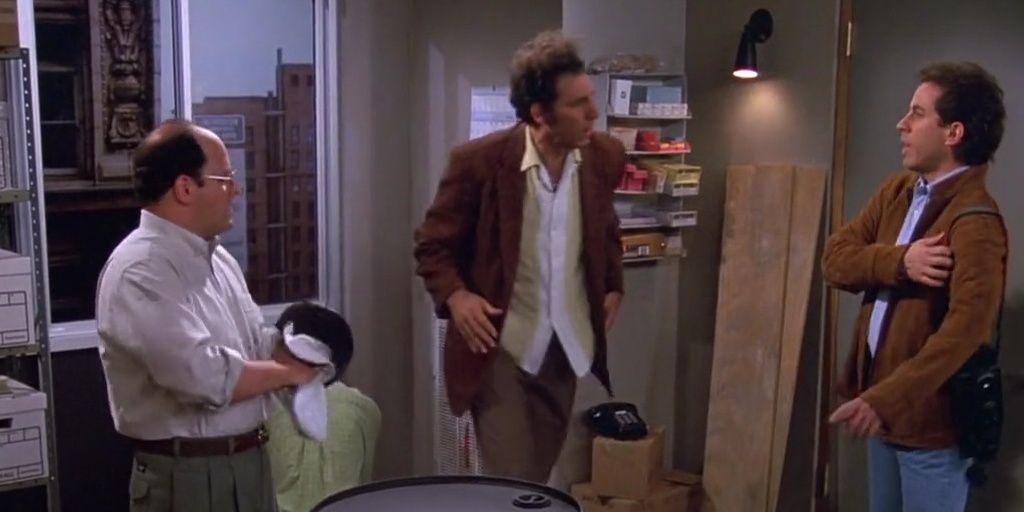 Claire (Sarah Peterson) finds out that Jerry mocks her in a "jovial" voice and gives Jerry an ultimatum: her or the voice. While Jerry agonizes over what to do, George tries to keep a job that he got because he faked being handicapped and Kramer (Michael Richards) takes on an intern from NYU at his fictional company, Kramerica Industries.
Obviously, Jerry chooses the voice, even after the rest of the crew tells him that the "voice thing" is played out. If you thought that maybe, just maybe, the show would use the final season as an opportunity for Jerry to grow emotionally, you would be mistaken. In fact, all four of them are as self-absorbed as ever. And that is why we loved and loathed to watch them.
4
"The Soup"
Season 6, Episode 7 (1994)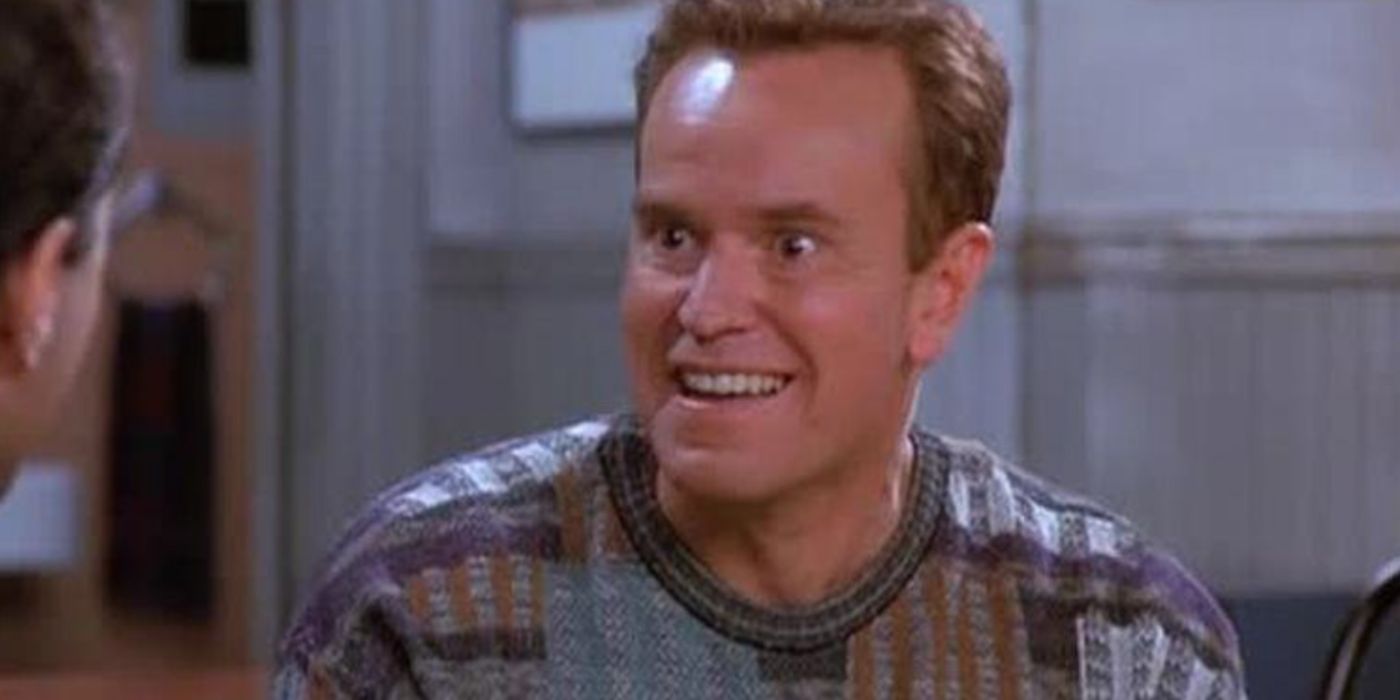 Kenny Bania (Stephen Arthur Hytner) is a fellow comedian and recurring character. During his first appearance on the show, Bania, (a "hack" as Jerry puts it), offers Jerry a brand-new Armani suit. All Bania asks in return is a meal at a nice restaurant like Mendy's.
After begrudgingly accepting the suit, the deal proves to be more than Jerry bargained for. Jerry's face when Bania insists on ordering soup so that he can "save the meal for another time" is priceless and their debate on whether soup should be considered a meal is another Seinfeld hallmark.
3
"The keys"
Season 3, Episode 23 (1992)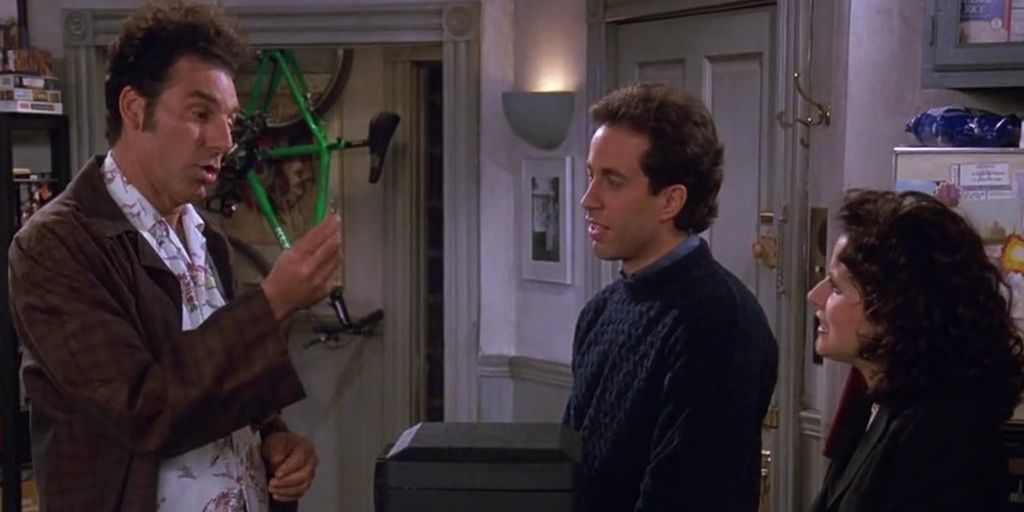 Much of Kramer's popularity was the knowledge that at any minute, he could burst through Jerry's door with an insane business idea. Or with a story about a famous New Yorker he ran into ("I just saw Joe DiMaggio in Dinky Donuts"). But Kramer finally pushes his luck too far, and Jerry decides to take back his spare keys from Kramer.
RELATED: Was '90's TV Really Must-See?
None of the main characters are ever portrayed as particularly caring people, with Jerry often coming off as the coldest. However, Jerry appears genuinely remorseful for hurting Kramer's feelings by taking his key privileges. It humanizes not only Jerry (just a little) but also George and Kramer, that is until all three men celebrate a murder on the front steps of a courthouse.
2
"The Rye"
Season 7, Episode 11 (1996)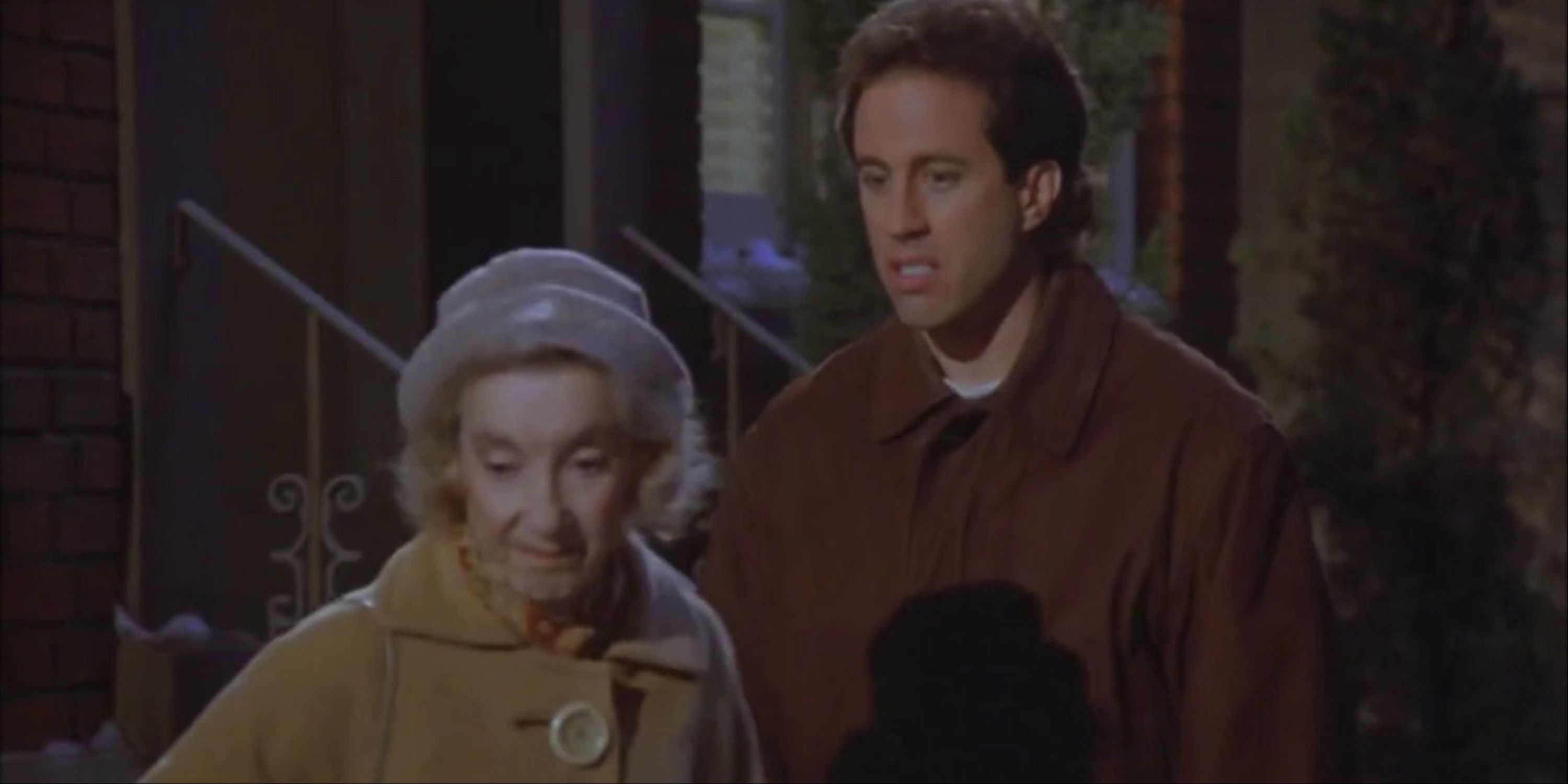 During a dinner with his parents and in-laws, George is horrified to learn that his father (Jerry Stiller) took back the marble rye he brought after the Ross' didn't serve it. He enlists Jerry in an effort to replace the rye before the Ross' notice.
Of all Jerry's actions over Seinfeld's nine seasons, his actions in The Rye may be his most despicable. Jerry did not buy the bread; he stole it from an elderly woman on the street after she purchased the last one. After a failed bidding war for the rye, Jerry simply snatches it from her and manages to insult her in the process. George is the front-runner for "most awful character on the show" but Jerry comes awfully close here.
1
"The Puffy Shirt"
Season 5, Episode 2 (1993)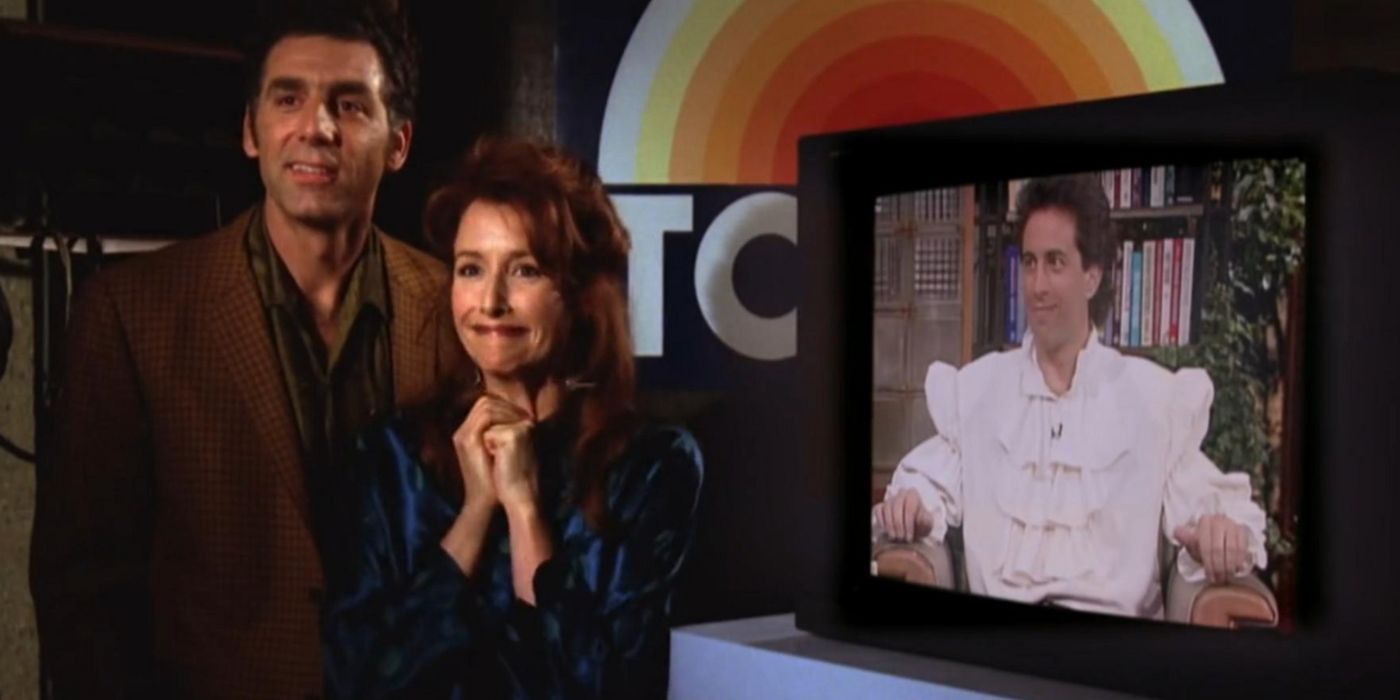 Kramer invites Jerry and Elaine out to dinner to meet his new fashion designer girlfriend, Leslie (Wendel Meldrum). But when Kramer leaves the table, and the three of them are alone, Jerry inadvertently agrees to wear one of her pieces on an upcoming television appearance.
"The Puffy Shirt" is easily one of the show's best episodes, being one of co-creator Larry David's favorites. From being openly mocked on air by Bryant Gumbel after eventually wearing the shirt, Jerry's "But I don't wanna be a pirate!" exclamation, and the titular shirt being immortalized in the Smithsonian for a time, "The Puffy Shirt" is the quintessential Seinfeld.