When you think of Norman Reedus, your mind likely immediately goes to The Walking Dead, where he portrayed the brooding, crossbow-wielding Daryl Dixon. For the entire run of the series, which lasted for over a decade on AMC, Reedus played the shaggy-haired zombie killer with a heart of gold. The character is so popular that he even has his own spinoff, aptly titled The Walking Dead: Daryl Dixon, which sends him to France. Norman Reedus might be known for the undead, but he has plenty of other performances worth checking out.
Murphy McManus, 'The Boondock Saints'
Irish-American fraternal twin brothers Conor MacManus (Sean Patrick Flanery) and Murphy McManus (Norman Reedus) exact their very own style of justice on the criminal underworld of Boston. With their Catholic background, and after an epiphany, they believe that what they are doing is all in the name of God. The detective hot on their tail, played by Willem Dafoe, is always one step behind in archetypal fashion. (Ironically it has nothing to do with his out-of-place slow-motion entrance during his first scene.) Armed with twin-silenced pistols, (and not a crossbow in sight) the brothers slowly work their way through killing a multitude of Russian mobsters, whilst avoiding a lethal assassin hired to kill them played by Billy Connolly. In a nice twist, the twins learn the real identity of Connolly which eventually leads to a climatic courtroom shootout.
Although The Boondock Saints bombed at the box office, it has become a cult classic and admired by fans, grossing nine times its budget ($6 million) in video sales alone. It also has two other unconventional edges. Firstly, Norman Reedus actually smiles, and Walking Dead fans know how rare this is. And secondly, Reedus pulls off a convincing Irish accent, leaving wishing for more dialogue.
Archie, 'Tough Luck'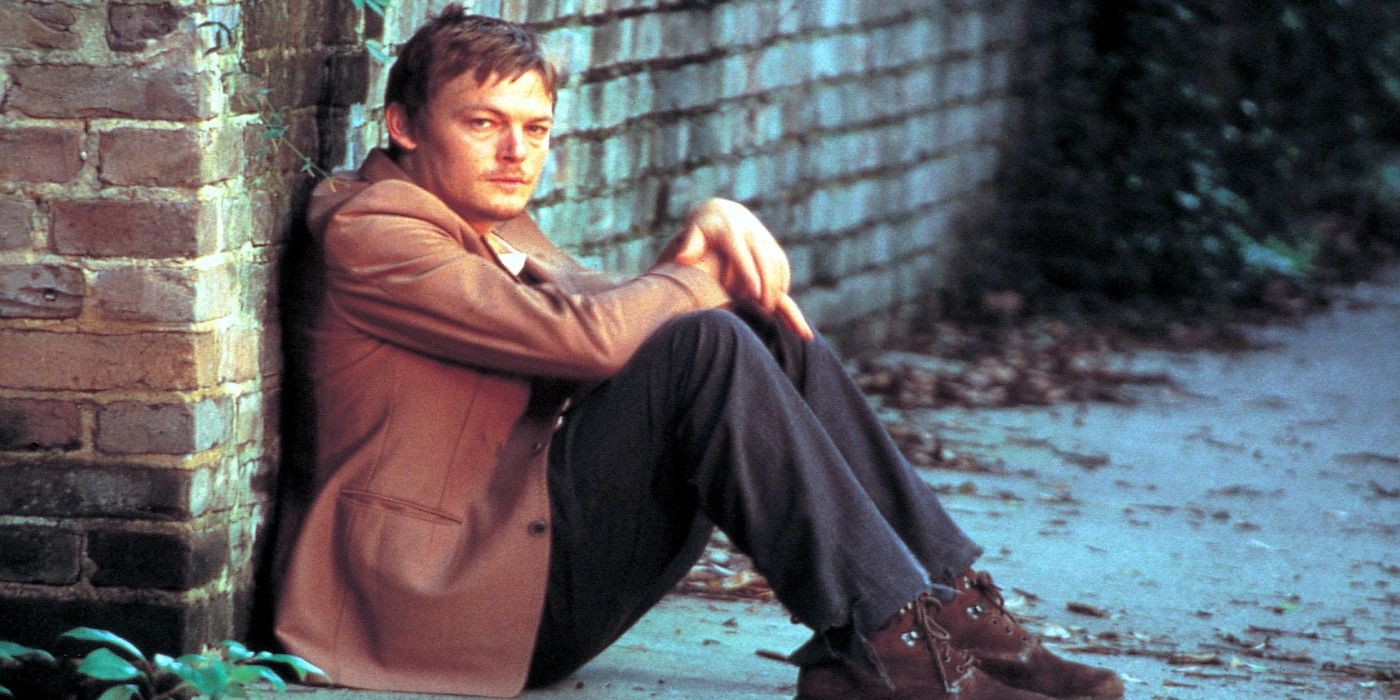 Set against the backdrop of a traveling carnival, Tough Luck is the story of Archie (Norman Reedus), a drifter who is out of luck, short on cash, and needs a break. It's no surprise Reedus is quickly offered work as a 'carnie'. However, the real surprise is that the carnival owner offers Archie to kill his femme fatal wife, Succession star Dagmara Dominczyk. Archie then becomes far too close to his boss's wife, and things get complicated very quickly. The movie starts with the ending events of Reedus bleeding out with what looks like a gunshot wound. The non-linear narrative format, seen so many times in thrillers, doesn't disappoint. Archie is dishonest, a thief, and certainly not a hero, but Reedus wins us over with edgy charm. Does he survive? You will just have to watch to find out.
RELATED: 'The Boondock Saints III': Norman Reedus, Sean Patrick Flanery, and Director Troy Duffy Reunite for Third Film
John Rollins, 'Messengers 2: The Scarecrow'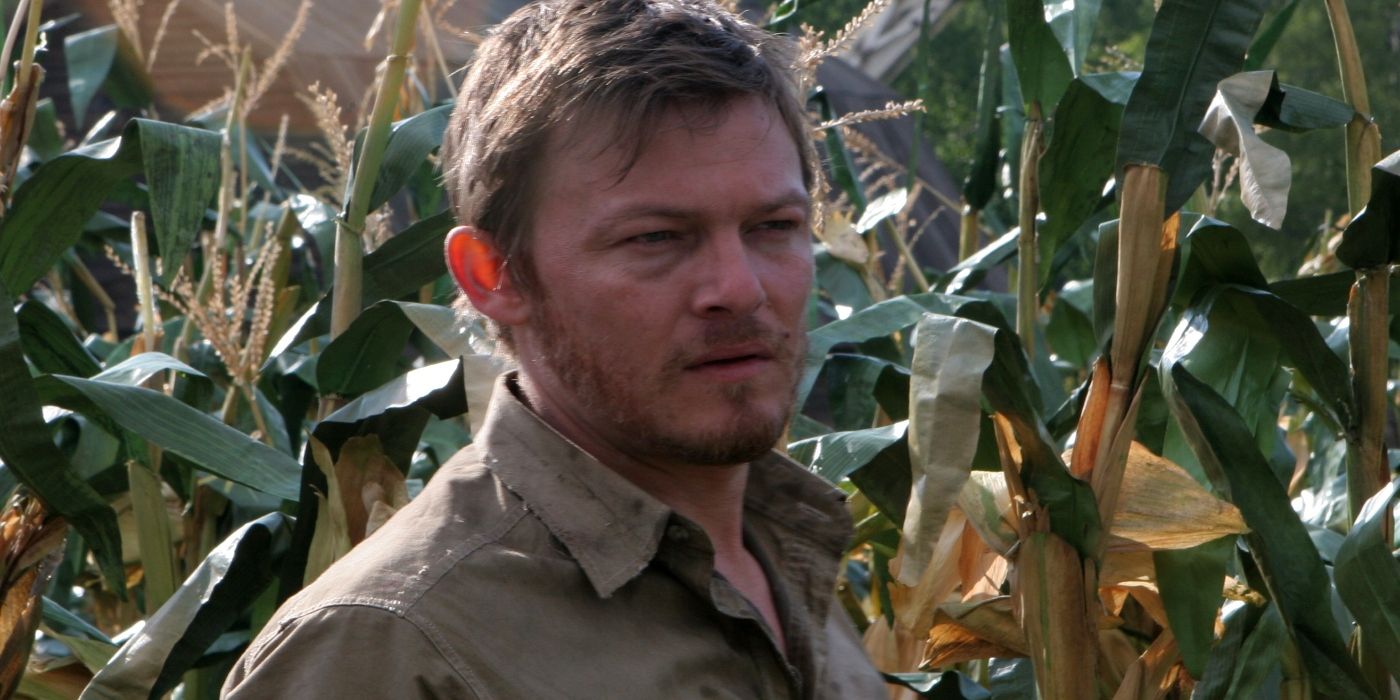 The second movie in the series, the first starring the brilliant Kristen Stewart, Messengers 2: The Scarecrow takes Reedus into familiar horror territory. It's a story soaked with the classic tropes such as: a murder of crows, ghosts, a supernatural force, a shabby old farm (that someone wants to buy), an eerie, dying cornfield, and Reedus: a desperate man trying to find a way to make things right for himself and his family. This happens by chance when he stumbles upon an old scarecrow hidden out of sight within his barn. Deciding to use it and put it to good practice, Reedus places it among the dying crop. It's not long before things start to take a strange turn, and the crop starts to flourish. The crows start to die, along with the financial adviser who wants to buy the farm, and a mysterious little girl is seen in the cornfield. Tensions also become strained within the family unit and Reedus finds answers with neighbors who turn out to be the last thing he expected.
Murphy McManus, 'Boondock Saints 2: All Saints Day'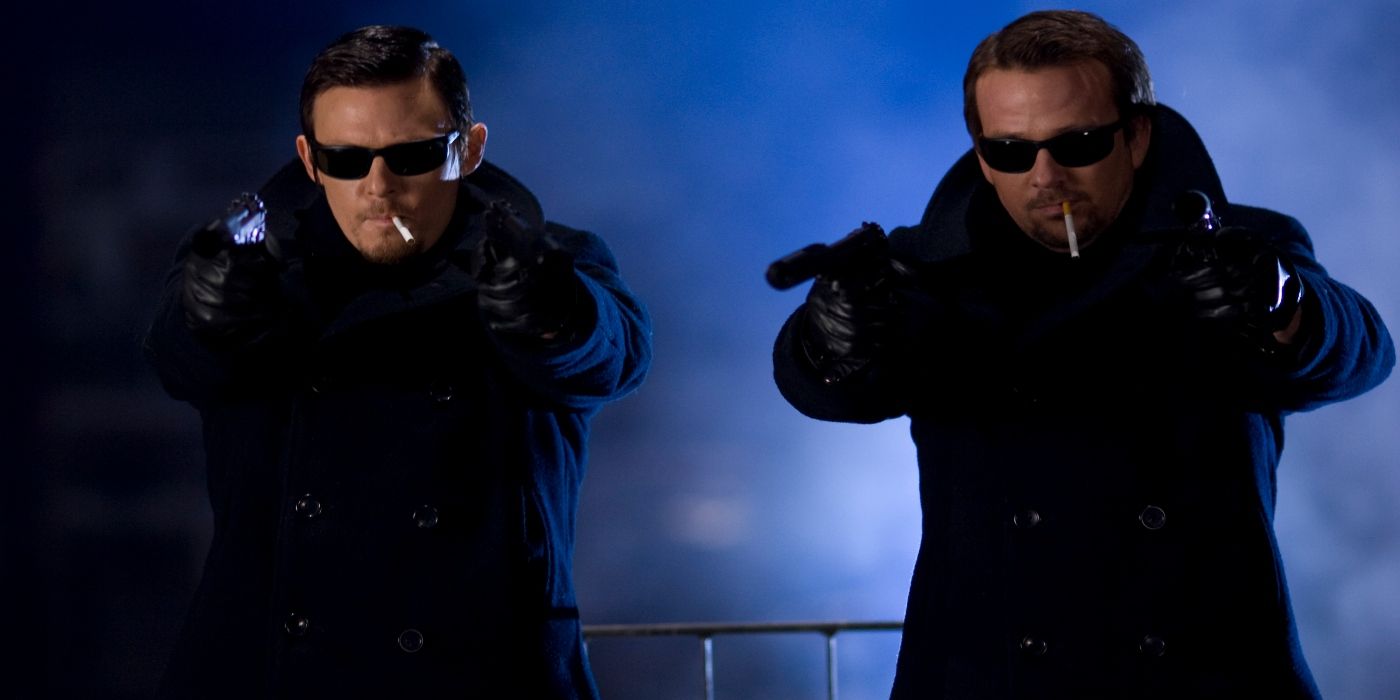 Boondock Saints 2: All Saints Day is living proof that some movies are the exception to the rule of the box office. The first movie has become a cult classic, and that was enough for a sequel. This time we start on the windy shores of Ireland. After the murderous and slightly heroic rampage, the fraternal twins have now retreated back to their motherland. It's eight years later and the twins find out that they have been framed for the murder of an old friend and priest back in Boston. Their mission is simple: clear their names and restore their Robin Hood-style image, and exact more justice that only the McManus twins know how to do. Dexter's Julie Denz replaces Willem Dafoe (keep an eye on the end credits) this time around as Special Agent Eunice Bloom. Billy Connolly returns as the more than capable assassin that can only be described with a spoiler. And much like the first, it's more Irish accents and stylized gun fights with some seriously upgraded, even cooler, twin-silenced pistols.
Harry Odum, 'Six Ways to Sunday'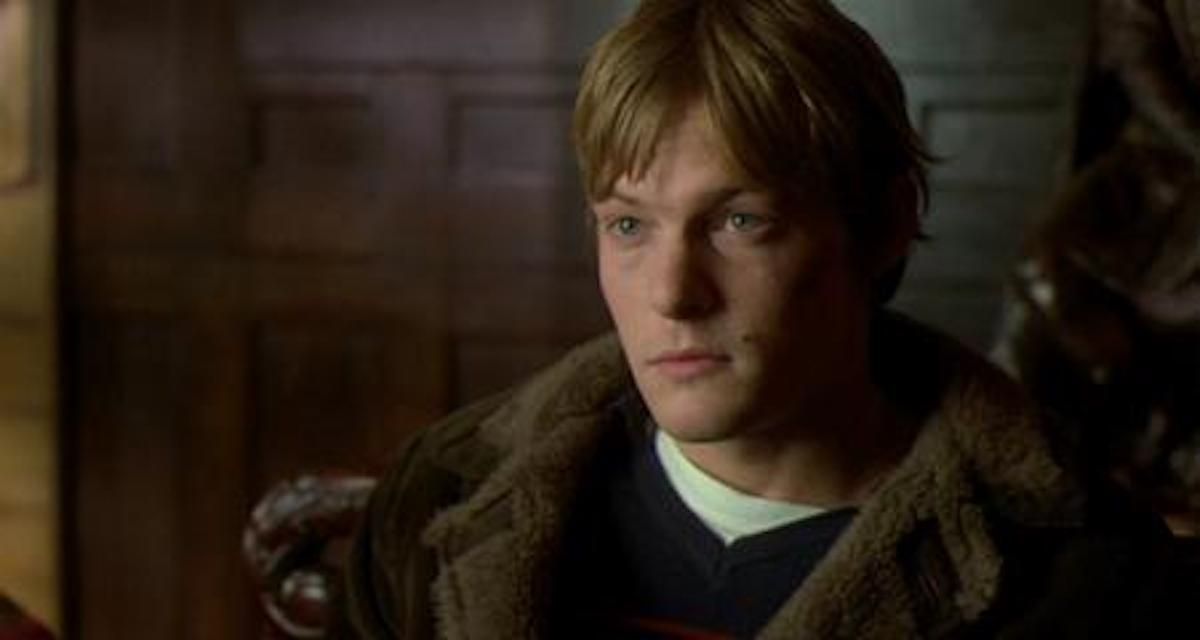 Harry Odum is an 18-year-old at the edge of boyhood and is reluctant to jump the gap into manhood. Holding him back is his overprotective mother, played by Deborah Harry. Her existence is based on memories of being a singer, she never leaves the house, and has formed an unhealthy bond with her son: going as far as to run his bathwater. The plot starts to unfold when the Jewish mob sees potential in Harry and offers him a job as an enforcer. This potential explodes into uncontrollable violence witnessed by his best friend Arnie (Adrien Brody), a wannabe gangster and homeboy with a ridiculous yet satirical flair, jarring badly against the more serious gangsters. Harry, on the other hand, finds his violent side allows him to fit neatly into the ranks of organized crime, committing murder, and awkwardly falling in love with the mob boss's maid. But being a criminal is never that easy, and after making a hard decision over his friend's future, and making an even more horrific, dark, and twisted one with his mother, Harry is a lot more complicated than you first thought.
Diego, 'Sky'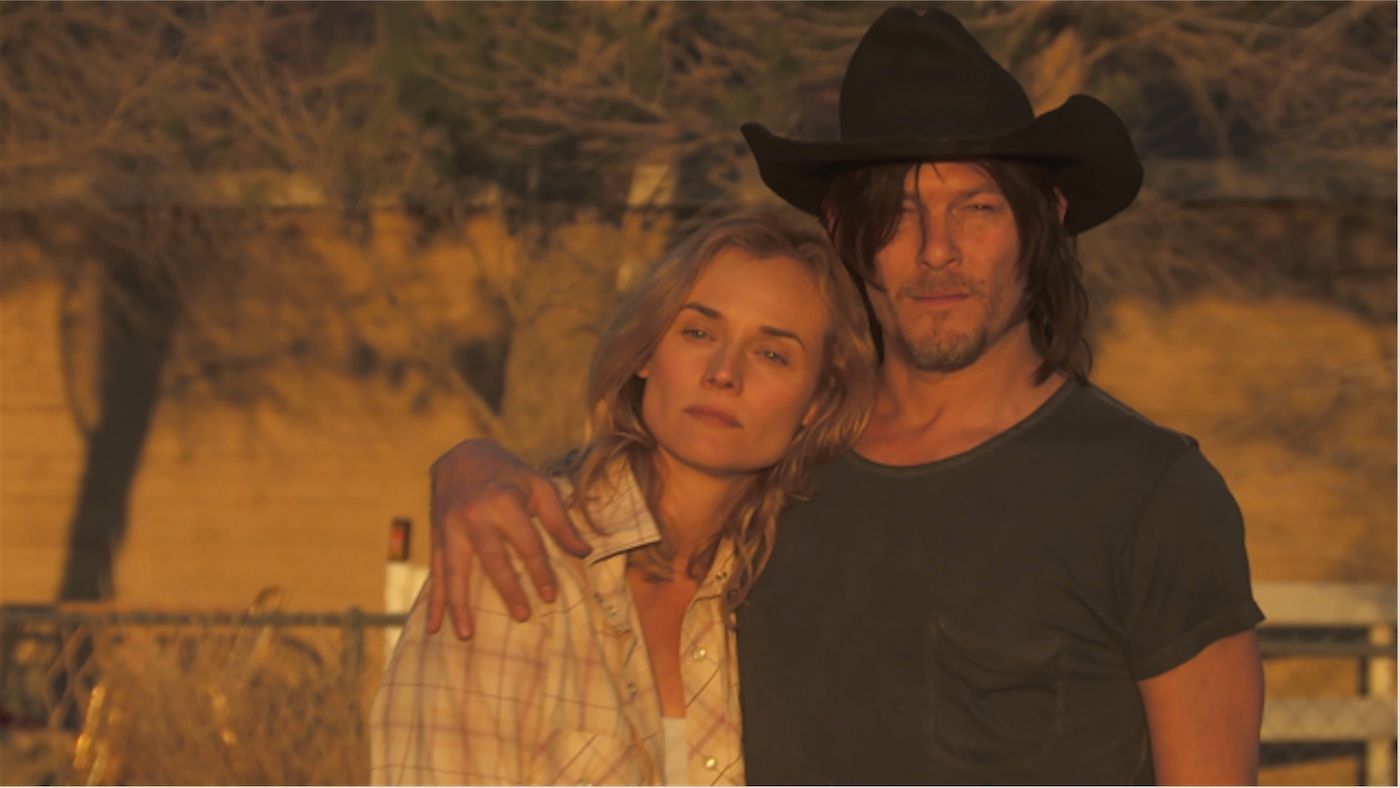 ritten and directed by Fabienne Berthaud and starring Diane Kruger as Romy, a Parisian tourist, Sky is an English-language, French-German drama. The movie revolves around Romy who was forced to defend herself against her drunken husband's advances. She flees a motel believing he is left for dead, but has a change of heart and turns herself in. Finding out he is still alive, she decides to finally break up their relationship and heads to Las Vegas to start over. Enter Reedus, an unlikeable character who wants to pay Romy for sex. Again, Norman Reedus easily fits this moody, self-centered type of character. He sticks to what he knows and fits well into the isolated, grumpy, Californian Park Ranger role. Sky is a slow burn through the lights of Vegas to the West wastelands that never once picks up speed, yet does deliver a certain amount of sympathy or empathy.
Bauer, 'Air' (2015)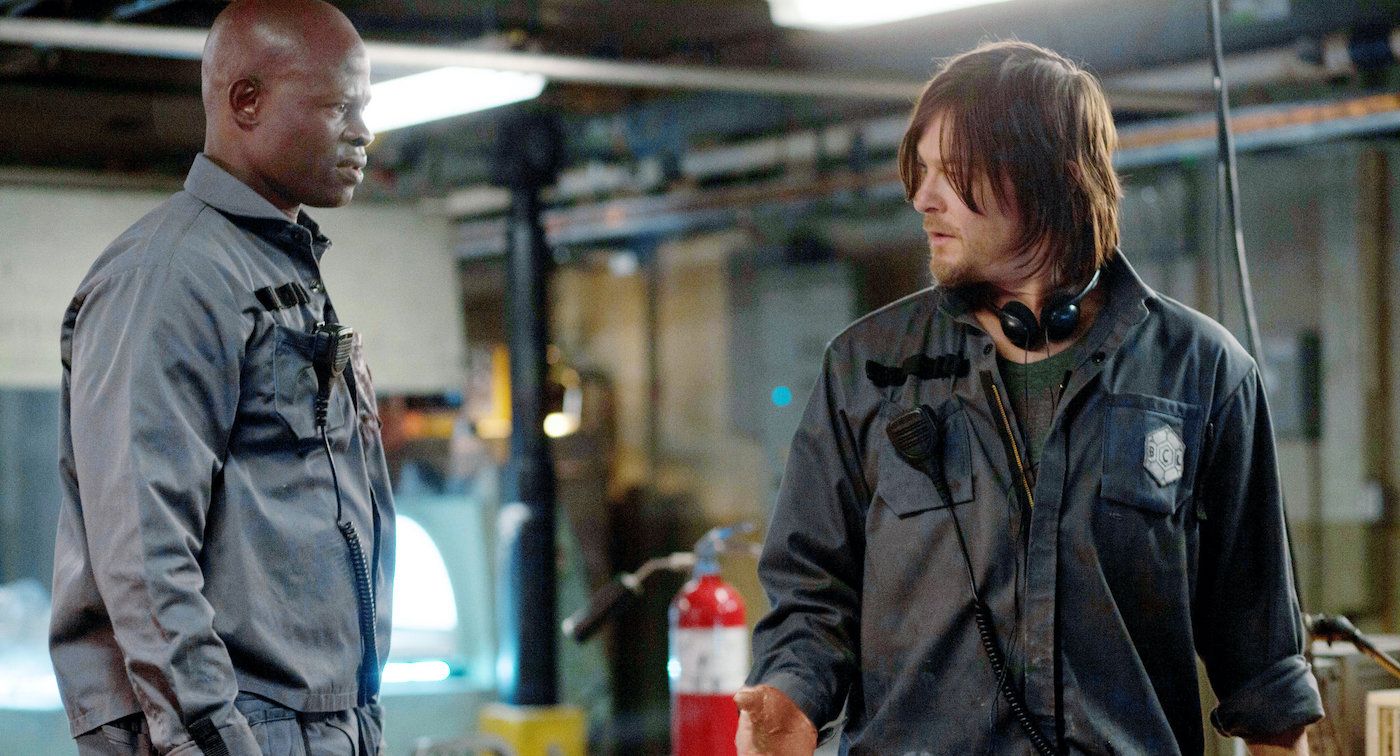 "Two Men. One Task. Save Humankind." According to the movie's subtitle, this is perhaps the closest movie that Norman Reedus has to The Walking Dead. A small band of survivors and an apocalypse, sound familiar? Reedus plays an engineer tasked with overseeing a facility of survivors frozen in suspended animation, aided by his co-worker Cartwright, played by two-time Oscar nominee Djimon Hounsou. Our world has now become a place void of breathable air. Inside the facility, the only thing keeping both men alive is two cryo-chambers that they take turns to sleep-cycle in. With only one other person to talk to, a fire that destroys one chamber, and the revelation that a sister facility has lost all of its sleepers, it has become a place void of rational thought, too.
Like Daryl Dixon, Bauer is impulsive, irrational, and like Dixon, steeped in dark misery. The only downside was that Air needed to answer the bigger questions and push the boundaries of a story that seemed pretty airtight. So many end–of–the–world scenarios are overcomplicated. Air kept it simple but needed to complicate the human condition more to become a true, claustrophobic, psychological thriller. What we can rely on, however, is a strong performance from Reedus.