For the most part, TV horror movie is generally not that effective… which is what makes Trilogy of Terror such a standout entry for the genre in this medium. This 1975 film is exactly what it sounds like, an anthology made up of three separate short stories, with each of them coming from a different subgenre of horror. One tells the story of a blackmailed teacher, another of two rival sisters, and the last is the most important and influential, centered on one of the earliest on-screen killer dolls. Trilogy of Terror isn't only unique because of its structure, but also because these three segments star Karen Black in four unrelated roles, with the second story having her play dual sister parts. It might be cheesy and dated in many ways, but Trilogy does its job as a fun enough horror movie, and far exceeds the expectations of a made-for-TV horror movie.
What Makes 'Trilogy of Terror' So Great?
By the mid-70s, horror that was brought to the small screen was rarely effective. Most often, these projects relied on cheap scares, over-the-top scores, D-rate actors, and generic genre tropes. They rarely paved the way for innovation because that was the job of theatrical movies. Some strong entries came along occasionally like 1973's Don't Be Afraid of the Dark and John Carpenter's late '70s Someone's Watching Me!, which was him dipping his toe into Alfred Hitchcock filmmaking. However, straight-up TV shows would often prove to be far more effective. Unlike the TV movies that felt the need to try and compete with their big-screen counterparts, shows embraced their limitations and favored strong writing and atmosphere over anything. Think of the works of Rod Serling, like The Twilight Zone and Night Gallery, or others like Alfred Hitchcock Presents and The Outer Limits. Just because a story had a shorter runtime and was given a lower budget, doesn't mean that it would be any less scary. This just meant that the filmmakers had to work smarter.
That's where the strengths of Trilogy of Terror come into play. Clocking in at only 72 minutes and made up of three different stories, director Dan Curtis and screenwriters William F. Nolan and horror legend Richard Matheson crammed a ton into this bite-sized treat. The film manages to combine both the structure and fast pace found in episodes of 1960s and '70s horror series, along with the budgets of made-for-TV movies. For what it is, this project has some real money behind it, but doesn't have the burden that most others in its medium carry in having to focus on one plot for too long. Almost every portion of Trilogy looks great, moves quickly, and most importantly, feels spooky, but there is one exception to these qualities.
'Trilogy of Terror's Storylines are Disturbing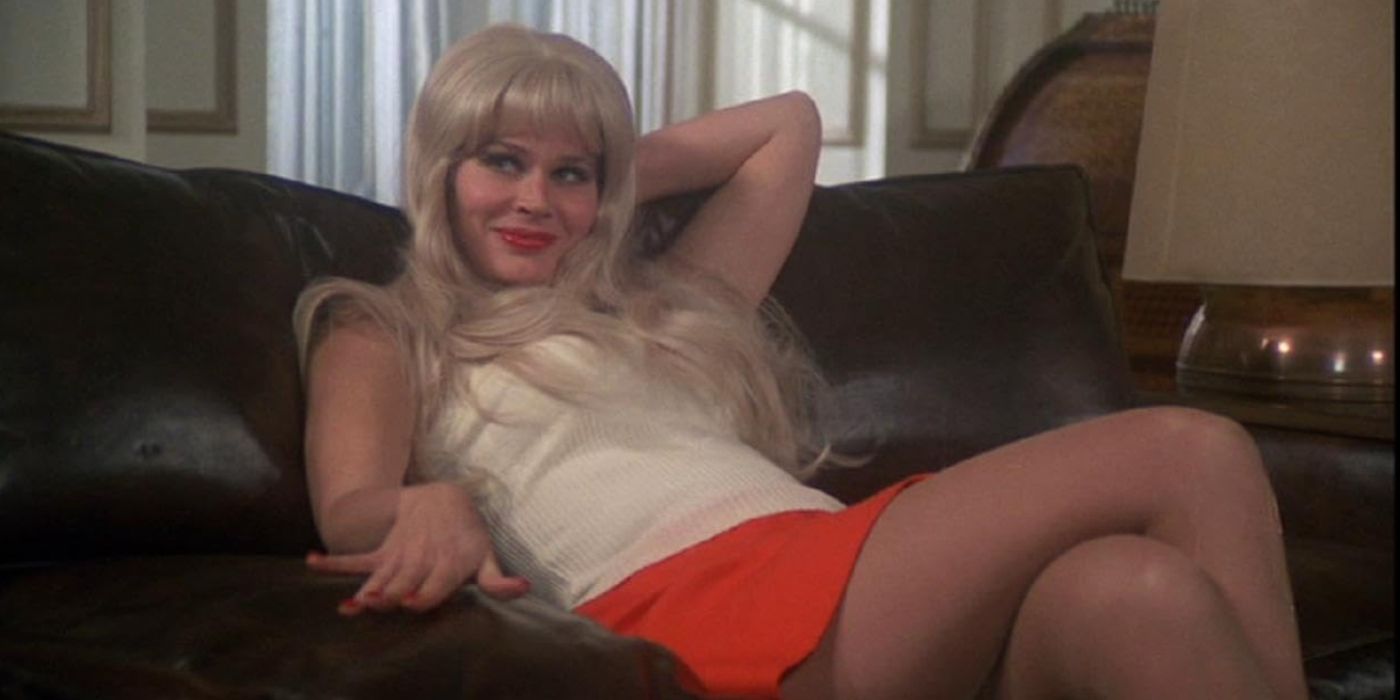 Trilogy of Terror kicks off with "Julie," and follows its titular character (played by Karen Black), a reclusive English teacher who is pursued by one of her students, Chad (Robert Burton). The two go on a date, but things turn for the worse when he drugs her, takes her to a hotel, and takes highly inappropriate pictures of her, which he later uses to blackmail her into staying with him. For the most part, this short tells a very grounded kind of horror as we watch Julie repeatedly be assaulted. It's not exactly the kind of story that you expect when you fire this movie up, but it ends up being the most effective of the three exclusively because of how much you want to see Chad eat it. He's such a scumbag that you won't be able to help but be invested in how Julie will get back at him. It should come as no surprise to hear that, eventually, "Julie" lives up to the promise that the horror anthology's title offers. What will come as a surprise is the ending. You might see some of it coming, but not every aspect of it. This one goes out on a great note, and even though the final story is Trilogy of Terror's most iconic, this is its best.
"Millicent and Therese" comes next in the lineup, and unfortunately has to be sandwiched between two much better installments. This one tells the story of the two titular sisters, both played by Black. Like Julie, Millicent is a quiet and reserved brunette who despises her sister Therese, a lively, outgoing blonde. Millicent accuses her sister of being evil, bragging about having sexual relations with their father, and partaking in black magic, so she (naturally) drums up a plot to kill her. Although it might sound eventful, "Millicent and Therese" is a slog to get through. Their conflict does go out on an interesting note, but that hardly makes its first twenty minutes worth your time. There's little-to-no atmosphere to be offered, so for the most part, it ends up just feeling like a family drama. Hardly anything supernatural occurs until the end, but Therese isn't even an interesting enough villain to give you anything to be afraid of in the first two acts, so you're spent peddling and waiting around until we can get on with the film's killer doll segment. Despite a surprising ending, this one is easily the weakest link in the Trilogy.
'Trilogy of Terror's Amelia Features One of the Scariest Killer Dolls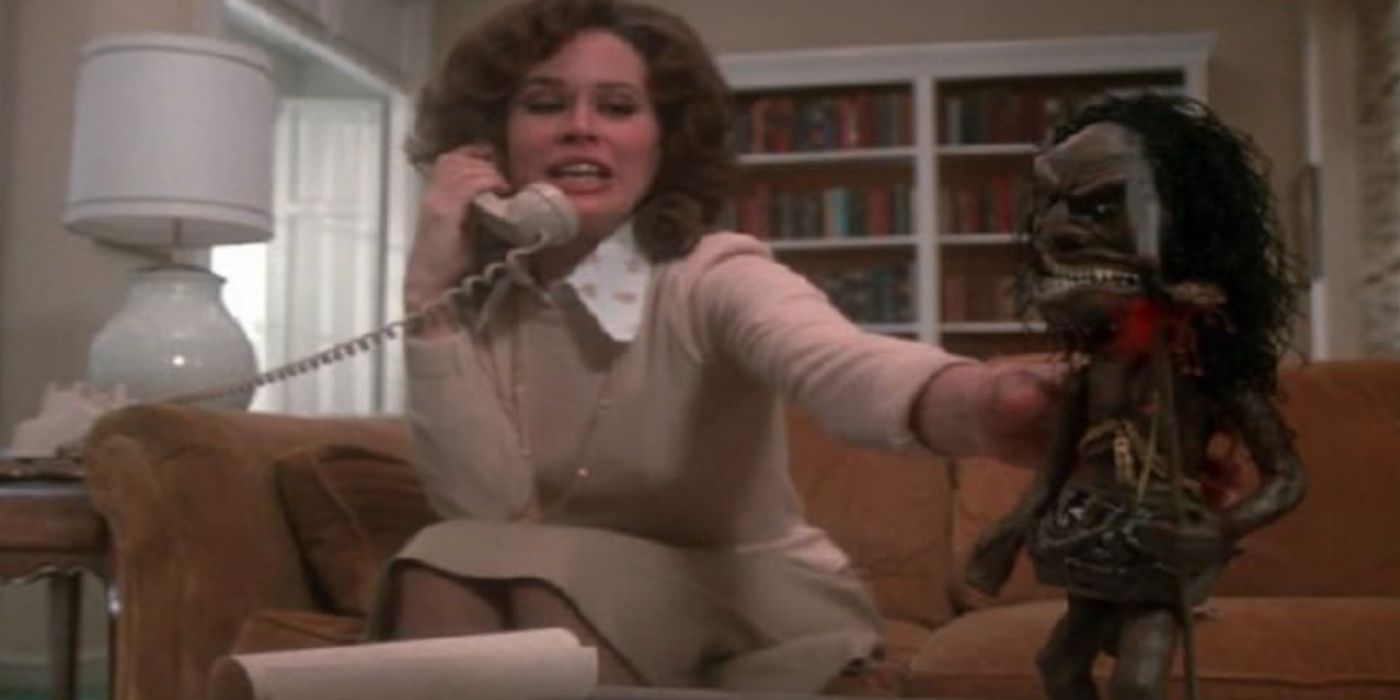 If you know Trilogy of Terror, it's likely that you do because of its third segment, "Amelia." The story follows a young woman who has recently bought a small, wooden, Zuni fetish doll as a gift for a man that she's seeing. After accidentally knocking a chain off of the doll that is supposed to keep its spirit from possessing it, Amelia's (Black) night quickly turns into a violent nightmare. While this short doesn't have a story that's as engaging as "Julie," nor does it have as strong of characters, it does have the best atmosphere by far. You'd think that the doll itself would be what scares you the most here, but it's the location and the way that Curtis frames everything that keeps this finale chilling.
Amelia's dark, spacious apartment feels claustrophobic and maze-like as she tries to outrun her attacker over and over again. You hardly ever know exactly where he is! Curtis keeps his audience trying to look over couches and past coffee tables to try and spot the little supernatural villain, until he comes roaring out of a corner that you least expect. Just when you think that little guy is down, he continues to get back up and jab at her with a little kitchen knife. The slow-burn pace, use of jump scares, and evil doll make this entry the most conventional horror entry yet, but a welcome one.
RELATED: This Killer Doll Movie Is One of Anthony Hopkins' Most Underrated
The Zuni fetish doll's design itself is pretty over-the-top, and he has a hilariously obnoxious war cry, but the image of him running across the floor and flailing his body around is so striking that you can't look away. He's not the greatest killer doll in history, but his impact on that subgenre of horror can't be understated. While Talky Tina from The Twilight Zone's episode, "Living Doll," precedes this wooden menace, she plays more psychological games with her victims. The Zuni fetish doll comes well before other knife-wielding dolls like Chucky, and chases its victims around a cluttered apartment in a way that's reminiscent of the setting in the first Child's Play. Even his mysterious but magical origin is reminiscent of Chucky's, as well as other horror movies like Puppet Master and Dead Silence. Talky Tina might have come first, but "Amelia" has had the biggest impact on this subgenre.
Trilogy of Terror might have a misstep in the middle, but its beginning and end are so effective that all is forgiven. It's a quick 72 minutes that, mostly, avoids the doldrums of other made-for-TV horror, and is able to go full speed ahead into some interesting and nightmarish pockets. If you're looking for something to get you in the Halloween spirit just a little early, but don't want to commit to anything too long, then look no further than Trilogy of Terror.
The Big Picture
Trilogy of Terror stands out among TV horror movies as an anthology of three separate stories, each representing a different subgenre of horror.
The film's unique structure and Karen Black's standout performances in four unrelated roles make it a fun and effective horror movie despite its cheesy and dated elements.
The first and last segments, "Julie" and "Amelia," deliver the most effective scares and memorable moments, with "Amelia" featuring a terrifying killer doll that has had a significant impact on the subgenre.