The Big Picture
Yellowstone is being picked up by CBS, giving viewers a chance to catch up on the story of John Dutton and his ranching family.
Kevin Costner, who stars in Yellowstone, also appeared in the 1985 film Silverado, which is considered one of the best Westerns of the '80s.
Silverado has a stellar ensemble cast, a riveting storyline, and all the elements that make a great Western, including likable heroes, a dastardly villain, and an epic gunslinging finale.
With Yellowstone being picked up by CBS, the sixth-generation homesteader and Montana power broker John Dutton's story, along with the machinations of the dynamic Dutton ranching family, will be getting a fresh start for those who didn't catch its run on Paramount+. And with star Kevin Costner opting out of the fifth and final season over contract issues, if you want to see the Costner that took the airwaves by storm over five years ago, you can begin the long journey with the character very soon. The veteran actor is obviously no stranger to the Western genre, having delivered Oscar-winning efforts in Dances With Wolves and other noteworthy entries like Open Range and Wyatt Earp, but there is one film from 1985 that you may want to check out in preparation for the return of Yellowstone. There weren't a lot of very memorable Westerns from the decade of the '80s, but there was one epic "saddle-up and ride" entry that is head and shoulders above the rest, and that film would be the offering of the "two Kevins" offering (Kevin Costner and Kevin Kline) called Silverado which hit theaters in July 1985.
'Silverado' Shines First With Its Awesome Cast
Before we get into what made Silverado the best Western of the '80s, it's important to note that had the 1989 adaptation of Larry McMurtry's epic novel Lonesome Dove starring Robert Duvall and Tommy Lee Jones been a theatrical release instead of a television miniseries, then it would have ousted Silverado for the honor. But alas, it wasn't, so here we are. Make no mistake, it's not like we are settling for Silverado, it has all the elements of a spectacular Western and is more than worthy on its own merits. First, the ensemble cast is stellar. With proven players like Kline, Costner, Scott Glenn, Brian Dennehy, Danny Glover, Jeff Goldblum, Rosanna Arquette, and John Cleese all participating and on top of their game, the acting in Silverado is as good as it gets. So if we're looking to "check all the boxes" on what makes for a terrific film, we can go ahead and put a check in the "top-notch cast" space.
A Riveting Storyline and a Young Kevin Costner Highlight the Film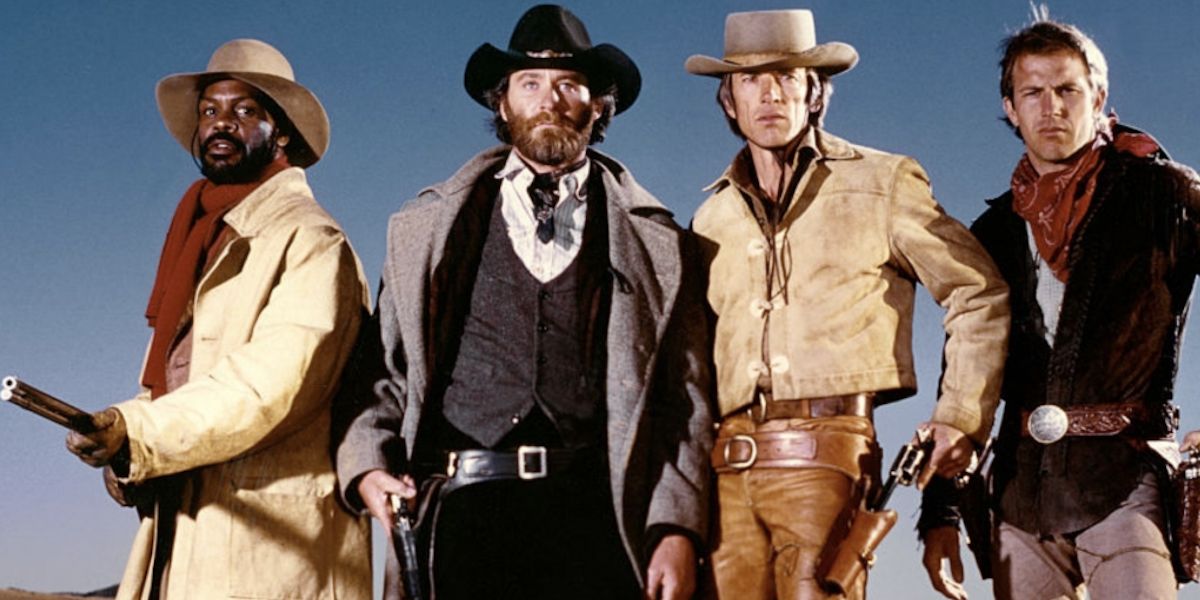 We're introduced to our main players one by one during the film's first 20 minutes. Emmett (Glenn) is a drifter who comes across Paden (Kline), who has been robbed of his clothes and horse and left to die in the middle of nowhere. Emmett nurtures him back with water and the two ride into the nearby town of Turley. There, they come across the wonderfully wicked Cobb (Dennehy) who does some of his very best work as the villainous gambler who will later maneuver his way into the position of sheriff in Silverado. After running into Cobb, Emmett is reunited with his younger brother Jake (Costner). Costner makes his first feature Western debut and is a perfect fit as Jake, an energetic and brash young gunslinger who is in jail and to be hung the following day.
It is good fun to see a childlike Kevin Costner before he became a household name in films like The Untouchables, Bull Durham, and Field of Dreams. The Yellowstone star had appeared in a handful of films, but seeing him just beginning to carve out a permanent niche in a long and storied career in Hollywood with such youthful exuberance is pretty damn satisfying. And Costner as Jake is the most memorable drifter of the morally squared away good guy bunch in Silverado. Kasdan does a masterful job of building his band of misfit antiheroes early in the film and by the time they break Jake out of jail and recruit sharpshooting rifleman Mal (Glover) into the gang, you're completely calf-roped into the story.
RELATED: The 10 Best Revisionist Westerns of the 21st Century, Ranked by Rotten Tomatoes
'Silverado' Has Everything a Western Needs To Be Great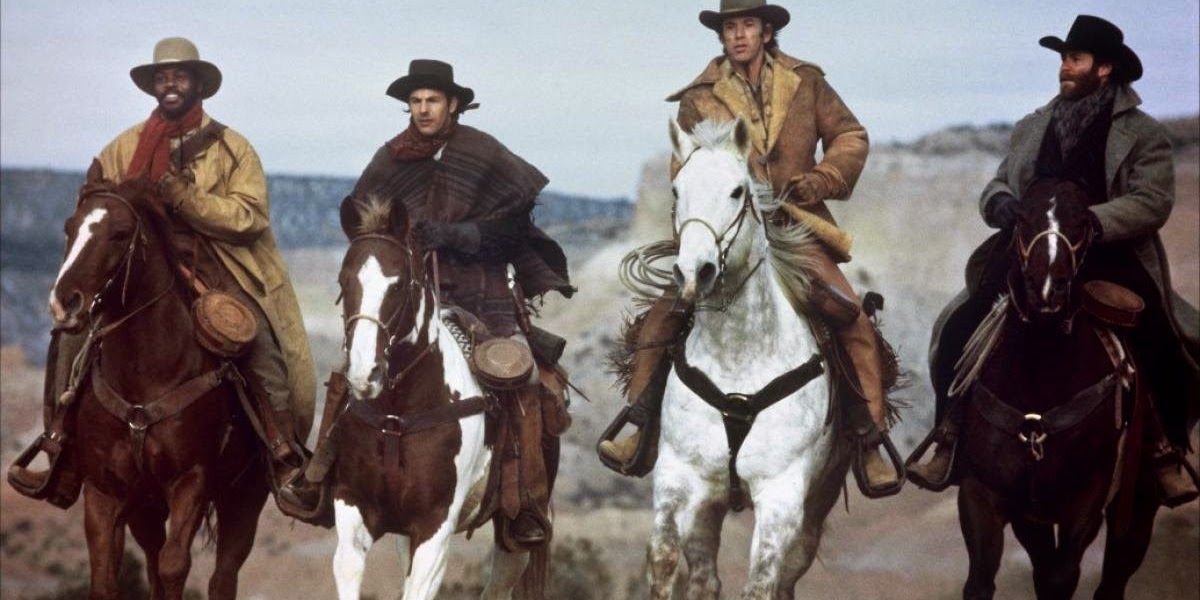 Every great Western has three essential plot devices and at least one established trope. In Silverado, we get a likable "white hat" good guy, a dastardly and immoral "black hat," and the right thing worth fighting for. Silverado emphatically checks all the plot device boxes. In fact, there are four white hats in the film and Dennehy is so freaking good as the proverbial black hat, that you really don't need anything else. Aside from a nice turn from Jeff Fahey as Cobb's right-hand man, the rest of the black hats are just scumbags with guns and a lot of facial hair. So, what exactly is our unlikely cowboy posse fighting for that is worth risking their lives? Enter Hannah (Arquette) as the attractive young pioneering woman and her friends who have been robbed of a chest full of money and their innate moral compass that flies in the face of Cobb's unquenchable thirst for lawless control of the town is good enough for the smitten Emmett, a once conflicted Paden, and the rest of the white hats.
The fact that Emmett's son, Augie, is kidnapped by Cobb's men is just the cherry on top of what we knew was coming. The must-have tropes are cool stunts and gunplay galore. The great horse wrangling and shooting in Silverado comes in waves and just keeps on coming. Between Paden, Jake, Mal, Emmett, Cobb, and his outlaw posse, the bullets are flying around like mosquitoes on a warm Texas night, and a looming showdown between Paden and his star-crossed cowboys and Cobb's lackeys for the future of Silverado will force everyone to choose a side in good versus evil.
'Silverado' Ends With a Gunslingin' Finale
The calm before the storm accompanies an out-of-control stampede; two more prized elements in the best Westerns ever made. Silverado is quiet as Emmett, Paden, Mal, and Jake make their way in for the final showdown. But they unleash a herd of cattle as cover to facilitate their approach. Once our white hat posse is firmly ensconced within the town, the rest is just about who is the better gunfighter. And we've already covered just how good our quick-draw heroes are with pistols and a rifle.
The scene where Jake exits the saloon and draws on two unsuspecting men on either side of the building, killing them both, is one of the best sequences in the history of Western cinema, regardless of the decade. And what does every great Western end with? Well, a face-to-face showdown on the dusty main strip, of course. And when push comes to shove, it's Paden who is quicker on the trigger than Cobb. Good triumphs over evil, Paden becomes the new sheriff of Silverado, and the residents are safe. The audience also gets to walk away with a rewarding 2 hours and 12 minutes of Western filmmaking at its finest.