The Big Picture
The Twilight Zone tackled social issues like racism and xenophobia through the use of sci-fi and horror metaphors, making its message accessible without being heavy-handed.
Rod Serling, the creator of The Twilight Zone, was ahead of his time in his willingness to address controversial topics on television, while still delivering entertaining and nightmarish narratives.
Some of the most memorable episodes of The Twilight Zone dealt with themes like racism, fear of others, and nuclear paranoia, showcasing Serling's ability to use genre storytelling to provoke thought and engage audiences.
When The Twilight Zone first premiered, few shows were as far ahead of their time in their approach to social commentary as Rod Serling's seminal work. This series had episodes that, on its surface, might have been about alien invasions, otherworldly phenomena, or other bizarre paranormal encounters but a lot of the time, tackled conversations surrounding racial issues, sexism, nuclear paranoia, classism, and xenophobia in general. Given the series as a whole, The Twilight Zone also had episodes that divulged purely into horror and science fiction tales, with the sole mission of entertaining its audience. That being said, Serling was clever in the way that he spun these stories. They're the most accessible types of sci-fi and horror metaphors, where their message is there for you if you want them, but also not beating you over the head with obvious writing.
The Twilight Zone first premiered in October 1959, a time when TV was predominately overrun by dramas and Westerns. This was a medium that, at the time, was ripe for purely giving its audience a good time. Few shows challenged their audiences intellectually, let alone made them want to leave a night light on. That's where Rod Serling comes into play, one of the most innovative writers in the history of television. Here, you had a writer who respected his audience enough to posit tough questions about the current societal landscape, but he never talked down to anyone. Serling was ahead of the curb. He was ready to tackle hot-button topics within the parameters of genre storytelling well before it became popularized by filmmakers in the late '60s and early '70s, and at a time when TV was barely ever giving creators a chance to do so. Not only that, but he was also delivering genuinely nightmarish narratives to the homes of millions. The Twilight Zone might have been ahead of its time, but that's all thanks to Rod Serling.
Rod Serling Was Ahead of His Time
Before he could begin working on his iconic series, Rod Serling would first attempt to bring Emmett Till's story to TV. In 1955, Till was a young African-American boy visiting family in Mississippi, where he would be captured and beaten to death by two monstrous racists. Till's killers were found not guilty and let go of all of their charges, an absolutely devastating decision that helped put the Civil Rights Movement in motion. Elsewhere, Rod Serling was an up-and-coming screenwriter, one who was passionate about bringing this recent story to life. Networks and companies running ads were made nervous by his efforts and pushed him to find a different project to tackle. This led Serling to tackle more than just racism — he'd tackle every controversial topic of that time period throughout five seasons on a hit TV show. It would have been wonderful to see Serling bring Till's story to TV, but at least he got to pull this power movie on these spineless network executives.
'The Twilight Zone' Tackled Racism in "The Encounter"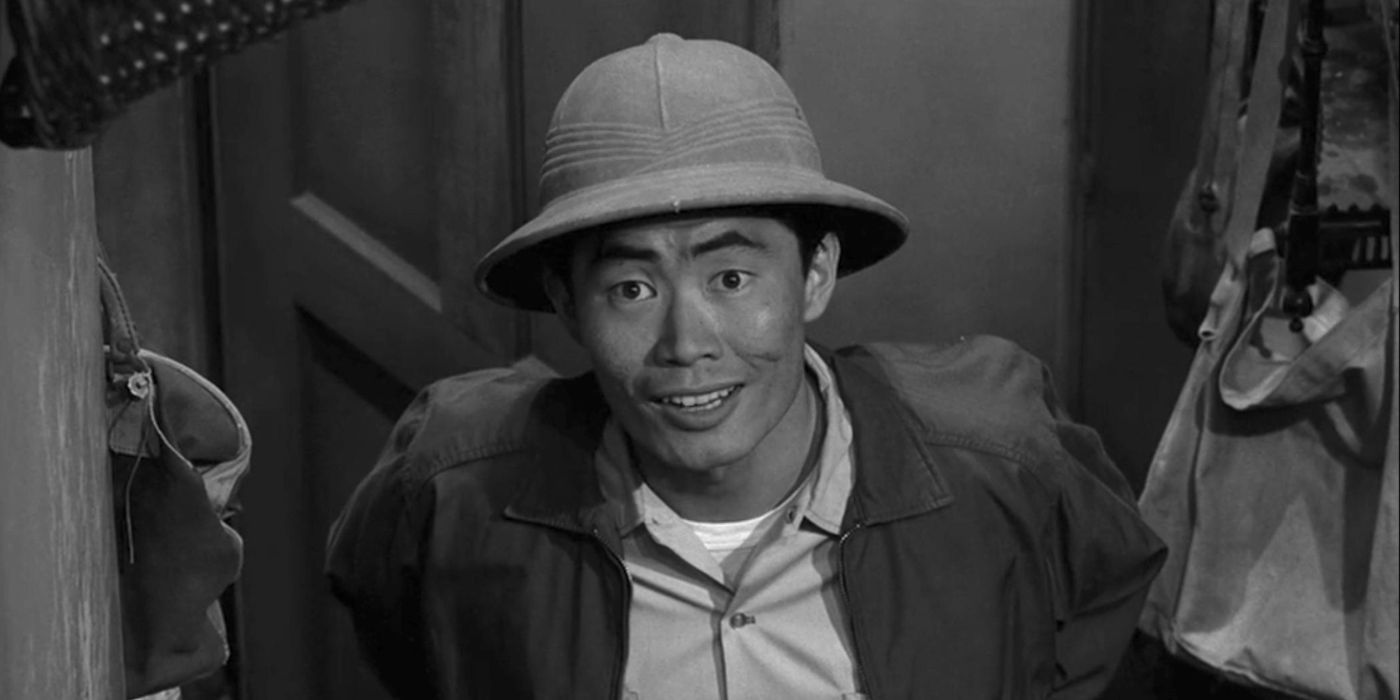 Money-grubbing network executives aside, the '60s were a time when writers and filmmakers were ready to tackle themes of racism on the big and small screen. The Twilight Zone was ahead of almost everyone, though. Of course, there's "The Encounter," the famous episode that was pulled from syndication until 2004 literally because of the ideas that it presented. The story follows two neighbors as their interaction falls from a conversation about yard work into total mistrust between a white and Asian-American man. That release in particular does also stumble a bit in its storytelling, accidentally backpedaling a bit and giving the idea that non-white Americans are not as loyal to their country. It's a shame that the show falters at that moment. At the very least, the attempt at trying to tackle racism and racial disharmony in such an upfront way, at a time when hardly anyone would, is appreciated.
"Deaths-Head Revisited" Looked at Xenophobia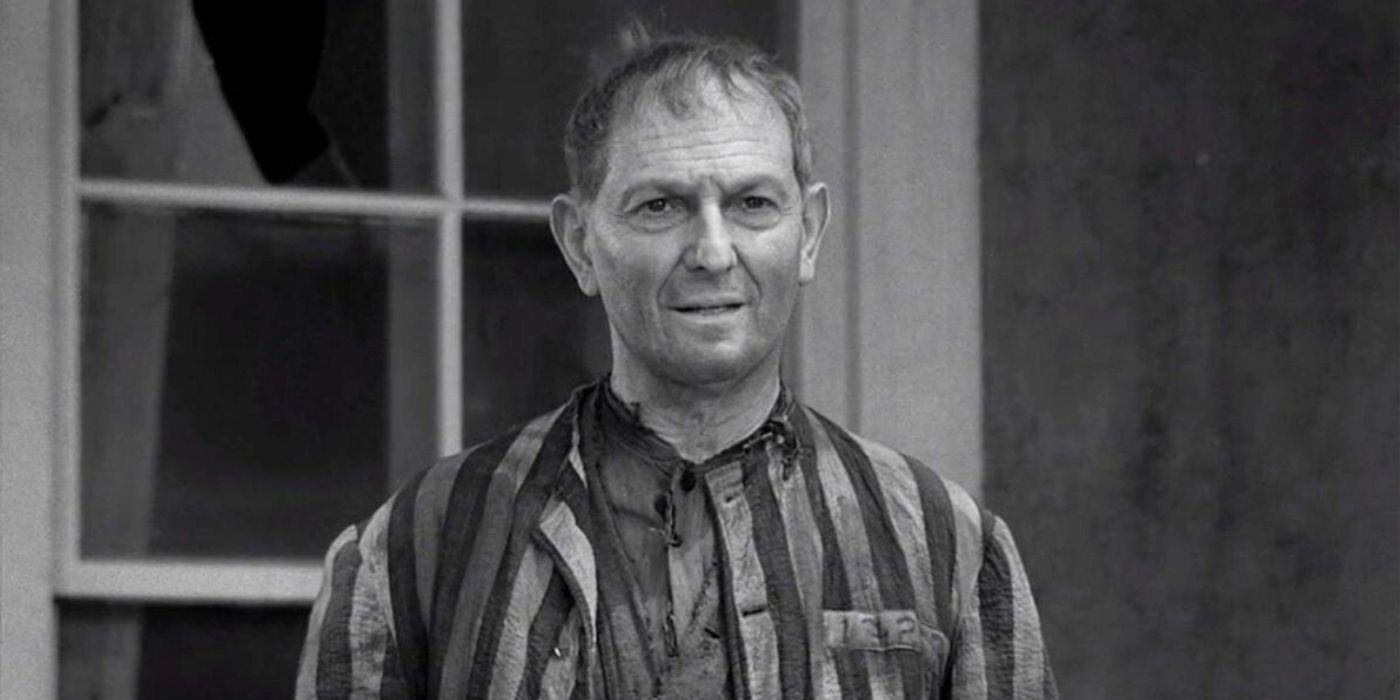 The Twilight Zone wasn't afraid to tackle xenophobia, either. The Season 3 classic, "Deaths-Head Revisited," follows a former SS officer who travels to the remains of a concentration camp that he operated in during World War II. Here, he is met with his victim's spirits, and forced to face the evils of his past and present. You can really feel Serling's passion in this one. It features one of his longest opening monologues, cutting away from a shot of him as he sets the stage for everyone, and back onto the concentration camp, where his voiceover finishes the job. It's one of his most poignant in the entire series, and lays the foundation for an episode that does a similarly fantastic job. Mr. Schmidt (Oscar Beregi Jr.), or Captain Lutze, is absolutely despicable in this episode. You just want to stand up and cheer every time Alfred Becker's (Joseph Schildkraut) ghost tears him a new one. This is easily one of the best episodes in the entire series.
RELATED: Was 'Twilight Zone: The Movie' a Cursed Production?
"The Monsters Are Due on Maple Street" Is a 'Twilight Zone' Masterpiece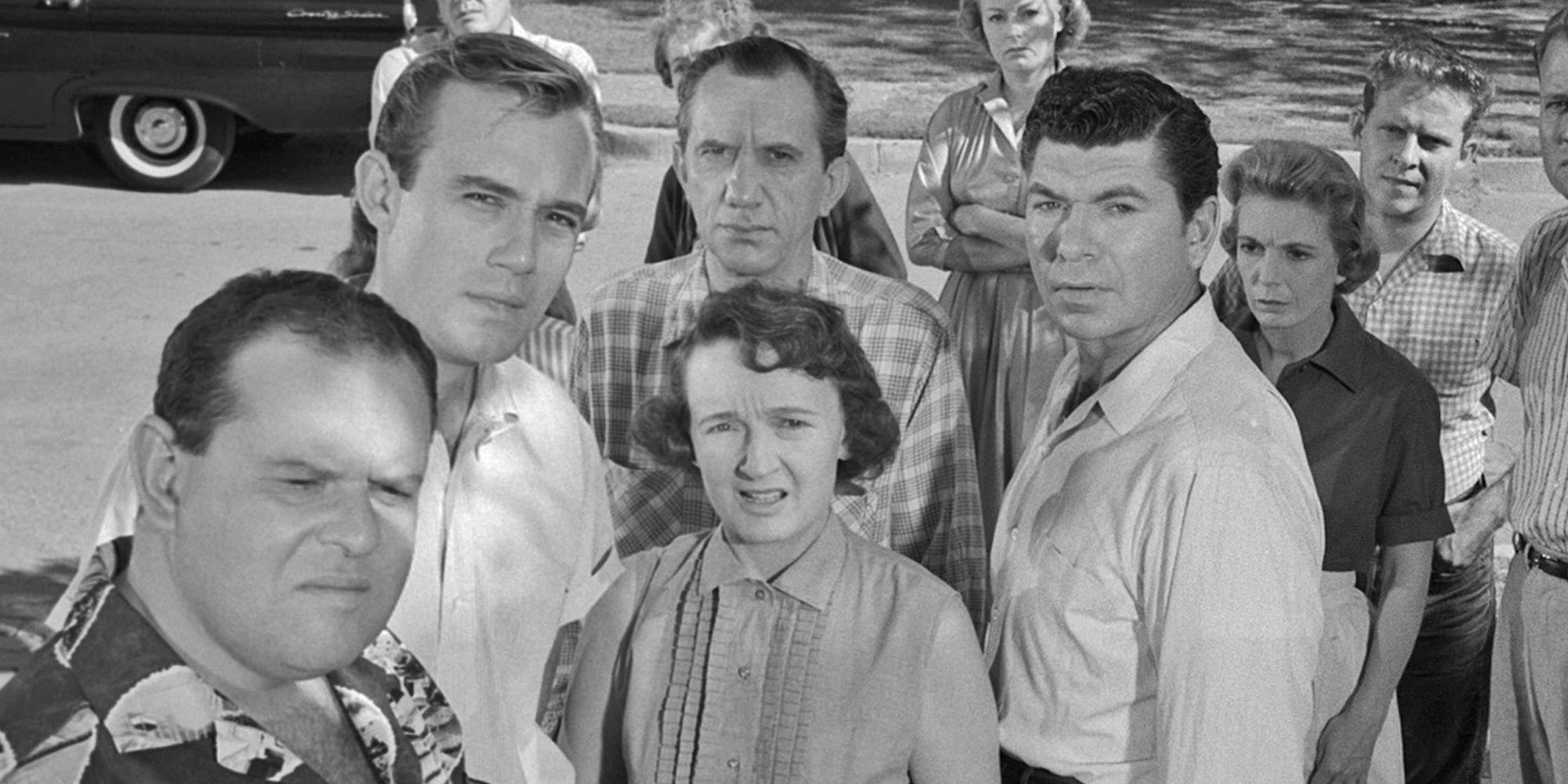 Then you have Season 1's "The Monsters Are Due on Maple Street," a title that tackles a general fear of others. "Monsters" presents the residents of a seemingly friendly neighborhood as they turn on each other after the strange occurrences begin taking place. They go from a social street that enjoys each other's company to an angry mob, one that results in someone's death. Serling uses science fiction to help tell this story, with the fear of aliens looming over everyone's heads. At first, they all mock a child's assumption that extraterrestrials are in the area, but eventually, people begin keeping their distance from each other and accusing each other of being these "monsters." But of course, those that are in the sky aren't the monsters — we are. This is also one of the greatest and most iconic episodes in the entire series, and has been cited regularly as such.
Fear of the Atomic Age in "Time Enough at Last"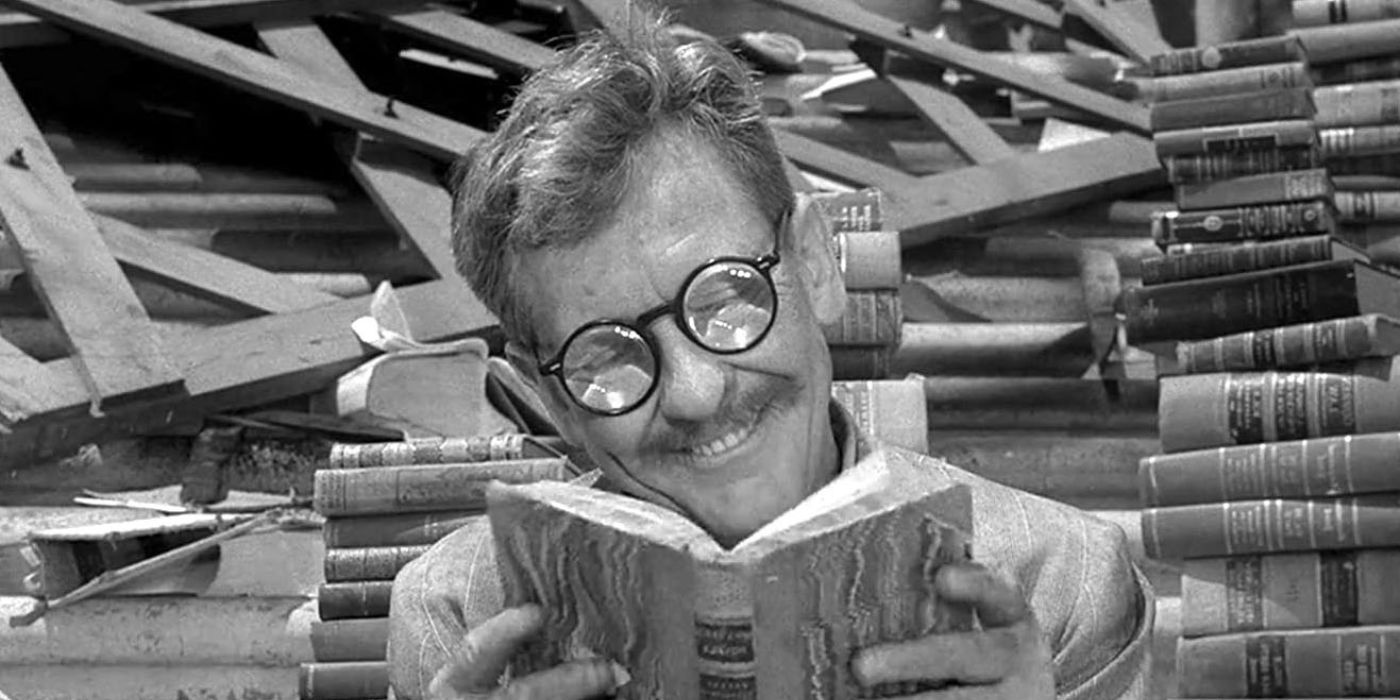 The '60s were not plagued by nuclear paranoia to the same degree that folks were in the previous decade, but that's what makes one of the series' only '50s episodes, "Time Enough at Last," timed so perfectly. The episode follows Henry Bemis (Burgess Meredith), a bank teller who just wants to get away from everyone and find a quiet spot to read. He's bothered by his coworkers, his wife, and seemingly the entire universe. Lucky for him, an H-Bomb eradicates the entire world population while he is locked away in a bank vault. It's a chilling moment that is only made more so by Bemis's disregard for the loss of life that just occurred. You feel happy that he'll… finally have a place to read quietly… but also are stunned that he is hardly bothered at all by being the last person alive. If you know how the episode ends, then you know that it only makes this post-apocalyptic wasteland setting even more terrifying. "Time Enough at Last" is a grim episode, to say the least. A true classic.
Body Image in 'The Twilight Zone'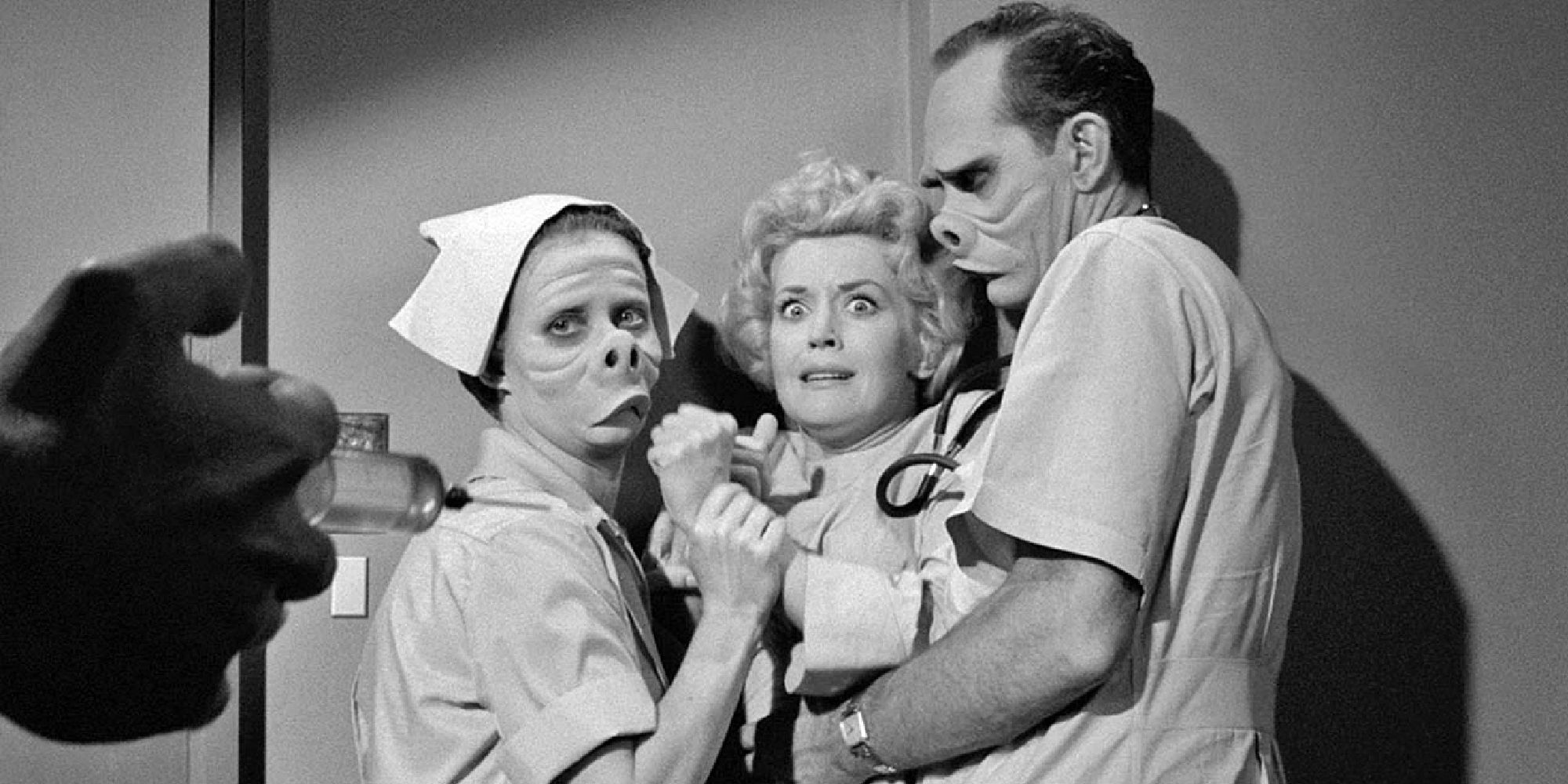 Rod Serling clearly had a fascination with commenting on people's self-image and body dysmorphia. Perhaps one of the most famous episodes in the entire series is "Eye of the Beholder." You know this one, it's the episode where a woman's face is covered in bandages as she's going for her eleventh facial surgery to "look normal." If you don't know the reveal at the end of this episode, please, go fire it up. The delivery of this one's message borders on ham-fisted, but it's so iconic and perfectly Twilight Zone that you can't help but love it. Then there's "Number 12 Looks Just Like You," set in a dystopian future where, after turning 19, everyone undergoes surgery to look like one of a few different attractive models. Not only was this episode a commentary on society's view of beauty, but also Hollywood's problematic obsession with a sole couple of "attractive" image-types in their actors and actresses. "Number 12" might just have one of the most clever log lines in the entire series.
More shows need to be as daring as The Twilight Zone. This series broke ground and paved the way for future programs like Star Trek and Black Mirror to use genre as a means of telling important, thematically rich stories that audiences could walk away from and apply to their own life. Here's hoping that the legacy of Serling's work is never lost to time, and that his ideas continue to resonate forever.