The Big Picture
Curb Your Enthusiasm is all about uncomfortable moments and Larry David's ability to get into trouble due to his inability to keep his mouth shut.
Larry's most uncomfortable moment involves accidentally ruining a valuable doll and getting caught in a bathroom with a little girl, resulting in an awkward misunderstanding.
This episode showcases Larry's penchant for misunderstanding and creating uncomfortable situations, making it the most cringe-worthy moment in the series.
For eleven seasons, Curb Your Enthusiasm has been all about the most uncomfortable moments you can imagine. If you thought the incarnation of Larry David as George Constanza (Jason Alexander) on Seinfeld created some purposely cringe worthy moments, it paled in comparison to what David could do once he got his own show on HBO.
Like Seinfeld, Curb Your Enthusiasm has some pretty despicable, yet hilarious, characters. Larry's manager Jeff (Jeff Garlin) is about as self-centered as you can get. His wife Susie (Susie Essman) is a walking nightmare of rage. Larry's no peach either, though it's not always his own selfishness that gets him into trouble — sometimes it's a horrible misunderstanding. One episode in particular revolves around a misunderstanding so uncomfortable that it is almost hard to watch.
Larry's Most Uncomfortable Moments on 'Curb Your Enthusiasm'
Larry doesn't necessarily mean to do bad things. Sometimes he's not even in the wrong at all. And he's not as mean spirited as George was. But the Larry David we get in Curb Your Enthusiasm still can't keep himself out of trouble. Most of that comes from his inability to keep his mouth shut. If he's been wronged or sees something he doesn't like, he can't stop himself from speaking out about it, even when it would be better to just stay silent and mind his own business. At other times, Larry can just be dumb, doing something so ridiculous without thinking of the consequences and how it might upset someone else.
You name the awkward scenario, and Larry has experienced it. He yells at a cancer patient whom he thought was a skinhead in "The Lefty Call." He gets caught saying how much he dislikes the N-word, while actually using the word, in front of a Black man in "The N Word." He makes a tasteless joke in "The Affirmative Action." He writes an obituary for his wife's aunt, but the "a" in "aunt" is accidentally replaced with a "c" in "See You Next Tuesday." And then there's the feud he has with Michael J. Fox in "Larry vs. Michael J. Fox," where he accuses the actor of exploiting his Parkinson's disease. Still, one episode involving a little girl and the worst misunderstanding imaginable tops them all.
Larry Tries To Replace a Little Girl's Doll That He Ruined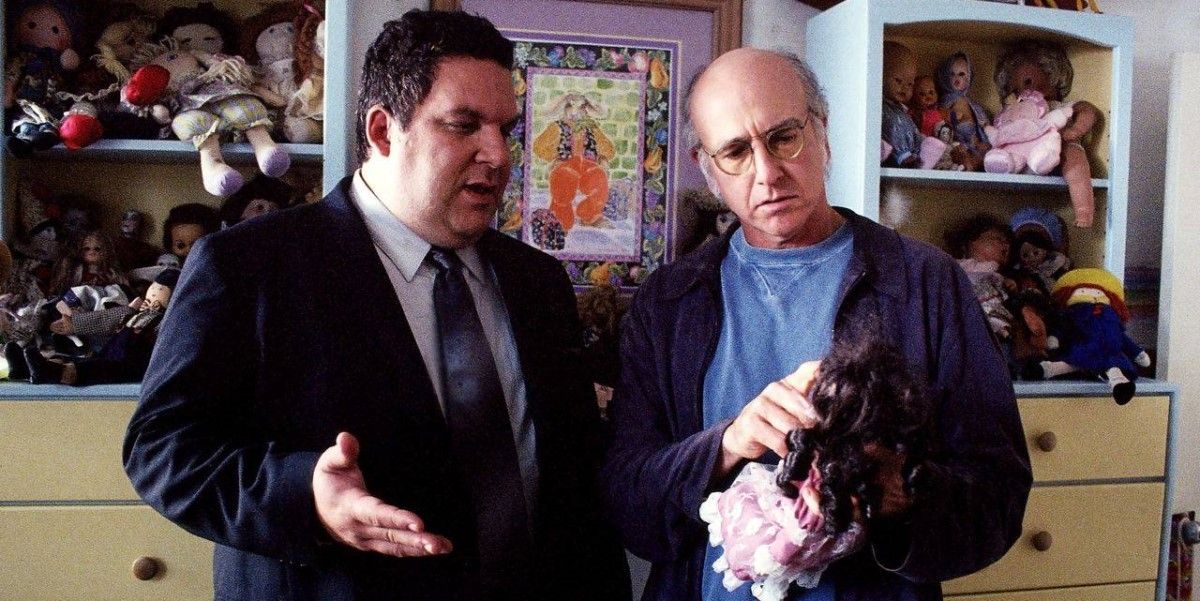 Larry David's most uncomfortable moment on Curb Your Enthusiasm comes in the Season 2 episode "The Doll." Julia Louis-Dreyfus, who played Elaine on Seinfeld, is reunited with Larry as the two shop a new sitcom to ABC. The network is thrilled to make the show and everything is going perfectly, though we know something bad is going to mess this all up. It all starts when Larry gets invited to a party at the home of Lane Michaelson (Zach Grenier), an ABC exec. At the party he meets Lane's wife, Anne (Rita Wilson). Larry's doctor has him carrying around a water bottle to encourage him to drink more, which of course, causes him to pee more often, so he goes upstairs to use the bathroom during the party. It's here where he runs into the Michaelsons' young daughter Tara (Bailey Thompson), who is brushing her doll's hair.
The girl takes a liking to Larry and asks if he'd like to cut her doll's hair. Now, a normal person would politely decline, or maybe pretend to cut the doll's hair. Not Larry. He pulls out a Swiss Army Knife and goes to town, and cuts off almost all of the doll's hair. Tara likes it, but later she freaks out, screaming, and takes the doll to her mother, telling her what Larry did. Tara thought the hair would grow back, and Larry defends himself, saying "I thought it was understood." Anne is pissed. The doll is a valuable collector's item that's out of production and can't be replaced. Now Larry's in some shit. He has upset the family of the ABC exec — he has to fix that doll. Jeff thinks he can help. His daughter has lots of dolls, so surely she has one just like it. The next day they luck out and find the exact same doll in Jeff's daughter's room. Susie almost catches them, so to hide the evidence, Larry rips the doll's head off and sticks it down his pants. Sure, what could go wrong?
RELATED: Larry David Got Revenge on Roger Ebert in This Episode of 'Curb Your Enthusiasm'
Everything Goes Horribly Wrong When the Girl Thanks Larry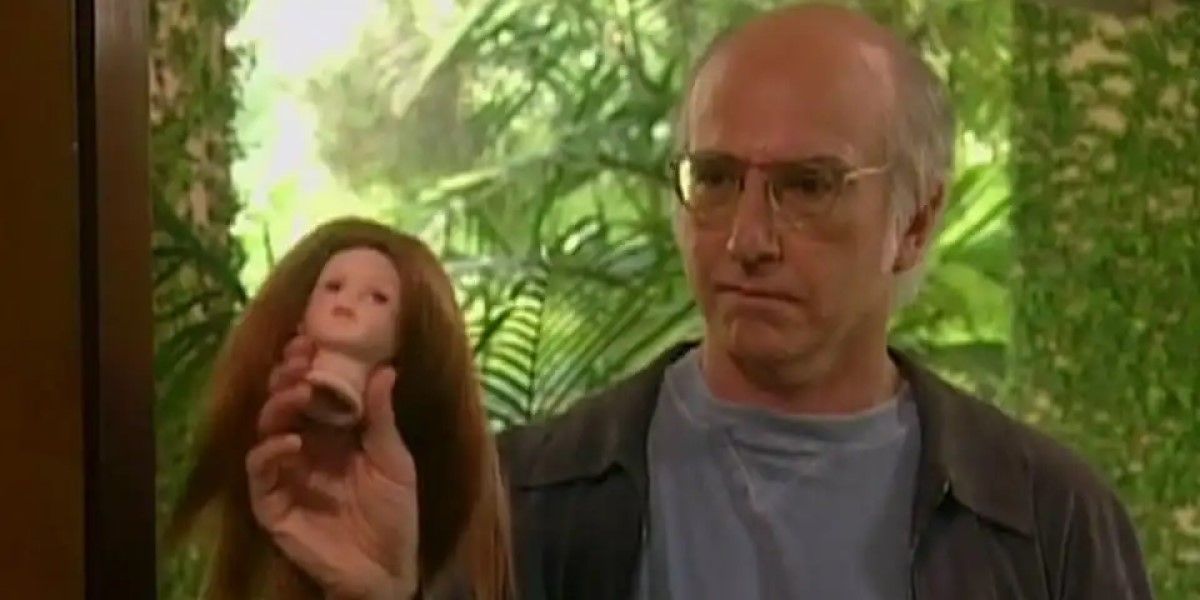 It's one bad moment after another after that with Larry and the doll head. Larry shows up at the Michaelson house with the doll head. Anne accepts it, and everything is fine, though Susie is pissed when she discovers what they did. Larry's groin is itching now, thanks to a rash from the doll's hair that was down his pants, but he trudges on, back to Anne's house with Jeff to get the short-haired doll head so that they can put it on Jeff's daughter's doll. He gets what he came for, but not before a guest at the Michaelsons walks in on Larry in the bathroom with his pants down. He's checking on the rash, but to her, it looks like he's having a good time all alone.
Later, at a theater event, Larry steps into the women's bathroom because the men's "is an olfactory nightmare." He's still got his water bottle, but the last time he was in the theater he got reprimanded for having the bottle with him, so he hides it down the front of his pants. It's then that little Tara walks into the bathroom. Before anything actually happens, you can see disaster coming. It's like a slow-motion car crash that you can't stop. An old man with a bulge in his pants is all alone in a women's bathroom with a little girl. You can't watch it and not visibly cringe at how this is going to go. Tara is happy to see Larry, thanking him for fixing her doll's hair. She gives him a hug, then looks confused, before running out of the bathroom. She screams loudly, "Mommy, mommy, that bald man's in the bathroom and there's something hard in his pants!" Everyone hears her and gasps in shock. There are cries of "Kick his ass" and "pervert." Someone else yells, "Let's get him!" Horrified, Larry turns and runs to the other end of the bathroom for a window where he can escape.
Larry David has had so many uncomfortable moments on Curb Your Enthusiasm, but nothing will top this — a moment so awkward that you're afraid to literally say what the girl and everyone else thought Larry was doing. The insinuation is bad enough. You wouldn't see that happen to George Constanza on NBC. As for Larry and Julia's ABC deal, it suddenly got nixed for some odd reason, and never saw the light of day.