The Big Picture
Casablanca is a timeless film that combines elements of romance, war, and drama, making it a compelling and unique watch.
The World War II setting adds to the overall fear and drama of the film, creating heightened emotions that make the romance even more compelling.
The fractured romance between Rick and Ilsa sets Casablanca apart from other romantic films, and the iconic ending leaves a lasting impact.
Widely considered one of the greatest films ever made, and once again appearing on Sight & Sound's Greatest Films of All Time list, the 1942 romantic drama Casablanca continues to stand the test of time. If you aren't a fan of the romance genre, from the outside looking in it could appear that this was just another stuffy old black-and-white film from Hollywood's golden age. However, there's a lot more going on with Casablanca than meets the eye, especially for those that might have only heard rumblings about it over the years.
This is a film that technically does fall in the romance category, though its heavy reliance on both the war and drama genres puts it in a peculiar place in that many other movies of this caliber simply don't exist. Because of that, what audiences end up getting is one of the more compelling romantic pictures of all time and one that'll even be able to bring over those that might otherwise be adverse to the genre that it primarily occupies.
'Casablanca's World War II Setting Makes for a Timeless Story
Set against the backdrop of World War II, Casablanca is far from your typical film in both the war and romance genres. With that being said, the '40s were actually quite a time for unconventional films of that particular type. Whether it was the somewhat supernatural story of The Ghost and Mrs. Muir, a tale of a distant tragedy in Letter from an Unknown Woman, or the classic screwball comedies like His Girl Friday, there was a wide variety of films falling in the romance genre that any type of moviegoer could end up enjoying.
RELATED: The Timeless Love Story of 'Casablanca'
The film is established not as a romance at first but instead aligns itself akin to a wartime spy drama. If you were someone who wasn't aware that the film fell in the romance genre, chances are high that you also wouldn't realize this until Ingrid Bergman entered the picture. The movie does a great job of keeping this facade, as we hear rumblings of someone named Victor Laszlo (Paul Henreid) a leader of the Czech Resistance, and a fugitive, who's making his way to the area.
While the romantic nature of Rick (Humphrey Bogart) and Ilsa (Bergman) is of course at the center of the film, it's the backdrop of WWII that helps accentuate the overall fear and drama, making the romantic nature of this fractured relationship all the more compelling. Because of this, there's a certain sense of heightened emotions that can much more easily be felt here than in your typical romantic drama. Because of that, audiences are greeted with the perfect combination of elements to help ease those averse to the genre into watching what's one of the best on-screen romances of the 40s and beyond.
What Is Special About 'Casablanca'?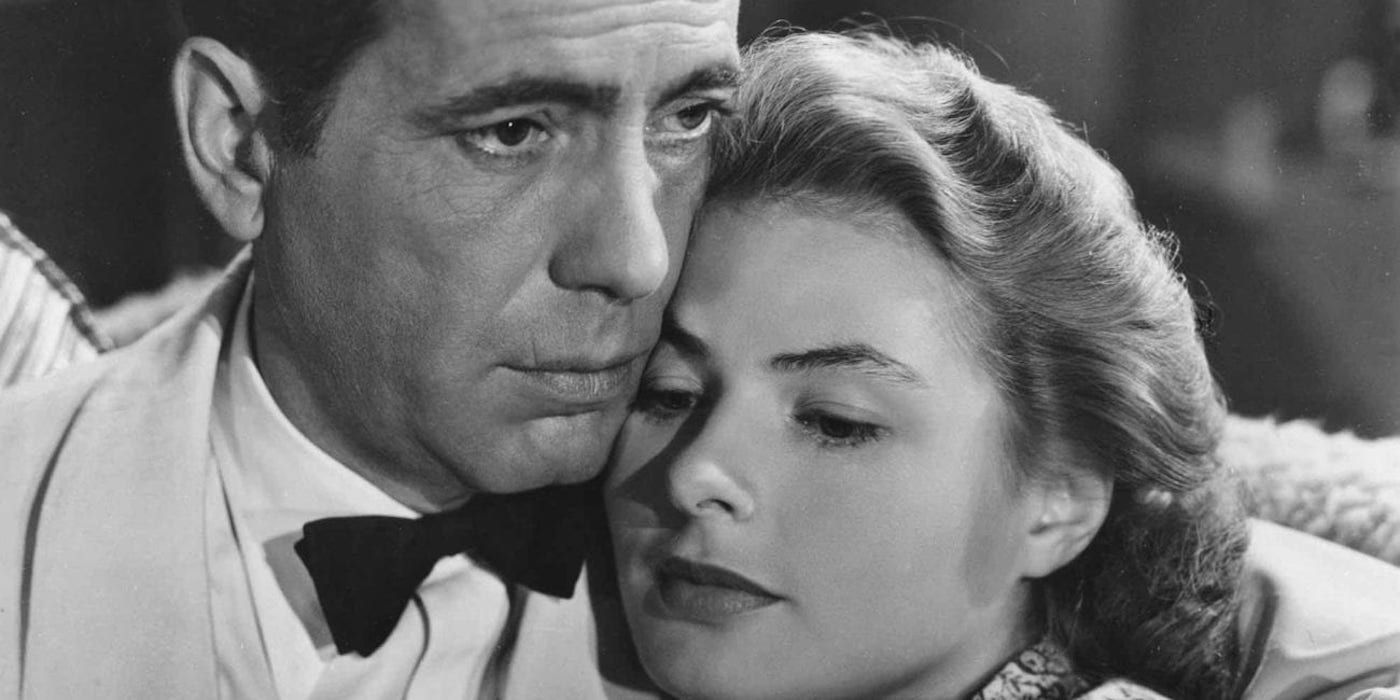 Though Rick and Ilsa's relationship is clear from the second Bergman comes on screen, there's a lot more that happens within those moments. We get a handful of flashbacks to their time together in Paris, a place that clearly holds a lot of meaning for the two of them, and which ends up giving us one of cinema's most iconic lines. This adds a nice layer to Bogart's more cold performance, as well as the reasoning for his demeanor towards not only Bergman but many of the other characters in the movie. The flashback to Paris is a meaningful portion of the film as it relates to Ilsa and Rick's overall relationship and how it pertains to their current day status when it comes to each other.
At the core of Casablanca, Ilsa and Rick's relationship is a fractured romance. Audiences nowadays are so used to potential couples meeting, getting together, breaking up, and then reuniting to end the film. Casablanca goes about portraying this relationship in a compelling fashion due to the way the two end up meeting again, making it one of the most memorable in all cinema. The film does a nice job of creating a central mystery between our two leads, as there's already an established relationship that audiences aren't exactly privy to right away, though they're given much of the information later on. The fact that the film takes place beyond their initial romantic relationship allows for a compelling and unique take on a genre of film that over decades has become incredibly stale at times.
Do Rick and Ilsa Live Happily Ever After?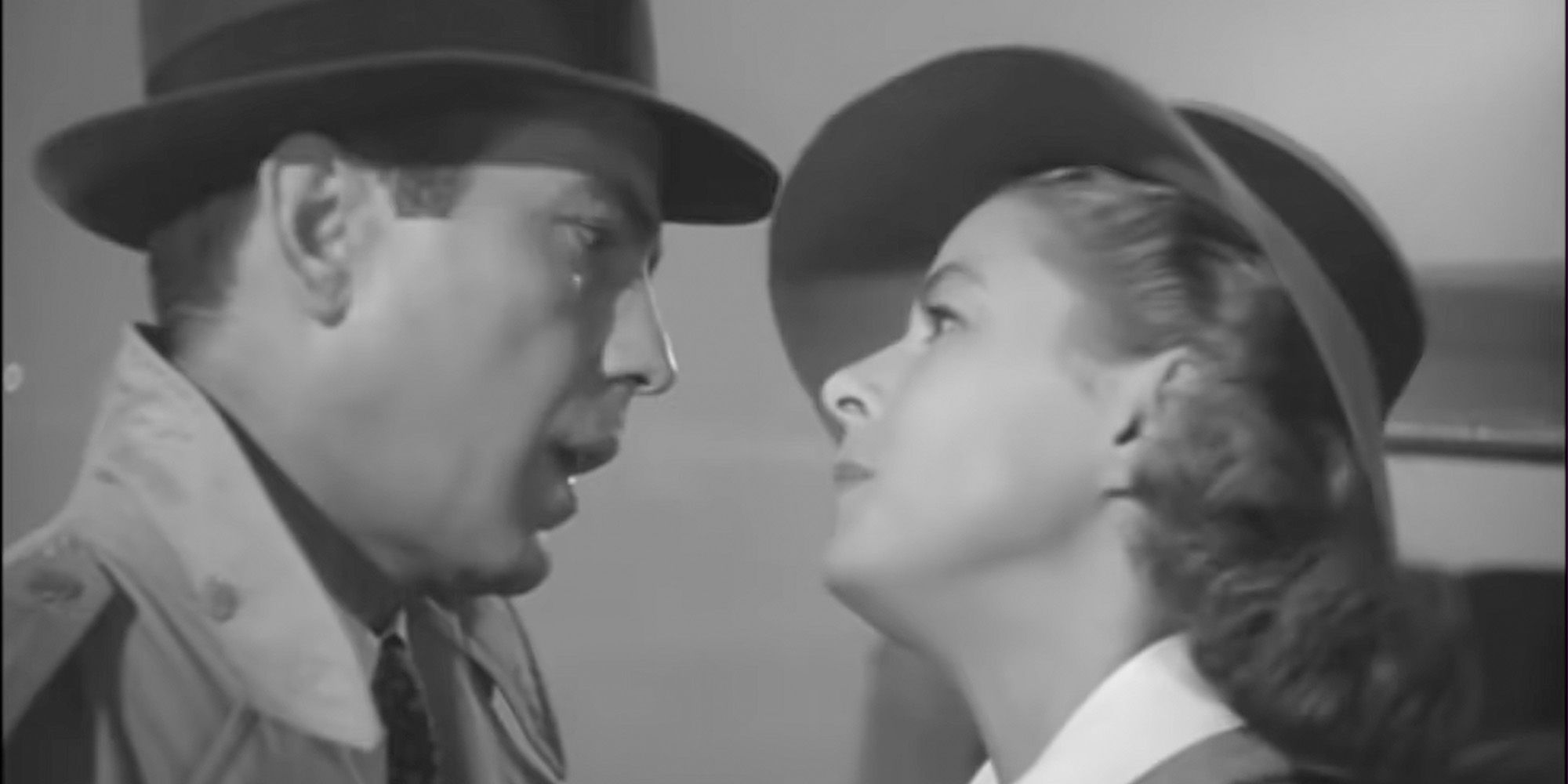 What many people might not understand going into Casablanca is that at the heart of the film is a fractured romance that simply won't work for each individual's current place in their life. Rick is a nightclub owner and Ilsa is married, as they both find themselves involved in different areas of the war. Ultimately, it's their broken relationship that ends up leading to one of the most iconic endings of all time. So many audiences watching romance films expect the couple to reunite, but that isn't the case here, and the film is better off for it. Honestly, Casablanca would feel cheapened if somehow Rick and Ilsa were to get back together, as the story told prior to their parting is one that falls perfectly in line with how everything else plays out before it.
Similar to the way the great David Lean's Brief Encounter unfolds, another masterclass in unconventional romances from the 1940s, Casablanca is a film that feels as if our two leads, while potentially destined to be together, will never get that chance. What both of these films do in a superb fashion is make the audiences understand that while this relationship is one that feels as if it should conquer all, there are other individuals on the side of their decisions.
When it comes to Casablanca, it utilizes its setting heavily, as it accentuates its wartime drama situation, further bringing out those romantic flourishes set against the cold and dangerous backdrop. It's a movie that uses all of its genre elements to enhance each other, from the almost noir-like spectacle that any Bogart performance entails, all the way through to the blistering commanding nature that Bergman's screen presence provides any time that she appears.
This is a film that was shot and released while World War II was still taking place, and when you consider that fact, the overall feeling that the movie generates hits even harder. Though it wasn't shot in an occupied territory like Marcel Carné's superb Children of Paradise, there's still an aura to the picture that a lot of other films of that particular era didn't have. Its subverting nature of many romantic tropes that both preceded and followed its release, coupled with its unique backdrop, allow Casablanca to stand as a truly monumental film, and one that has the ability to catch the eye of those who might not necessarily gravitate towards the popular genre.