The Big Picture
Don't Look Now is a fascinating horror film with a paranormal core, filled with interesting visual choices that make you question the narrative.
The late '60s and early '70s saw horror movies that went beyond traditional vampire stories, with films like Rosemary's Baby and The Exorcist reflecting the audience's personal lives.
Don't Look Now is an underrated horror whodunnit that leaves you with more questions than answers, with mysteries that will keep you scratching your head long after the movie is over.
The whodunnit subgenre is one of the most well-covered grounds in all of horror and has left us with numerous classics, but you won't be able to find a movie more devastating in it than Nicolas Roeg's Don't Look Now. This movie is a mystery in just about every way, with a fascinating paranormal core. Don't Look Now's interesting visual choices make you question everything happening in the narrative, and there's even the threat of a killer roaming in the background. It's a fascinating horror film that will likely leave you scratching your head long after watching it for the first time but will stick with you more than most other titles in its genre. Few movie mysteries are as thoughtfully constructed as the one found in Don't Look Now and yet, it took people a while to appreciate it.
The late '60s and early '70s were very interesting eras for horror. This was a time when both small independent and big-studio films were pumping out intentionally crafted, densely thematic horror movies. If these weren't films speaking directly to the social movements of the time like George A. Romero's Night of the Living Dead, then they were speaking to people's personal relationships and home lives in ways that few mainstream movies dared to do up until this point, all while delivering levels of scares that audiences had never experienced. Titles like Rosemary's Baby and The Exorcist were not only movies that were steeped in weighty ideas and completely enraptured in powerful symbolism, but they were also pushing the horror envelope to new extremes. Horror movies weren't just about vampires in giant crumbling castles anymore, they were about reflecting the audience's personal lives.
'Don't Look Now' Wasn't Given the Recognition It Deserves
When The Exorcist came out in 1973, it shocked the world and was instantly hailed as a horror masterpiece. Any other horror movie that came out that year paled in popularity and acclaim to the story of Regan's (Linda Blair) possession, which is what makes Don't Look Now, another 1973 horror film, not only underrated in today's day and age but underrated even within the year that it came out. Critics viewed it positively, but it didn't quite take movie theaters by storm. Even Roger Ebert's original review only gave it three stars. He didn't even necessarily have anything overtly negative to say. Like everyone, he praised both Donald Sutherland and Julie Christie's lead performances, Nicolas Roeg's direction, and the use of Venice as a gothic, essential key to the movie's lasting effect. Don't Look Now wasn't bashed by critics, but it also wasn't beloved on the spot. It came and went, only to slowly become reclaimed over time. It's unfortunate — if only these people in 1973 realized that they had one of the greatest whodunnit horror mysteries releasing right under their noses.
'Don't Look Now' is Not Your Traditional Whodunnit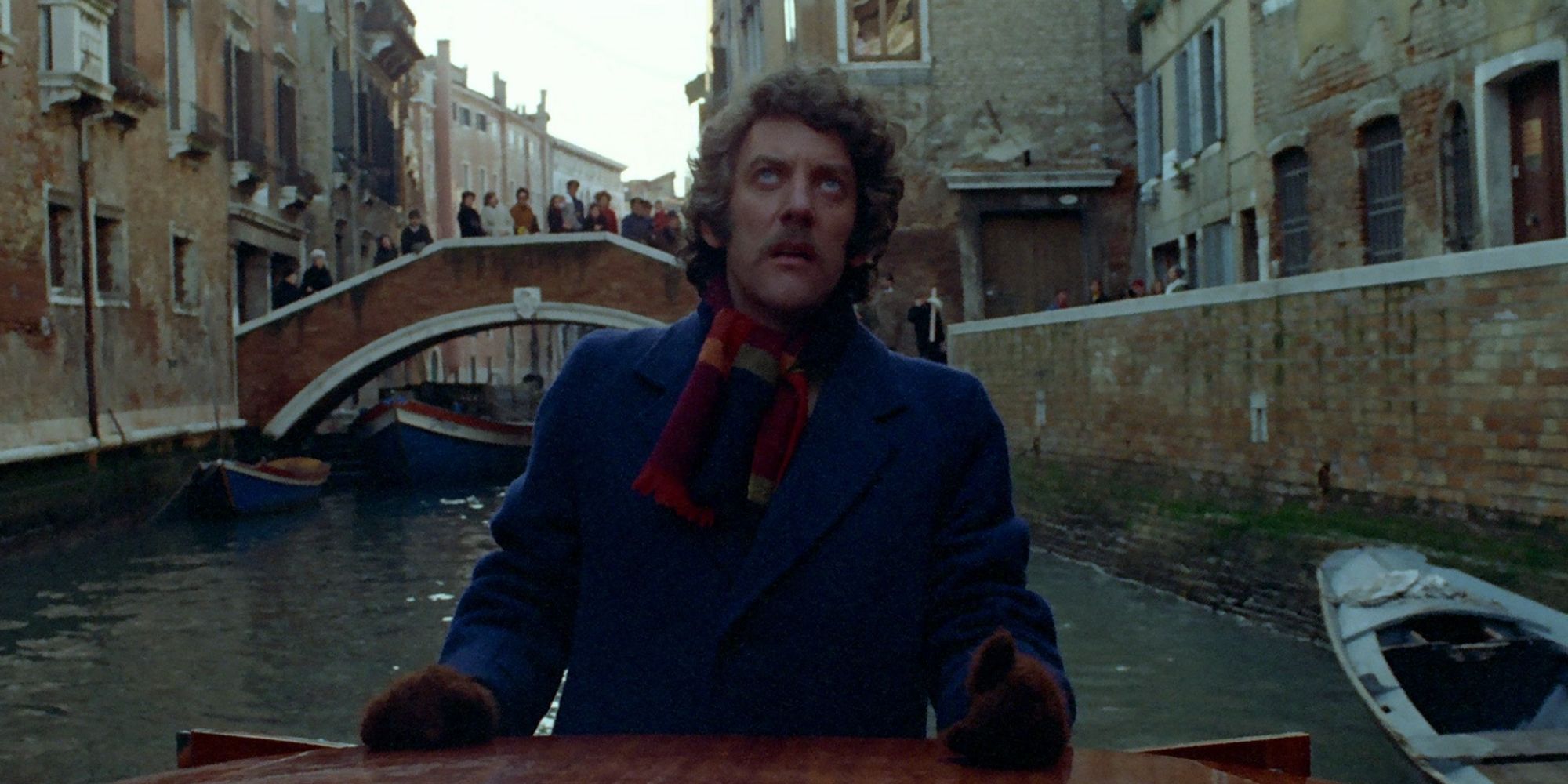 What makes Don't Look Now so fascinating is that it isn't your traditional whodunnit movie. There is truly a killer lurking in the shadows of Venice's windy streets, slaying people in the middle of the night when the walkways are empty and no one is looking, but that's not the movie's sole focus. While you're watching Don't Look Now, you are curious about who's out there killing people and dumping their bodies into Venice's river, but that's only one of the movie's many questions that will leave you needing answers. Don't Look Now is steeped in oddities.
RELATED: 15 Best Murder Mystery Movies to Watch Like 'Glass Onion: A Knives Out Mystery'
The film begins with the Baxter family enjoying an afternoon at their country home in England, only for John Baxter (Sutherland) to sense that his daughter is in trouble, drop his work, and sprint out of his living room and into the backyard. He runs out, fully clothed, into the family pond, and discovers that his daughter has drowned. No one runs in to tell John that his daughter is in trouble or that she is literally drowning, he just senses it. Whether he actually has ESP or it was a moment of some divine intervention, we're never really made to know for sure.
That's what makes it so fascinating when the movie takes John and his wife, Laura (Christie), to Venice so that he can help restore an old church. While they are there, they meet two elderly women, one of whom, Heather (Hilary Mason), is blind and claims to be a psychic, and that she can see the Baxter's recently deceased daughter. Heather also believes that their daughter is trying to intervene and warn her parents of some sort of oncoming danger. We aren't ever really made to know if her statements are rooted in fact, but given John's previous possible moment of ESP, sensing that his own daughter was in trouble, you would think that he would be able to sense this for himself and his wife as well.
'Don't Look Now' Gives Us More Than One Mystery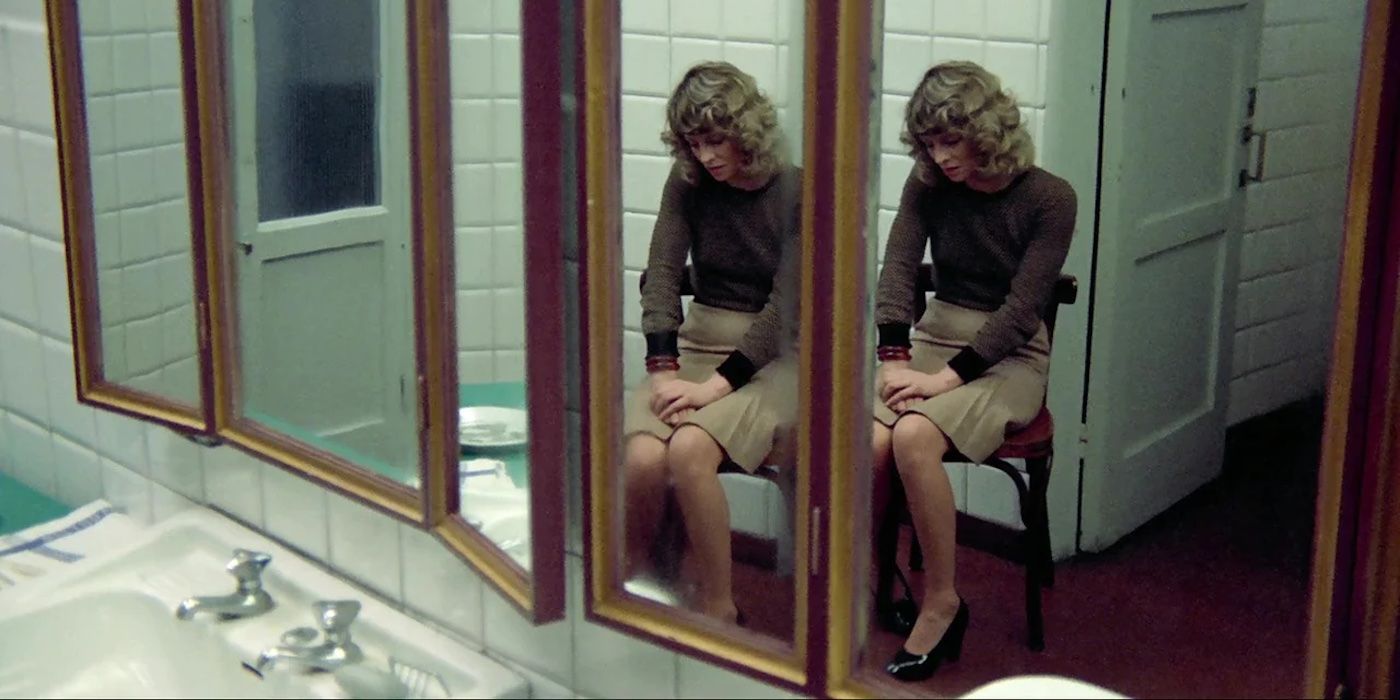 From there, things only get stranger. Laura becomes intertwined with Heather and her sister, Wendy (Clelia Matania), and finds herself working with the two of them to try and contact their daughter from the beyond via séance. Once this part of the plot hits, the film starts to take on shades of a dream-like state. About halfway through the film, both people that the Baxters do and don't know begin treating them strangely, making you wonder if they all know something that we don't. Wendy and Heather repeatedly show up when we least expect them to, often staring at John and Laura from a distance. Laura has to return home to England to attend to their son after he is injured, only for John to think that he sees her on a boat in Venice, hours after she has already left Italy. The movie uses loads of cross-cutting to different periods, giving the narrative a highly disorienting feeling. This leaves you wondering what might be presented as a flashback for our characters, and what might be John sensing some sort of warning for dangers to come.
While we're wondering if there's some sort of cult behind the Baxters' troubles, or if this is just the family dealing with the grief of their daughter's passing in a strange way, a small figure can occasionally be seen wearing a plastic red rain jacket, just like the one their daughter was wearing when she drowned. Is that red-hooded person going around murdering people? Is their daughter back from the dead, killing people all over Venice? Or is she here to warn them of there being a potential cult that is moving in to harm her parents? Why doesn't John sense danger coming every time? Who is killing these seemingly random people all over Venice, and who is the player moving the chess pieces toward the Baxters' potential demise? Or as some might say… whodunnit? Again, this isn't just your ordinary whodunnit where you're left wondering who's out there doing one single crime, several different moving parts are happening behind the Baxters' backs that might or might not be unrelated. It's the ultimate horror mystery.
'Dont Look Now' Leaves Us With Questions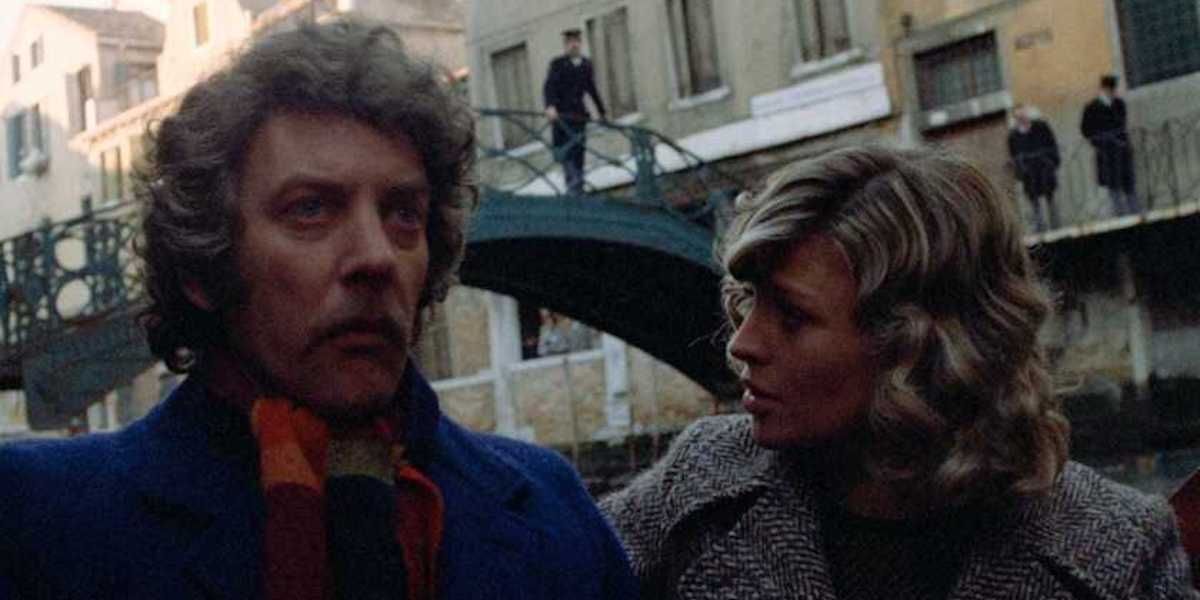 Once the movie's over, you aren't even given a clear, 100 percent answer as to who did or didn't do any of these terrible things. You are given a resolution in some aspects, but those answers only lead to more questions. The movie's ultimate reveal in particular only leaves you asking tons of other questions, with many other mysteries still hanging in the background, and it ultimately leaves the mystery alive long after the movie is over.
If you're looking for an underrated horror whodunnit, then Don't Look Now is the one that you need. It has several mysteries that will leave you scratching your head, two fantastic performances from Donald Sutherland and Julie Christie, fascinating and disorienting direction from Nicolas Roeg, and a wonderfully eerie, gothic atmosphere in autumnal Venice. Please, please find a way to look into Don't Look Now's endless stream of terrifying, maze-like mysteries. It's a rabbit hole of a horror movie if there ever was one.