From the undead and the demonic to murderous and the monstrous, horror cinema is jam-packed with iconic villains who have left audiences paralyzed with fear as to what exactly is going bump in the night. Some of the genre's greatest legends come in the form of masked killers, be they psychotic, slashing serial killers lusting for blood, or horribly disfigured beings covering themselves to get close enough to strike.
Many of the greatest masked killers in horror have come from the slasher subgenre, but there have also been great deviants to don daunting disguises in such categories as home invasion horror and supernatural thrillers. With long-standing legacies as some of the genre's most terrifying figures, these masked slashers have assembled fan followings even longer than their kill lists and stand as undisputed icons of horror film.
Updated on August 31, 2023, by Ryan Heffernan:
Whereas so many movie genres are known for producing memorable heroes, horror excels at giving fans truly unforgettable villains who plague their dreams at night.
15
Leslie Vernon
'Behind the Mask: The Rise of Leslie Vernon' (2006)
Part mockumentary, part homage to the slasher genre Behind the Mask: The Rise of Leslie Vernon is a pure celebration of slasher horror, and indeed of horror in general. Imbued with plenty of nods to past classics, it follows a crew of filmmakers documenting an aspirational serial killer inspired by the characters in some of his favorite slasher movies.
RELATED: Iconic Killer Masks in Slasher Movies, Ranked Least to Most Terrifying
Although the film never made it past cult status, Leslie Vernon's (Nathan Baesel) legacy in the genre has appealed to fans with its meta look at its tropes and conventions. Baesel's performance as Leslie is immensely underrated, as is his masked killer's presentation which is both striking and unique.
14
The Man
'Hush' (2016)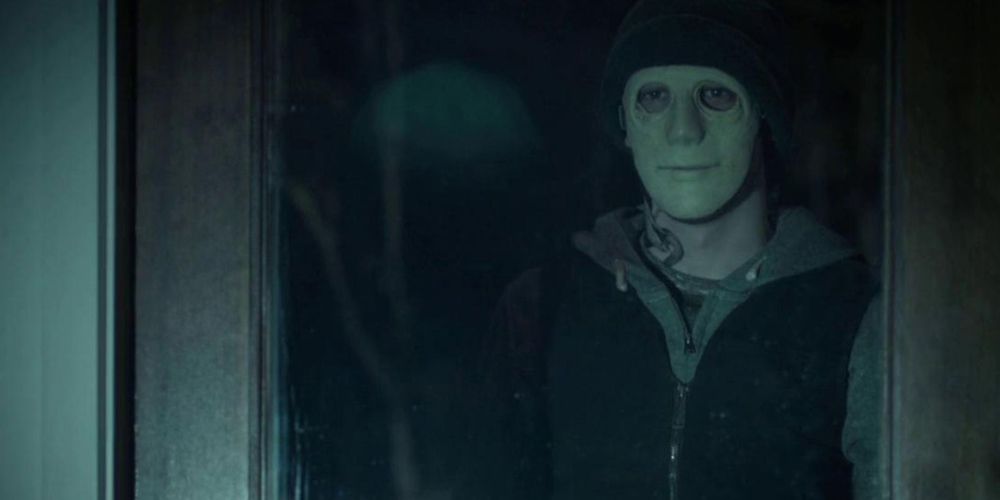 A startling early success from the now legendary horror filmmaker Mike Flanagan, Hush served as an arresting home invasion horror which signaled the director's brilliance early on. Simply referred to as The Man (John Gallagher Jr.), the killer is rather plain at a glance, but he left a big impression on viewers of the underrated horror movie.
As he terrorizes a deaf author in her home, The Man is nothing short of chilling with his featureless white mask, and he only becomes more haunting when he unmasks himself. With one of the best unexpected actor reveals in the genre, Gallagher Jr.'s sublime performance mixed with Flanagan's sharp direction to make for a truly terrifying masked killer.
13
The Phantom Killer
'The Town That Dreaded Sundown' (1976)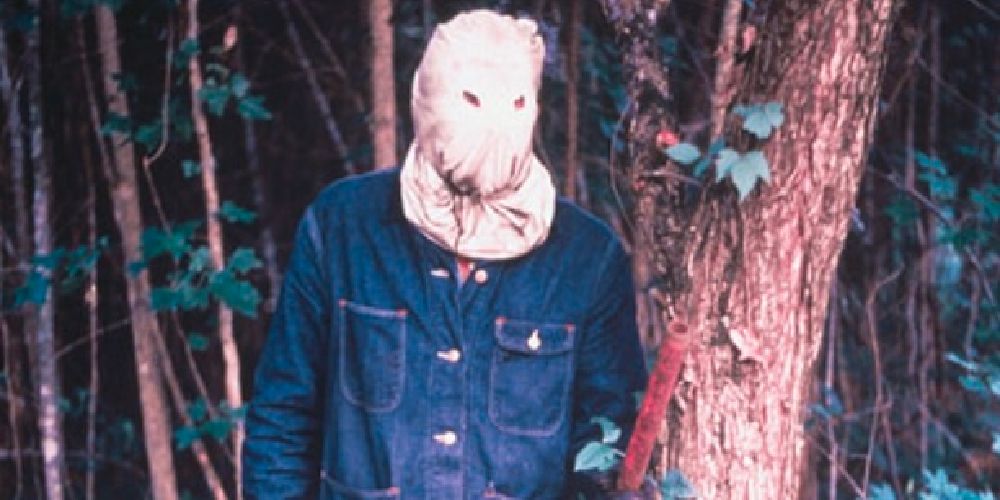 Pre-dating some of the earliest pioneers of the slasher genre which gave audiences so many famous masked killers, The Town That Dreaded Sundown is an underappreciated horror thriller. The Town That Dreaded Sundown is based on true events and takes place in 1946 in Texas where a ranger struggles to hunt down an at-large serial killer who is terrorizing a small town.
Dubbed The Phantom Killer, his sack-headed design is rather simple but incredibly effective, instilling a paralyzing sense of fear in viewers when he appears on-screen. While neither the 1976 original nor the surprisingly good 2014 remake have become true horror hits, their contribution to the genre is worthy of acknowledgment, especially considering the real Phantom Killer was never identified.
12
Bayfield Babyface Killer
'Happy Death Day' (2017)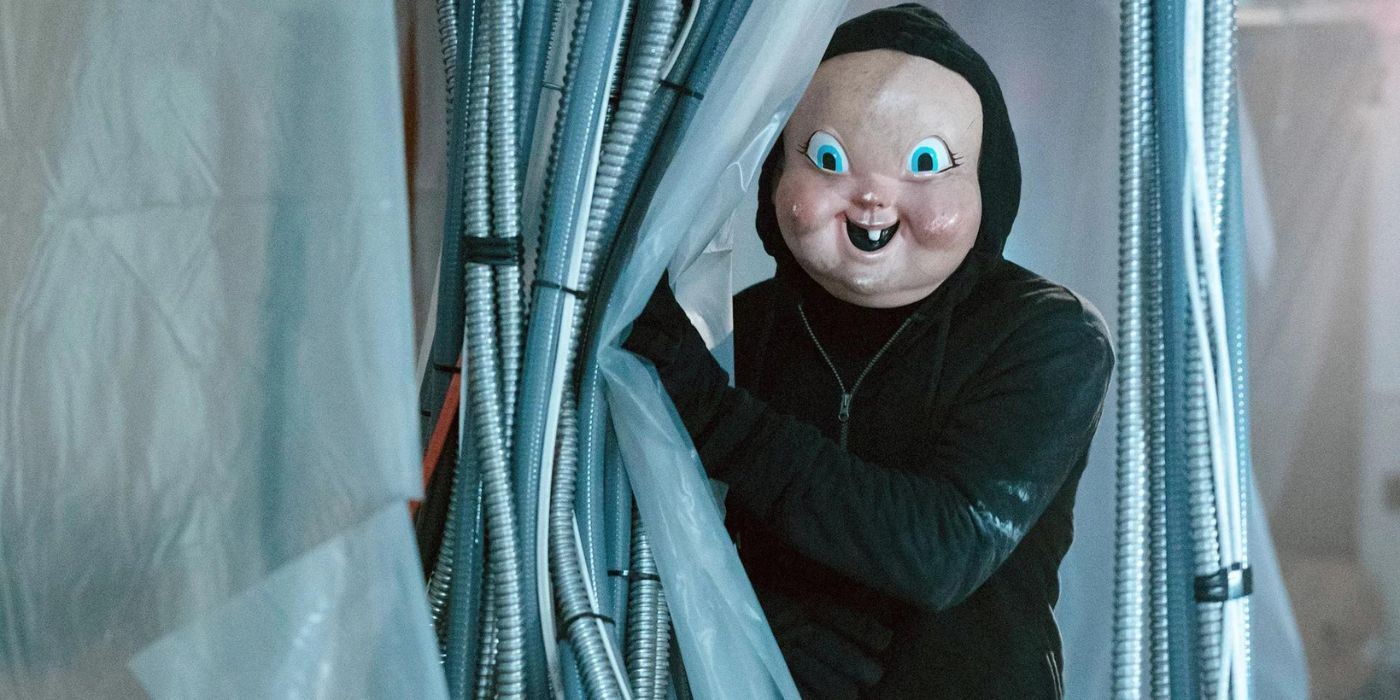 Bringing a healthy dose of fun and time-looping mayhem to the slasher genre, Happy Death Day was an imaginative and light addition to the typically blood-soaked subgenre. It follows Tree (Jessica Rothe), a self-centered collegian who must solve her own murder when she is caught in a cycle of re-living the day of her death.
RELATED: Horror Movies For Beginners To Ease Into The Spooky Genre
While not the most vicious masked killer horror has ever seen, the Bayfield Babyface Killer still proves to be effective as an unsettling antagonistic presence. The film's eagerness to play with the genre helped make the killer all the more memorable, while its toned-down nature will likely make the Bayfield Babyface Killer something of a gateway slayer for young slasher fans of the future.
11
Shadyside Killers
'Fear Street' (2021)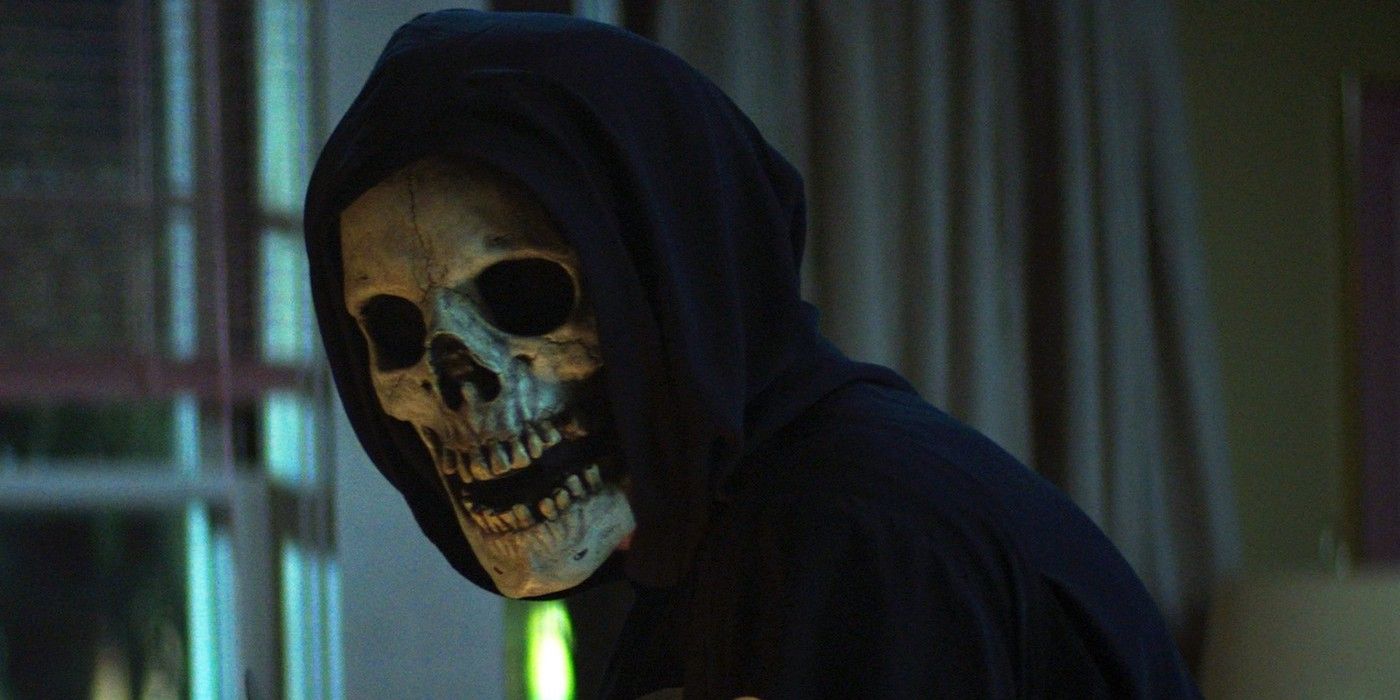 Netflix's Fear Street trilogy has proven to be a horror franchise with some staying power. A lot of that ongoing public interest stems from the fact that, in addition to its phenomenal cast, it featured multiple masked killers, many of which paid homage to classic antagonists in the genre.
Based on R.L. Stein's book series of the same name, each film in the horror trilogy took place in the central town of Shadyside in a different decade, exploring differing horror subgenres along the way while staying firmly in touch with its slasher core. As such, its litany of great killers really serves as an embarrassment of riches, with everyone from the Nightwing Killer to The Grifter being more than worthy of generating their own franchises.
10
The Phantom
'The Phantom of the Opera' (1925)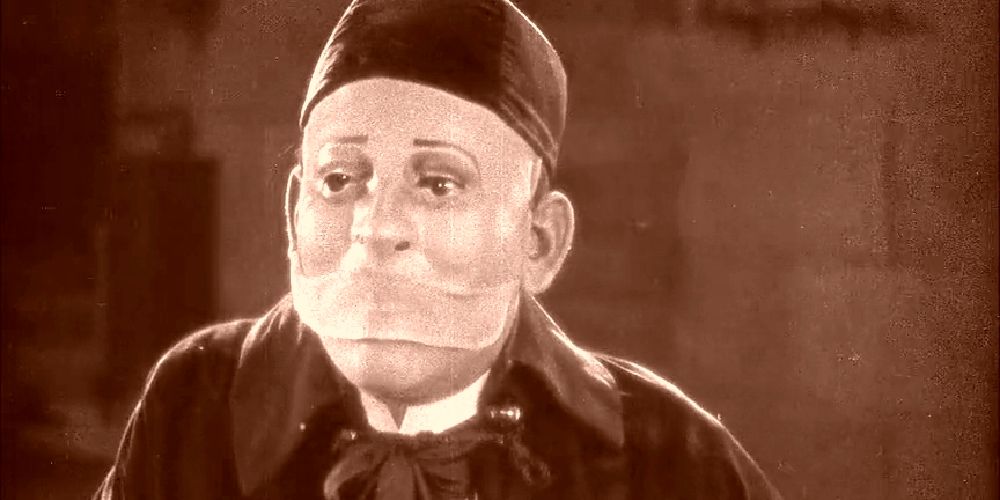 Horror is one of the oldest movie genres, with cinematic scares dating as far back as the silent era. One such horror hit from those times was The Phantom of the Opera which starred the legendary Lon Chaney as the titular killer.
Based on Gaston Leroux's famous novel Le Fantôme de l'Opéra, the movie followed the disfigured phantom and the havoc he caused around the Paris Opera House as he works to make his love, Christine Daaé (Mary Philbin), a star. Ironically, the scene that made the film so famous was when Christine removed the Phantom's mask, unveiling his ghastly appearance which left audiences at the time in a state of shock.
9
Dr. Decker
'Nightbreed' (1990)
A slasher spectacle enhanced with a dash of triumphant monster horror, Nightbreed is a true cult classic of the genre defined by its frantic ambition and its visual magnificence. The film follows Aaron Boone (Craig Sheffer), a disturbed man haunted by dreams of monstrous beings who sees a psychologist only to learn that the doctor is a serial killer intent on killing Boone and framing him for the murders.
RELATED: David Cronenberg's Weirdest Movies, Ranked
The evil doctor's scheme initially works too, but the dreaded monsters that Boone dreams of bring him back from the dead and join him as he ventures to stop the doctor before he can kill again. While the doctor's mask is strikingly frightful, what makes him so great is the man behind it, with legendary horror director David Cronenberg portraying Dr. Decker in all his villainous brilliance.
8
The Miner
'My Bloody Valentine' (2009)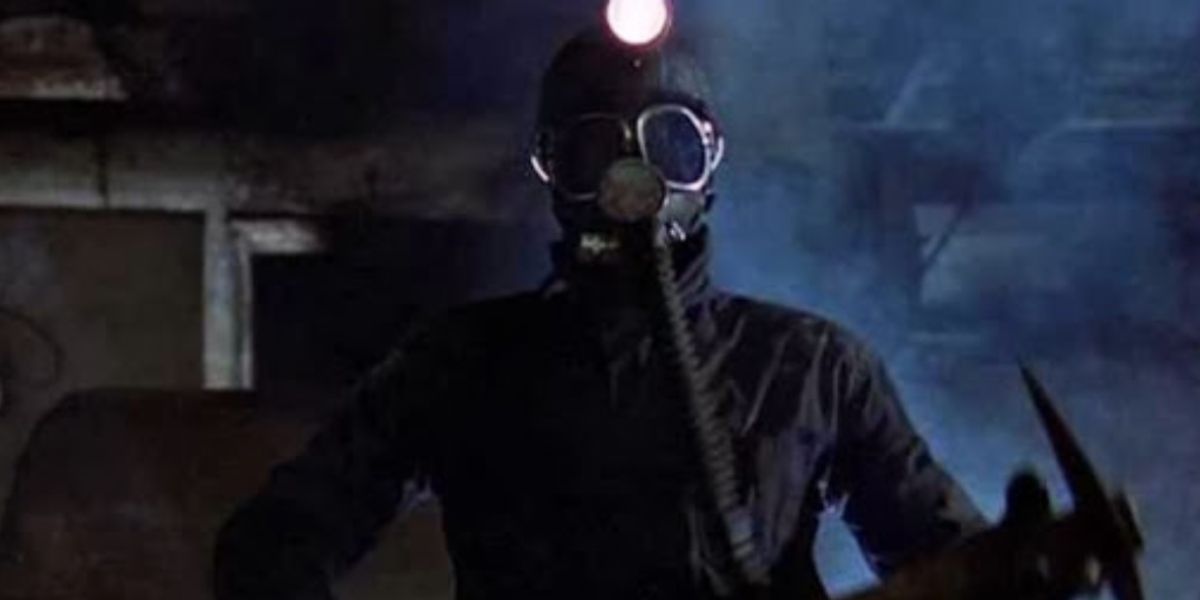 A criminally overlooked killer from a slasher film, My Bloody Valentine's central slasher, The Miner, is incredibly distinct, imbuing a pretty common mining outfit with an irrepressible sense of dread. With Jensen Ackles occupying the starring role, the film follows a survivor of a mass murder from a decade prior as he returns to his hometown, only to be faced with accusations as the masked killer appears to have returned as well.
The winding plot has an inviting allure to it, as does the film's slasher antics which feature a gory onslaught that genre fans lapped up. Unmistakably a cult classic, especially of 21st-century slashers, My Bloody Valentine is a cherished flick and its murderous miner deserves the same recognition.
7
The Masked Purgers
'The Purge' Franchise (2013 – 2021)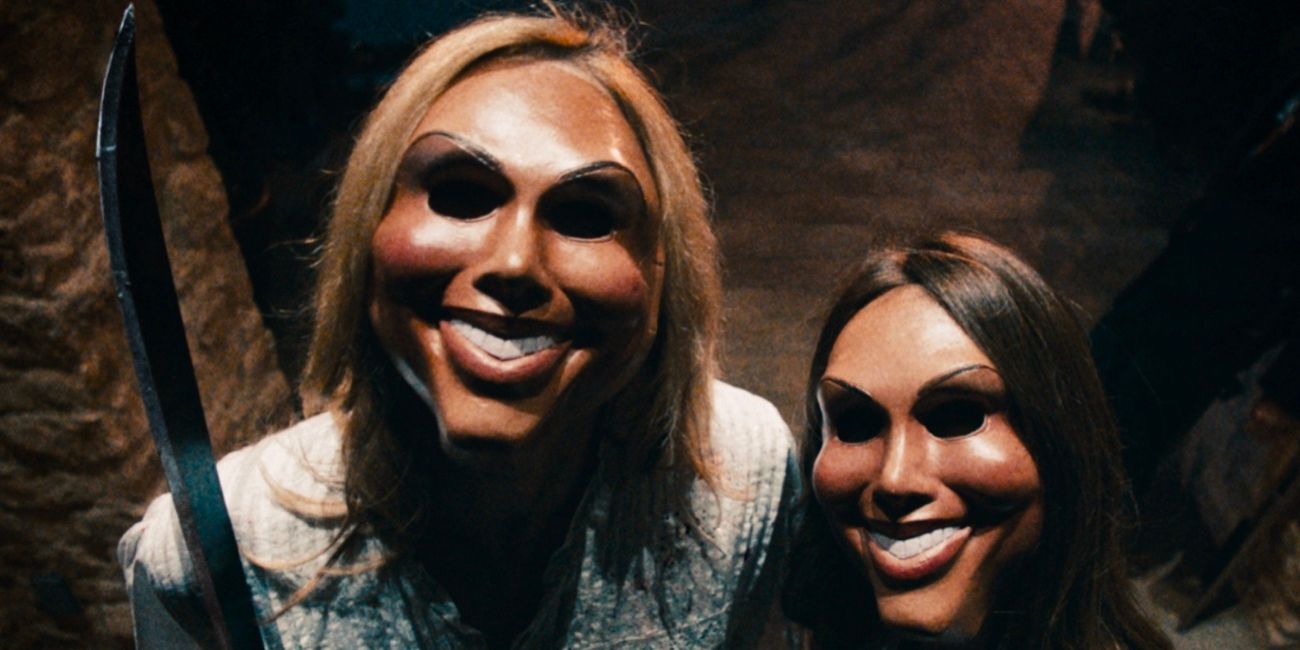 While it found some audience appeal with its intriguing premise, The Purge would have struggled to amount to much without its hordes of frightful masked killers. Set in a dystopian world where the government's solution to skyrocketing crime rates was to induct an annual night of lawlessness, the franchise has tackled everything from home invasion horror to revenge thrills and social commentary.
As its ambitions have evolved, so too have its villains who have gone from wearing undeniably creepy though relatively plain masks to adorning flashing face-covers to politically motivated disguises. The purgers might not have a singular legacy like most characters on this list, but they continually leave their mark.
6
Sam
'Trick 'r Treat' (2007)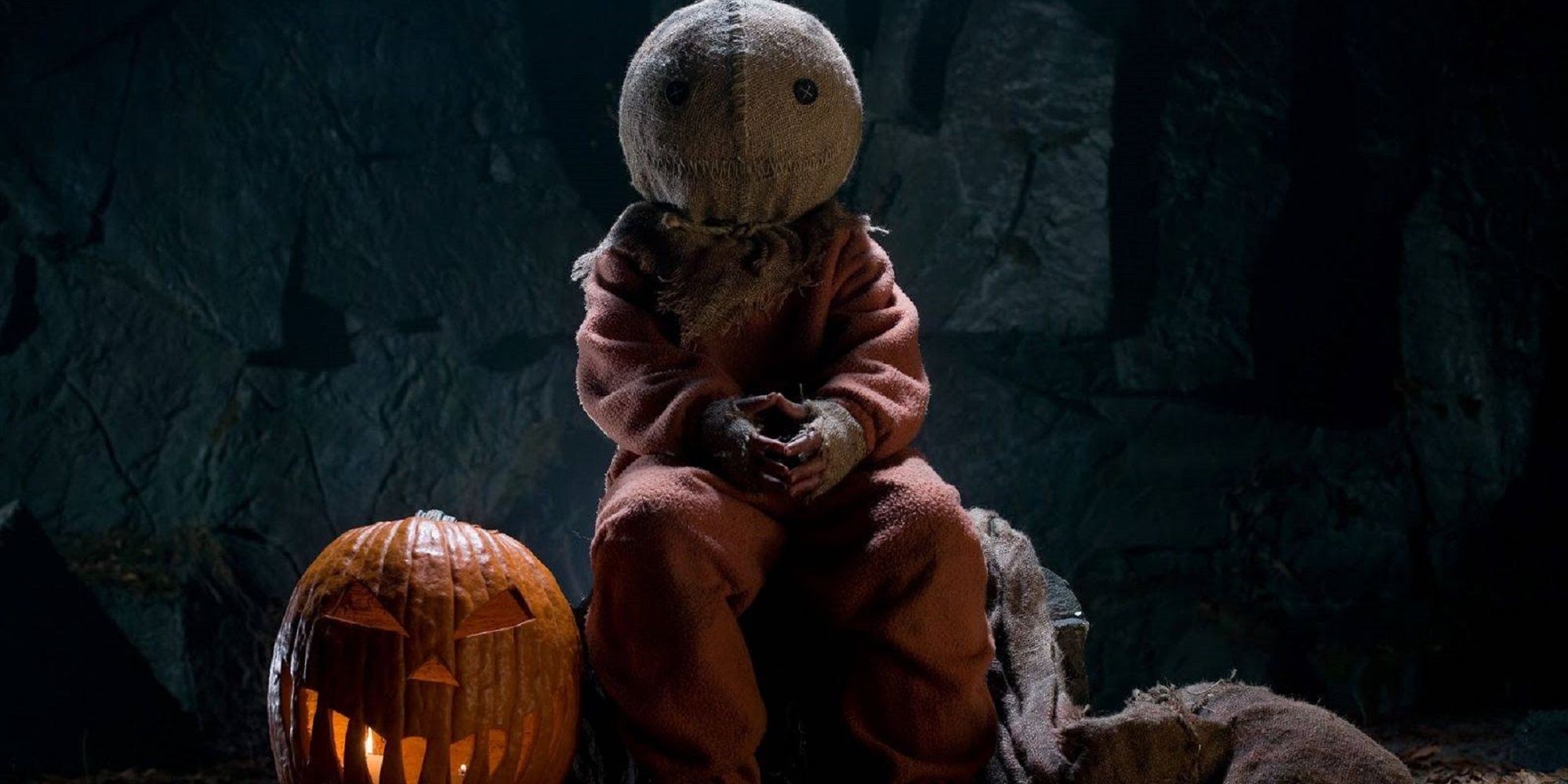 A cult classic horror comedy, Michael Dougherty's anthological Trick 'r Treat film combined two things all true fans of the genre adore; a great masked killer and a terrifyingly ominous child. A wonderful tribute to Halloween horror of decades past, it follows several loosely interwoven tales of woe that transpire in the same neighborhood on one fateful Halloween night.
RELATED: Inanimate Objects Horror Movies Made Everyone Fear
Dressed as a scarecrow in an outfit that is as adorable as it is unnerving, Sam (Quinn Lord) is merely a background character in the first few stories before getting his time to shine later in the film when he torments the bitter old man Mr. Kreeg (Brian Cox). The child's sadism is surprisingly easy to enjoy, with the sense of horror fun he brings to the film marking him as one of the genre's most lovable masked killers to date.
5
The Strangers
'The Strangers' (2008)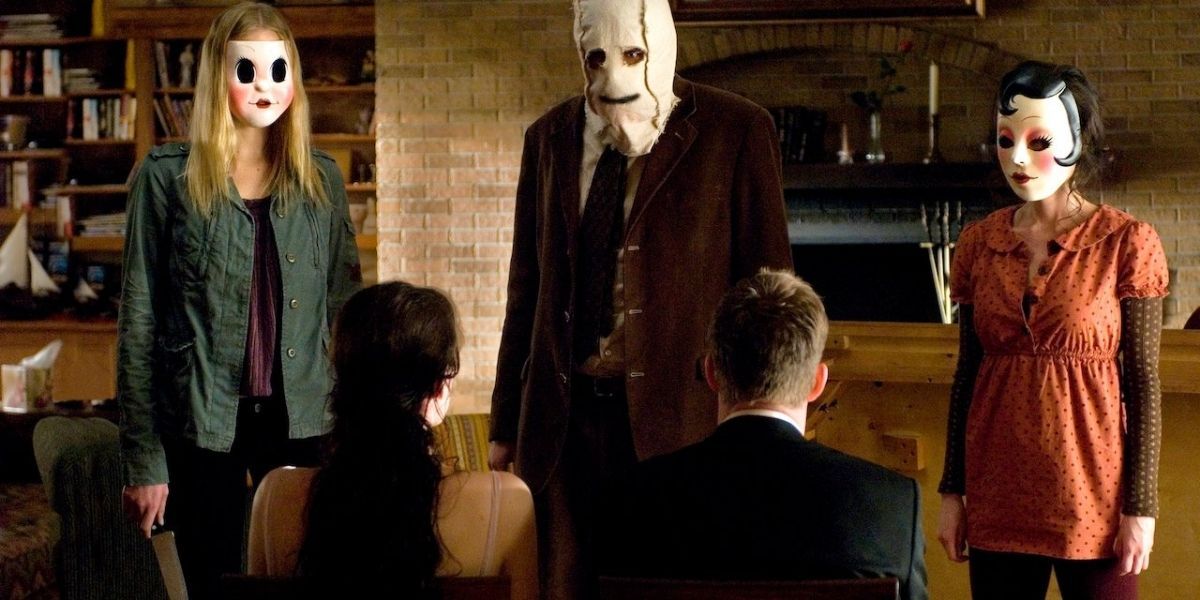 Of all the genre's masked killers to originate in the 21st century, none are as terrifying as the three antagonists of The Strangers. A gripping home invasion horror, it follows a young couple vacationing at a remote house to get some quality time with each other only for their getaway to rapidly spiral out of control leading up to a most unwelcome intrusion from three disguised assailants who want to torture them to death.
The terrible trio – made up of Dollface, Man in the Mask, and Pin-Up Girl – are cold-blooded sadists who are made all the more haunting by their expressionless masks. While the film has its flaws, it struck a chord with horror fans on account of the arresting terror instilled when the killers are on the screen, something debut director Bryan Bertino wielded with perfection to make for an at-times petrifying horror movie.
4
Leatherface
'The Texas Chainsaw Massacre' (1974)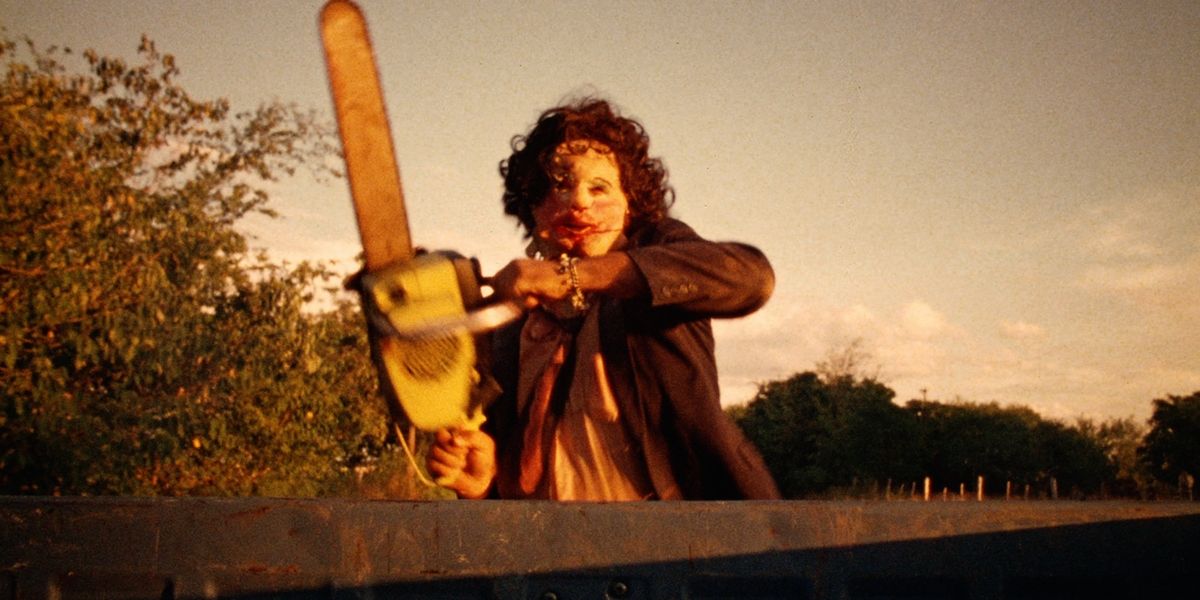 Within the realm of the slasher genre, there are few films as revered as The Texas Chainsaw Massacre and few killers as strikingly terrifying as its iconic, chainsaw-wielding maniac, Leatherface. The '70s classic follows a young girl and her friends as she ventures to investigate claims that her grandfather's grave has been vandalized, stopping off at her family's old farmhouse where she and her pals find themselves being hunted by the crazed cannibalistic killers living next door.
While the chainsaw, the frenetic attacks, and the savage demeanor of Leatherface help make him scary, it is undeniable that he wouldn't be anywhere near as iconic as he is were it not for his deranged mask made from human skin. The embodiment of pure evil, the masked killer and the legendary film both stand among horror cinema's greatest icons, with the ensuing film franchise ensuring Leatherface has kept on haunting audiences for decades.
3
Ghostface
'Scream' (1996)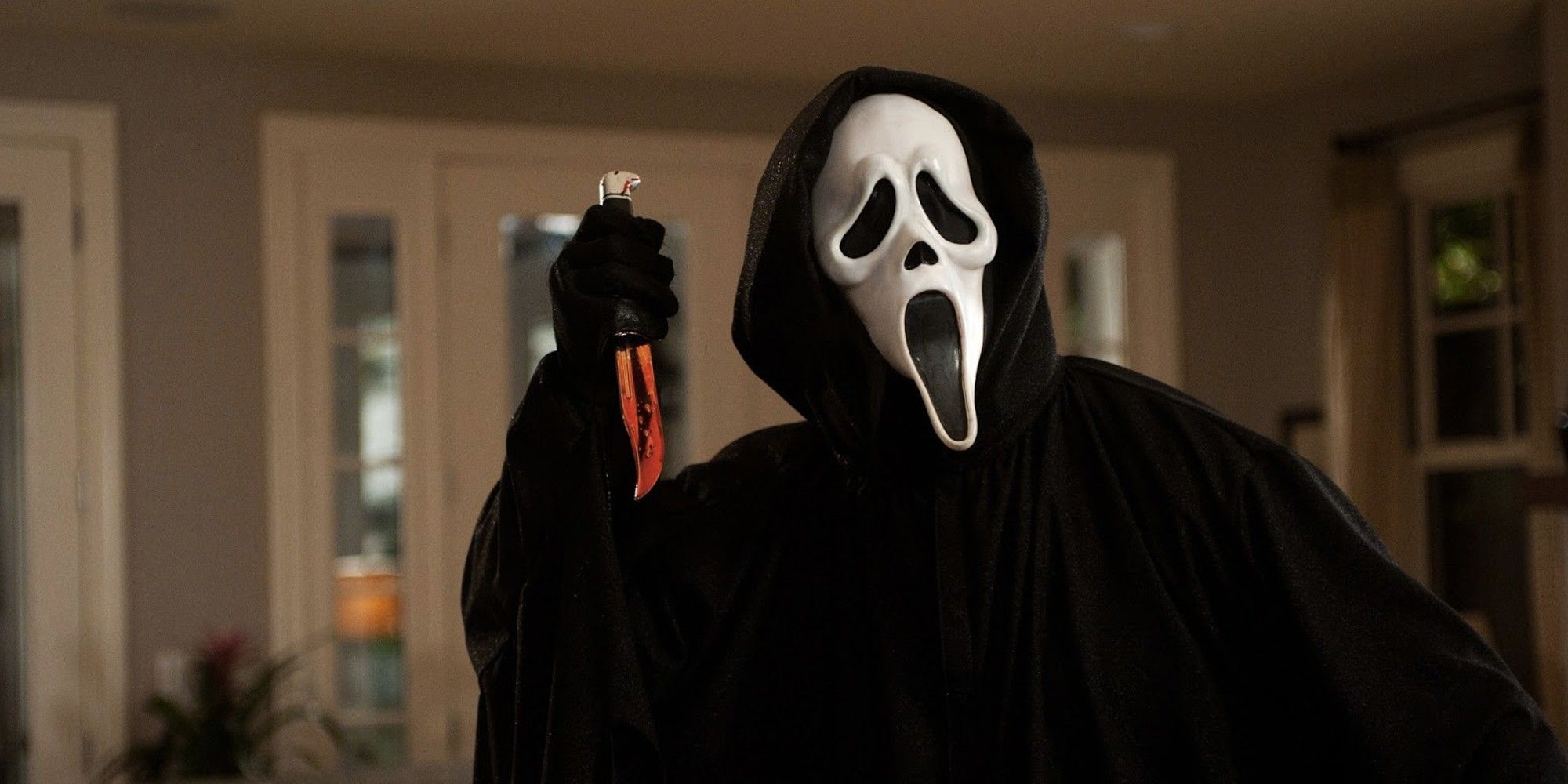 Exchanging the all-out horror of 80s slashers for more of a self-aware tone which both honors the genre while parodying it, Scream became an instant hit with horror fans when released in 1996. It follows high schooler Sidney Prescott (Neve Campbell) as the small town she lives in is overrun by the hysteria surrounding a masked serial killer who torments his victims before slaying them.
RELATED: Horror Final Girls Who Survived More Than One Movie
Ghostface, as the murderer was dubbed, became an instant icon with the black robes, the signature white mask, and Roger L. Jackson's terrifying, captivating vocals. With the Scream franchise still going strong, the Ghostface killer makes for the second truly iconic horror villain to come from the mind of Wes Craven after he created A Nightmare on Elm Streetwith Freddy Krueger (Robert Englund) in the 1980s.
2
Michael Myers
'Halloween' (1978)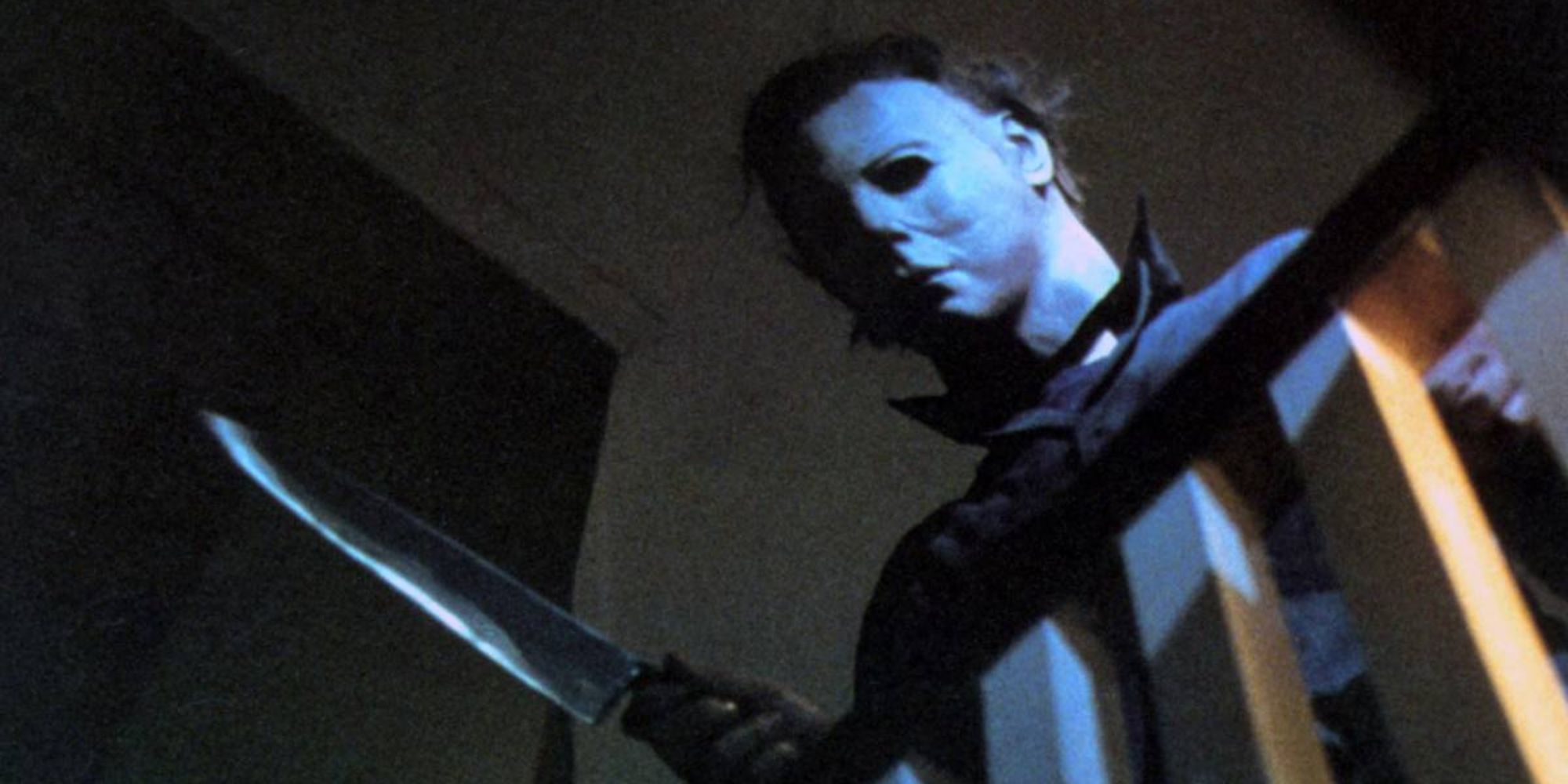 Heralded by many as the true pioneer of slasher horror, Michael Myers has accumulated quite the body count throughout the Halloween franchise which started way back in 1978 with the renowned original film. After murdering his older sister at just six years old, Myers escaped his institution and ventured back to Haddonfield for a night of mass murder.
The idea behind the mask was simple enough, after all, it is merely a William Shatner Captain Kirk mask with some paint on it, but in the film, its bland, expressionless nature gave Myers an uncanny, not-quite-human edge that permeated through his malicious actions. A determined, brutal killer absent feeling, Myers isn't just a great masked antagonist, but one of cinema's greatest villains of any genre.
1
Jason Voorhees
'Friday the 13th' (1980)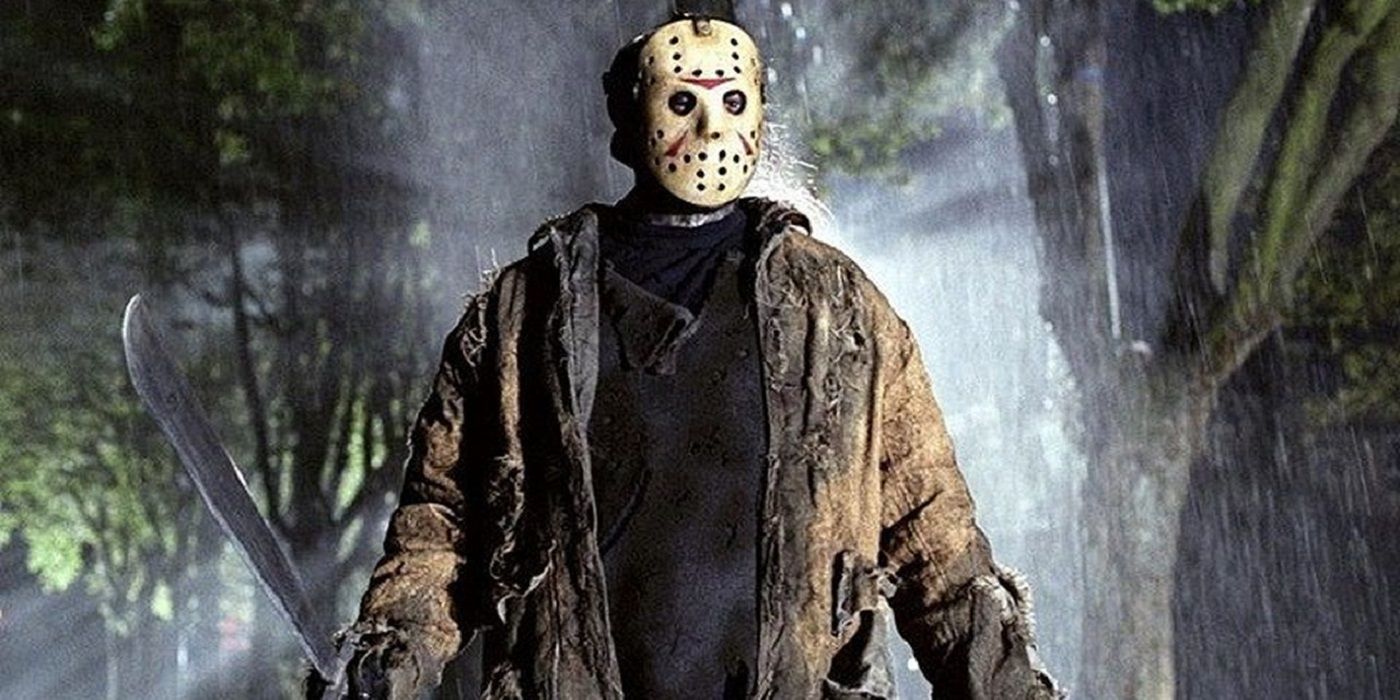 Horror has seen no small number of fantastic antagonists, from costumed killers and psychotic sadists to demons, ghosts, and ghouls; but there is perhaps no greater slayer in the history of cinema than Jason Voorhees. Interestingly, despite the character's iconic standing, it was actually his mother responsible for the deaths in the original Friday the 13th film, but Jason soon took the mantle from her and made the slasher genre his own.
With his hockey mask and his machete, as well as his appetite for dishing out some phenomenally gruesome deaths, Jason is viewed by many to be the definitive slasher movie villain. In addition to that, he also stands tall among the likes of Darth Vader and Indiana Jones as one of the most iconic characters to have ever graced the screen.
NEXT: The Best Slashers That Aren't 'Halloween' or 'Friday the 13th'