There would be no Ahsoka without Anakin Skywalker (Hayden Christensen). Ahsoka Tano (Rosario Dawson) was just an apprentice like any other but as Anakin's padawan, we got to see her grow and learn under the tutelage of people who let her think for herself, so much so that she eventually left Anakin and the Jedi as a whole behind. As such an integral part of her origins, it was inevitable Ahsoka would confront him and his legacy in her own show. But what some may not know is that this is not the first time Ahsoka has seen Anakin since she left the Jedi. In fact, Ahsoka was one of the few people to know Vader's true identity and see him at his lowest. While Episode 5 of Ahsoka gives us a neat reunion that doubles as some necessary exposition on their past, Star Wars Rebels delivered an action-packed reunion for the two ex-Jedi years ago–and with much more flair.
'Ahsoka's Take on the Anakin Reunion Is Lighter, But Not Better
Ahsoka takes the concept of a reunion in a slightly lighter direction. By this point Vader is dead, and Anakin appears to Ahsoka in the World Between Worlds as a Force ghost. When she's knocked down to her lowest point, near the brink of death, he comes to see her ostensibly to finish her training. What follows is a sequence of flashbacks that show Ahsoka's earliest days on the battlefield as she slowly grows into the warrior we know her to be. It's her confronting the mortality of the Jedi life, the horrors of the Clone Wars, and her complicated feelings about the man who trained her. The sequence culminates in a fight between the two of them, with Anakin nearly gaining the upper hand before Ahsoka regains clarity and asserts her determination to live. The fight doesn't last very long; Ahsoka soon gains the upper hand, holding Anakin's lightsaber to his throat before sparing him.
It's an interesting reunion for sure, and it helps to clarify some parts of Ahsoka's history that those who never watched the animated shows might not be familiar with. But the fight doesn't feel as earned as the flashbacks. Anakin is gone, Vader is gone, Ahsoka is no Jedi, and her will to keep fighting is something that's been reinforced in every appearance she's made across the franchise. The excitement of the fight in premise–a clash between their wills and ideologies–is instead squandered for the much more traditional sort of "regaining your mojo" training scenario, and with Anakin already gone, any sense of consequence is completely momentary. It's still a fun sequence, but Rebels just did the concept better.
RELATED: Is 'Ahsoka' Just 'Star Wars Rebels' Season 5?
'Star Wars Rebels' Offers a Fight for the Ages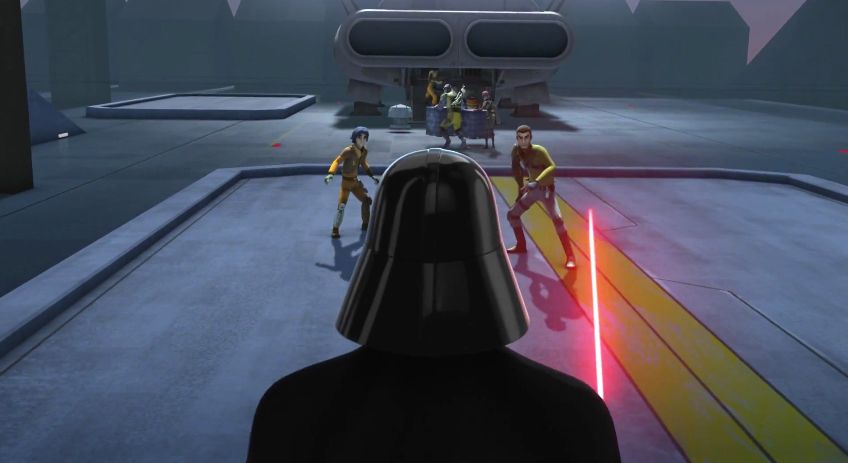 Star Wars Rebels stages its dramatic reunion between Ahsoka and Anakin in a season finale. The end of Season 2 of Rebels sees Ezra Bridger (Taylor Gray), Kanan Jarrus (Freddie Prinze Jr), and Ahsoka (Ashley Eckstein) tracking down a Sith holocron artifact. This two-part episode saw them facing off (and even teaming up) with a number of villains we'd gotten to know across the show so far, like the Inquisitors and Darth Maul (Sam Witwer). But such a crucial battle has also caught the attention of Darth Vader himself. He shows up to confront Ezra and dispatches him in moments. He only falls short of killing him because Ahsoka shows up to confront Vader herself. Vader offers amnesty if she sides with him, and she quickly refuses, alluding to the fact that she knows his true identity.
From there they fight. Vader taunts Ahsoka with the fact that he "killed" her former master. She asserts that she will avenge him, Vader says that is not the Jedi way, Ahsoka says, "I am no Jedi," and she attacks with fury. Ahsoka is kinetic while Anakin is stalwart, robotic. Their fighting styles are both on full display here. He keeps her on the defensive and even manages to knock her off the temple, but she comes back in the nick of time to save Ezra and Kanan from him, slicing part of his mask in the process and confirming what she had always suspected–her trusted master had become the most vile thing she could imagine. But even at this moment, she doesn't want to leave him behind again. So as the temple starts to collapse, and he draws his lightsaber on her again, she stays with him and fights.
What 'Star Wars Rebels' Does Better Than 'Ahsoka' (And What It Doesn't)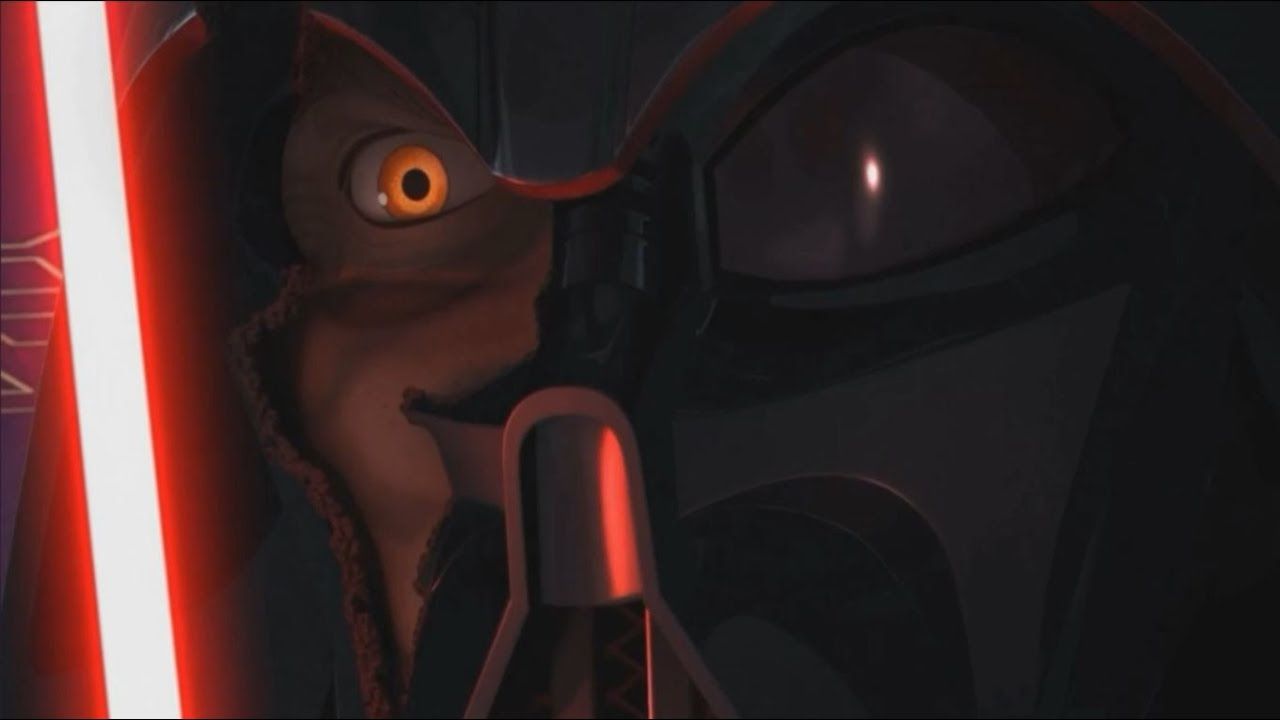 This fight is phenomenal — not just visually, but in how quickly it is able to convey the crux of the tension between them. Ahsoka may have left the Jedi, she may not align with their values, but she still loved and trusted Anakin with everything she had. It's not just a straightforward clash of Sith versus Jedi, but truly the first time both Ahsoka and Anakin have confronted their pasts since definitively choosing their sides in this war. While Ahsoka wants to give us the satisfaction of seeing Ahsoka have one last moment with Anakin and "finish" her training, Rebels shows us why that's kind of impossible for them. Ahsoka's reunion with her former master can be nothing more than bittersweet because he became everything he'd taught her to stand against.
If there's one thing both Rebels and Ahsoka get wrong with their reunions, it's making them so brief. Neither take up more than 15 minutes of their respective episodes and for such a monumental event that feels like a missed opportunity. Still, both sequences are fun and engaging in their own ways. And they are both meant to serve different purposes for the character. The Ahsoka of Ahsoka has had much more time to process Vader and Anakin, the Jedi, and who she is in relation to her former master than the Ahsoka of Rebels having her worst fears confirmed for the first time. Ultimately, both versions conclude that Ahsoka is more than qualified to take on Vader or really any challenge set before her, but Ahsoka just seems more reluctant to confront the ideology that's made Ahsoka who she is. While it's fun to see Hayden Christensen's Anakin next to our girl, bringing this iconic duo to live-action for the first time, Rebels just seemed to understand the assignment better.
New episodes of Ahsoka premiere Tuesdays on Disney+.