"Luminary Spirit," a collection of six metal globe lights at the Interstate 35 underpass at Fourth and Fifth streets, is hung for good after a fresh coat of paint to match the Waco City Council's vision for the project.
Several community members and project leaders gathered at the underpass Friday morning for a dedication ceremony to celebrate the public art project, including Mayor Dillon Meek and a few city council members, city management and the Creative Waco team.
"We had the privilege of being one of the organizations involved in bringing this project from idea to completion, taking the seed of an idea about how to upgrade and make more interesting a very in-between, liminal space in our community," Creative Waco CEO Fiona Bond said. "And turn it into, I guess, what we can call a ballroom, right?"
The installation comprises more than a year of design and construction of the four-foot globes by local artists Morgan Eyring and Andrea La Valleur-Purvis, who said at the dedication ceremony that it was the pair's first of hopefully many public art projects.
The globes, six handmade hanging fixtures, are made of steel and shaped to represent different aspects of Waco culture. The globes include references to Waco architecture, wildlife and history through their designs.
The art was nearly completely installed on May 2 when city officials said the globes' multi-colored paint scheme was not what council members had in mind when they approved a decorative Interstate 35-adjacent lighting plan in 2018. The city requested the globes to be taken down and repainted, and the city council approved later in May a bluebonnet-inspired six-shade blue color palette.
The project was originally approved by the Waco City Council in 2018 in a $2.1 million advance funding agreement with the Texas Department of Transportation. The $2.1 million in city funding was approved by the downtown Tax Increment Financing Zone board in 2017.
The agreement provided $2.1 million, plus any overruns, in local funding to the state's decorative project to install LED underpass lighting at Fourth and Fifth streets, 11th and 12th streets, Martin Luther King Jr. Boulevard, University Parks Drive and the globe lights.
The city contracted Creative Waco for $21,000 to cover a request for proposals, selection of artists, design, decorative welding elements and project management for the decorative globe art. A change order to accommodate the council's color change added $16,200, or $2,700 per globe, for logistics, sandblasting, materials, labor and project management, Bond said in an email.
The globe project included not only artistic elements, but also technical elements to hang the giant structures from the concrete beneath I-35. TxDOT spokesperson Jake Smith said in an email that the six mounting brackets cost $74,940 and the lighting skeletons cost $64,295, a fraction of the city's contribution to the overall I-35 lighting project.
Mayor Dillon Meek said the city is dedicated to partnering with artists on public art projects and he looks forward to seeing more of them in the future.
"We really want to have a beautiful city," Meek said. "One of the passions of our council is that we want Waco to feel unique. When you're in Waco we don't want you to think, 'Am I in Plano, or am I in Frisco?' When you see architecture and art, we want it to be reflective of our community and who we are."
Bond said the globes help to make an in-between space "more than just a static experience," where the underpass feels inviting and safe to passersby. It also serves as a connector in the community, both metaphorically and physically between Baylor University and the rest of the city, and as a place for gathering and worship, she said.
"In-between spaces are sacred spaces in our community, and that's especially true of this space because it is also home to Church Under the Bridge," Bond said. "… Hopefully this becomes a place where cyclists and pedestrians come through and catch a moment of joy or wonder as they do that."
Artist Eyring said it was fun to collaborate with her counterpart, La Valleur-Purvis, as many times artists work in isolation.
"These things are big, so it's not easy to move them around by yourself, so we relied on each other a lot," Eyring said. "We share a lot of skills, but we also have different strengths so we were able to just bounce off each other a lot. Sweat and a little bit of blood, probably and tears, all of those are true things."
La Valleur-Purvis said constructing the globes was a very physical process.
"At one point, as we were building the design and, you know, welding it to the structure, we had to oftentimes move in very funny ways and work upside down and lift things up," La Valleur-Purvis said.
Eyring thanked her employer, Bellmead-based Nickell Metalsmiths, through teary eyes for allowing the duo 24-hour access to use its studio.
"John Nickell and George Johns provide us with a lot of guidance and just sort of help us … to create these as well, and push us along and give us feedback and help us lift these to the ceiling to see what they look like from below," she said.
Although it was their first public art installation in Waco, La Valleur-Purvis said she hopes it is not their last. She referenced Baylor's newly built Mark and Paula Hurd Welcome Center near the underpass project as another creative opportunity demonstrating the city's commitment to art and culture.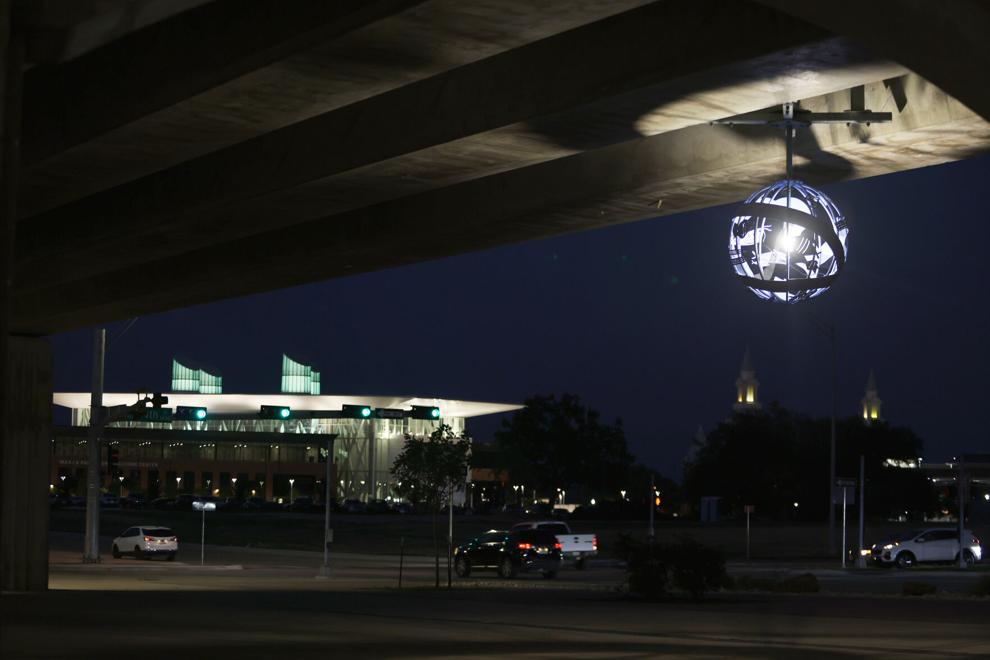 "We're very involved in the creative community at the Art Center here in Waco and there's just so many beautiful things happening in Waco," La Valleur-Purivs said. "I've lived here just under two years … and I love that the city is welcoming creative opportunity and experiences to make this space and the city just a really great cultural destination."