A group of about 50 took a tour of 25th Street, a predominantly Hispanic corridor that is up for enhancements to its walkability, parking, traffic calming and cultural identity.
The Waco Walks tour Saturday was led by organizer Ashley Bean Thornton, members of the city of Waco planning department, Grassroots Community Development and Kimley-Horn and Associates Inc., the firm chosen to lead community input for the corridor's revitalization. The Waco City Council in August awarded the contract to Kimley-Horn to come up with an implementation plan for about 1.5 miles of 25th Street from Franklin Avenue to Maple Avenue.
Thornton gave remarks before the Waco Walks group embarked on its journey Saturday south from Poco Loco Supermercado at 25th Street and Bosque Boulevard, talking to local business owners along the way. She said she is terrified of one-way streets, warning walkers of fast-moving traffic and dilapidated sidewalks, but is enthusiastic about the corridor's future, which could include a two-way configuration.
"This could just be a great part of the city where you could live over here in this great neighborhood and just walk to the grocery store or walk to school if you go over here," Thornton said. "… Please do be really, really careful. The sidewalks we're going to be walking on are pretty broken up and there's a lot of curbs and stuff like that so please do watch where you're walking. And I'm very serious about the one-way street thing. It's a one-way street, cars zoom through here really fast."
Waco Planning Manager Laura Wagstaff said a pre-walk of the route reinforced the need for a focus on the street's walkability.
"It's more of an urban hike than an urban walk," Wagstaff said.
The group began by crossing the street at Poco Loco and gathered near Provident Heights Elementary School at the corner of 25th Street and Bosque Boulevard. At stops along the route Kimley-Horn officials gathered input from attendees on things they would like to see done differently, with attendees immediately noting the lack of comfortable space for pedestrians to stand and wait to cross the intersection.
The group walked past the 25th Street Bazaar and MPower Fitness stopping at Tortilleria Bustos, which has been in business for 12 years. Owner Andres Bustos, translated from Spanish by Kimley-Horn representative April Rose Escamilla, said he was attracted to 25th Street for the area's prominent Hispanic community where his business could provide culturally significant foods, as printed on the outside of the gray-blue building.
Grassroots North Waco community organizer Saraí Muñiz said the tortilleria's building and the two buildings next to it are owned by Lourdes Osequera, who has operated La Nueva Michoacana in the yellow building next door since 2010. A strong sense of ownership is common among businesses along the corridor.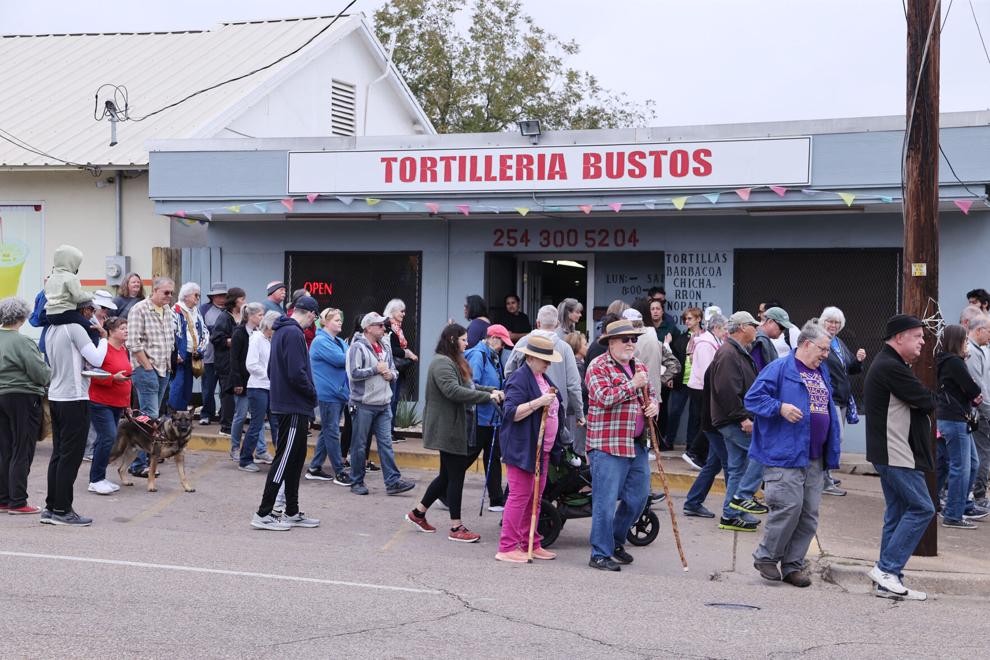 "She is from Michoacán … and the reason why she chose 25th Street was similar to Andres' story," Muñiz said. "She saw that there was a strong Hispanic and Latino population here and wanted to be a part of that in providing services and access to those around her."
The street's issues with Americans with Disabilities Act compliance became very clear early in the walk. Leaving Tortilleria Bustos, the next block did not have a ramp onto the sidewalk, causing an attendee using a wheelchair to take a longer route onto the cracked, overgrown and unstable walkway. In places where there was a way to get on the sidewalk there was not always the same type of access point at the end of the block, leaving those pushing strollers or relying on a wheelchair stranded at tall curbs.
Around 25th and Cole Avenue the group checked in again, asking for more parking on the street, repaved sidewalks, trees, seating areas, possibly uniform signs for businesses and ADA transition areas.
Bertha Barrientos owns the block at 25th Street and Grim Avenue that houses Bertha's Bakery and Restaurant, food truck space and a life-size checker board-like concrete pad across from Fire Station No. 6. Standing on the checkered space, walkers suggested taking advantage of what is there to create a live checker board, while adding more seating, food trucks, shade and greenery.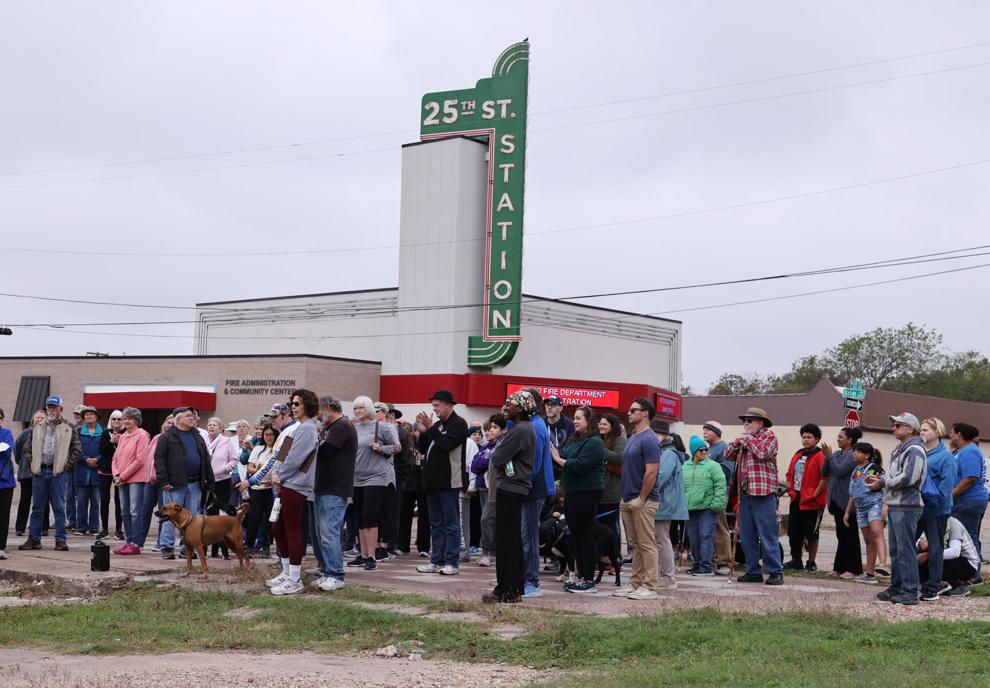 Barrientos, a 40-year Waco resident, has operated her business for 30 years.
"What she really likes about 25th Street is the safety … obviously the connectivity to all the different neighborhoods as well as being able to have people activate her area here," Escamilla said, translating for Barrientos. "But what she'd really to see is a park … She says that basically she would love it if there would be a park in this location and an area for people to come, for people to congregate and then just continue to build on."
The group stopped next at 25th Street and Sanger Avenue near Vallejo Auto where attendees noted entire sections of the road in dire need of repaving that have been patched with tar and would likely be unbearable in the summer. One attendee suggested better lighting on both sides of the road and audible crosswalk signals at busy intersections in both English and Spanish. Another suggested art and cultural features, similar to those along recently overhauled Elm Avenue.
The group crossed 25th Street to walk down Morrow Avenue, a street vibrant with colored houses but littered with cracked and inadequate sidewalks. They made a right at 26th Street, the corridor's one-way counterpart, which was partially missing sidewalks. It was clear the existing sidewalks had been there for a very long time, as trees grew from beneath them, buckling the concrete into peaks and valleys with their roots.
Luz Elena Gonzalez welcomed walkers to El Pueblos Paletería y Frutería and her boutique next door at Gorman Avenue and 25th Street. She and her husband began business there about 10 years ago, renting out their space and supplies for parties and showers each weekend.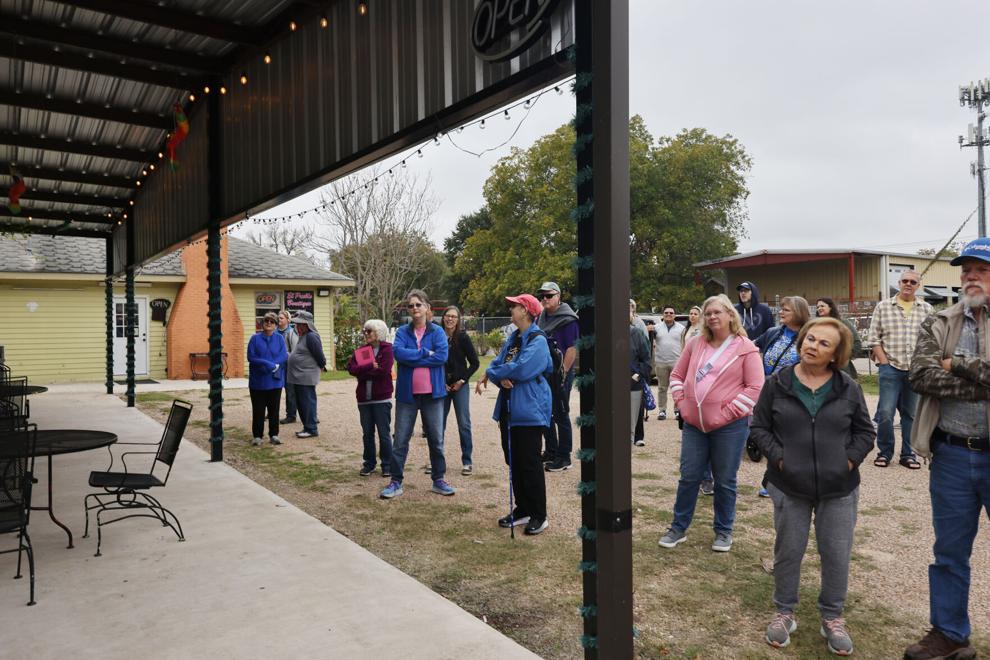 Attendees were invited to take a peek at the large event space, which was decorated in pink and white with sparkling lights prepped for a baptism party.
The group was welcomed in for a tour Fire Station No. 6, the former site of the 25th Street Theatre where construction of the fire station and new department headquarters resembling the old theater wrapped up last year. Walk organizer Thornton said the theater's grand opening was on Nov. 29, 1945, with a showing of "Thrill of a Romance" featuring Van Johnson and Esther Williams.
"They had dual heating and cooling, so super fancy, right?" Thornton said of the theater.
The walk's last stop was at Casa de Bendición y Antojitos Centroamericanos where business owner Rosa Rodriguez showed off her previously blue building's sleek white paintjob. Attendees were invited to offer comments and suggestions on boards placed around the lawn.
Those who were not able to attend the tour but would like to participate may complete a survey in English or Spanish at www.surveymonkey.com/r/JHBMQQP.